The man who attempted to assassinate former President Ronald Reagan was freed from a Washington, D.C., mental hospital Saturday.
John Hinckley Jr., 61, went to the home of his elderly mother in Williamsburg, Virginia, on Saturday afternoon after leaving St. Elizabeths Hospital, his attorney said. He plans to live with her now that a federal judge has declared him no longer a threat to society.
Hinckley fired six shots in 1981 outside a hotel in Washington in a deranged attempt to impress actress Jodie Foster, striking the then president — nearly fatally.
According to District Judge Paul L. Friedman, psychiatric treatment has been effective for Hinckley and for almost 30 years, Hinckley has had "no signs of psychotic symptoms, delusional thinking, or any violent tendencies."
The man who prosecuted Hinckley told TODAY he strongly disagreed with the decision to release him.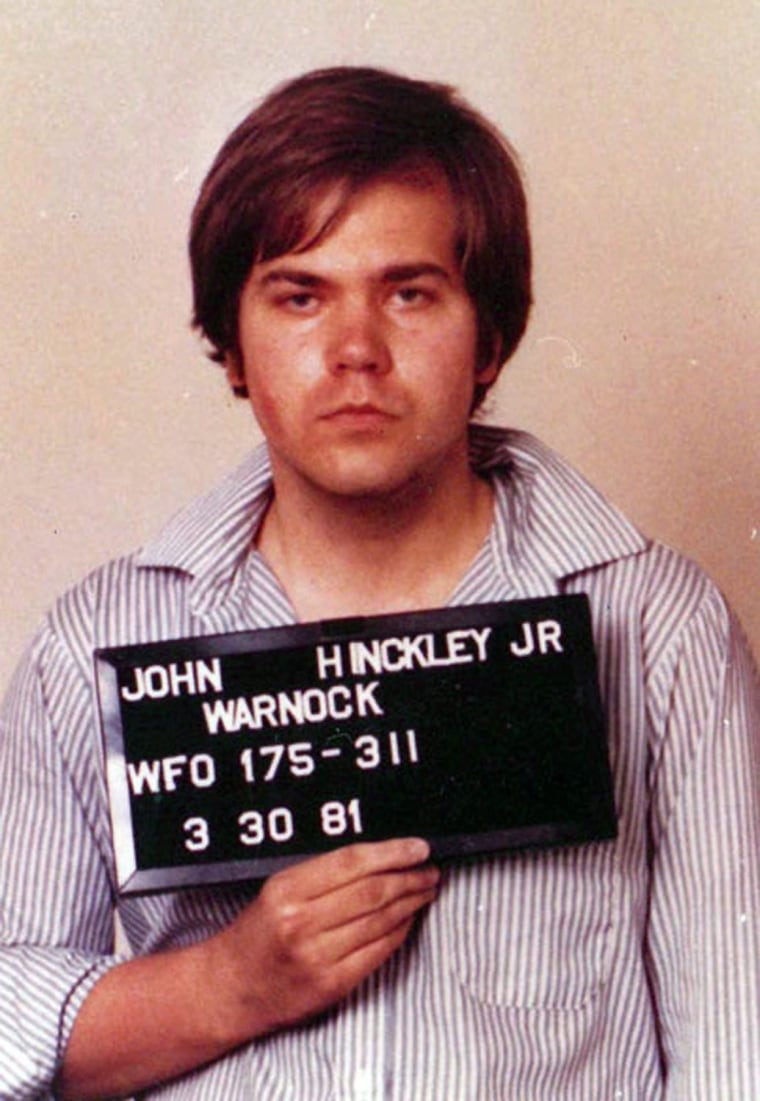 "I don't think that anybody who tries to nullify a national election with a bullet should ever been walking free, no matter what their mental state," former federal prosecutor Joseph DiGenova said.
Hinckley was found not guilty by reason of insanity, prompting outrage and leading to changes in the legal requirements for insanity defenses.
His exit from St. Elizabeths has been gradual: Over the past decade, he's increased the number of days he spends outside the mental hospital to 17 per month with his mother.
He will still be under court supervision and will be required to continue psychiatric treatment, get a job or volunteer, and steer clear of government officials.
Three others, including Reagan's press secretary, James Brady, were shot in Hinckley's spree. Brady suffered brain damage and succumbed to his injuries in 2014.
Related: President Reagan's Daughter: Keep John Hinckley Locked Up
The others, a Secret Service agent and a D.C. police officer, recovered from their injuries.
Reagan's son called his release "shortsighted."
"This is, after all, the psychopath who attempted to decapitate the government of the United States and in the process nearly murdered four people, including my father. Are we so sure his psychosis is absolutely under control? The consequences of his release should he relapse into madness could be quite catastrophic," Ron Reagan Jr. said in a statement.
Hinckley's long-time attorney didn't provide any more details about his client's whereabouts following his release but cited medical evaluations as proof he no longer poses any threat.
"This should give great comfort to a concerned citizenry that the mental health system and the judicial system worked and worked well," Barry W. Levine said in a statement.
"Mr. Hinckley recognizes that what he did was horrific. But it's crucial to understand that what he did was not an act of evil. It was an act caused by mental illness, an illness from which he no longer suffers," Levine added.