John Skipper resigned as president of ESPN on Monday, issuing a public statement saying he needed to overcome a substance abuse problem.
Skipper, who took over as president of the sports network in 2012, said in the statement he has battled substance abuse issues for "many years" and decided "the most important thing I can do right now is to take care of my problem."
"I come to this public disclosure with embarrassment, trepidation and a feeling of having let others I care about down," he said in a statement. "As I deal with this issue and what it means to me and my family, I ask for appropriate privacy and a little understanding."
Skipper, 61, did not share any details of the nature of his substance abuse problem.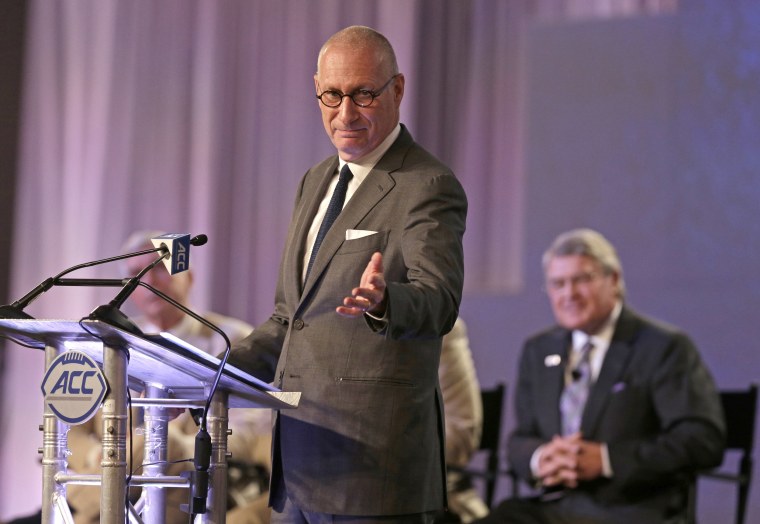 The announcement came as a shock to many at ESPN, where Skipper had recently signed a contract extension to 2021 and had been trying to plot a future for the company amid a rapidly decreasing number of cable subscribers and a declining interest in professional sports. Just last week, Skipper publicly promoted an upcoming direct-to-consumer service, known as ESPN+, that will aggregate documentaries, sports talk shows, and live events for streaming subscribers.
Last week, the Boston Globe published a report describing a hostile work environment for women at ESPN.
Bob Iger, chairman and CEO of the Walt Disney Company, the parent company of ESPN, said he would join Skipper's "many friends and colleagues across the company in wishing him well during this challenging time."
"I respect his candor and support his decision to focus on his health and his family," Iger said.
Iger appointed ESPN veteran George Bodenheimer to serve as acting chairman as he works to identify Skipper's successor. Bodenheimer was president of ESPN from 1998 to 2011 and its executive chairman until May 2014.
After the announcement, several ESPN personalities praised Skipper on social media.
ESPN SportsCenter co-host Jemele Hill described Skipper as "one of the finest people I've ever worked for."
SportsCenter's Stan Verrett tweeted about Skipper's compassion and wished him well.