An Oklahoma judge on Monday ordered Johnson & Johnson to pay over $572 million for pushing doctors to prescribe opioids while downplaying the risks of addiction, actions that state prosecutors said helped fuel the state's opioid epidemic and led to more than 6,000 deaths over nearly two decades.
Oklahoma Attorney General Mike Hunter claimed in court that the sales push by Johnson & Johnson and its pharmaceutical subsidiary, Janssen, starting in the 1990s had created "a public nuisance" that led to the deaths.
J&J denied any wrongdoing, and its attorney, John Sparks, said state prosecutors had misinterpreted the public nuisance law, having previously limited it to disputes involving property or public spaces.
Download the NBC News app for breaking news and politics
Cleveland County District Judge Thad Balkman disagreed, and said that Johnson & Johnson's "misleading marketing and promotion of opioids created a nuisance" in the state.
"The opioid crisis has ravaged the state of Oklahoma, it must be abated immediately," Balkman said in court Monday. "For this reason, I'm entering an abatement plan that consists of costs totaling $572,102,028 to immediately remediate the nuisance.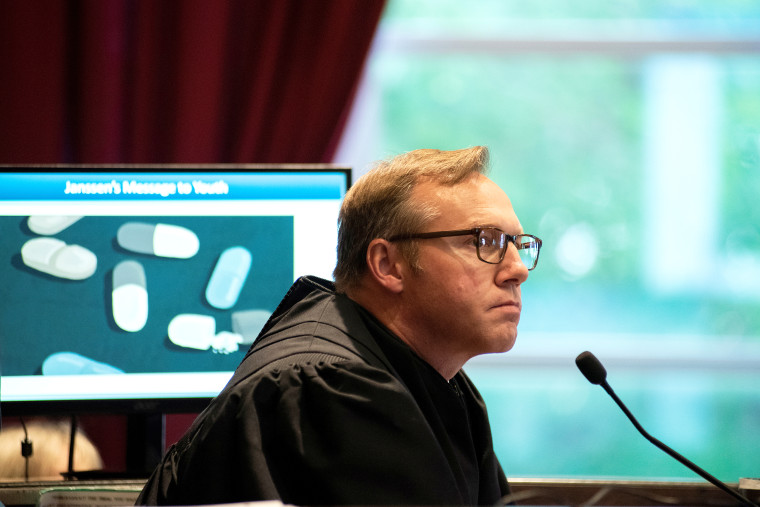 Michael Ullmann, the company's executive vice president and general counsel, said in a statement that J&J did not create the opioid crisis in Oklahoma and plans to appeal the decision.
"This judgment is a misapplication of public nuisance law that has already been rejected by judges in other states," Ullman said. "The unprecedented award for the State's 'abatement plan' has sweeping ramifications for many industries and bears no relation to the Company's medicines or conduct."
In Balkman's full written decision, he stated that the pharmaceutical company's sales program was designed to reach doctors multiple times throughout their careers. J&J pushed an "education" program through sales representatives, funded articles in medical journals and paid speakers.
None of these programs properly addressed the risks of addiction and there was no training provided to sales representatives on the history of opioid use or addiction, according to the court's ruling.
"The Defendants' opioid marketing, in its multitude of forms, was false, deceptive and misleading," according to the written decision.
The case was seen as a litmus test for nearly 2,000 pending opioid cases before a federal judge in Ohio, especially as other pharmaceutical companies faced with similar accusations have chosen to settle.
Purdue Pharma, the privately held maker of OxyContin that has faced the brunt of the blame for the nationwide opioid epidemic, reached a $270 million settlement with the Oklahoma attorney general's office in March. Oklahoma also settled with Teva Pharmaceutical for $85 million, just days before it went to trial against the Israeli opioid manufacturer in Cleveland County. Both companies denied any wrongdoing.
Hunter pushed the judge to force J&J to pay the state $17 billion, which would be put toward addiction treatment and prevention programs over the next 30 years. Balkman's verdict only granted a year's worth of the estimated cost for the program.
The judge's written decision said that the state failed to present sufficient evidence of what time and costs would be necessary beyond the first year of the program.
During the trial, Hunter claimed that J&J and other pharmaceutical companies rushed to produce a "magic pill" in their pursuit of profits, while ignoring decades of scientific research that showed the dangers of opioids. The judge heard testimony from victims of the crisis, including a father of a college football player who died of a drug overdose.
They "embarked on a cynical, deceitful, multibillion-dollar brainwashing campaign to establish opioid analgesics as the magic drug," Hunter told the court. "Money may not be the root of all evil but ... money can make people and businesses do bad things. Very bad things."
Hunter said Monday that his team of prosecutors proved J&J "built its billion-dollar brand out of greed and on the backs of pain and suffering of innocent people."
"Throughout the trial our team proved what we have alleged all along, that the company used pseudoscience and misleading information that downplayed the risks of opioids leading to the worst man-made public nuisance this state and our county has ever seen: the opioid crisis," he said.