A North Carolina jury on Tuesday began deliberating in the voluntary manslaughter trial of a police officer in the fatal shooting of an unarmed black man who was involved in a car accident and ran toward police.
In closing arguments, defense attorneys focused largely on the moments leading up to the point in which Charlotte-Mecklenburg police officer Randall "Wes" Kerrick shot former Florida A&M University football player Jonathan Ferrell, 24. Attorney George Laughrum recounted that another officer at the scene had testified that Ferrell approached Kerrick in "a charge and a bull rush."
Kerrick, 28, testified on Thursday that he thought Ferrell was going to harm him and another officer and that he feared the 24-year-old would try to take his gun during the Sept. 14, 2013 incident. Kerrick fired at Ferrell 12 times, hitting him with 10 shots.
Before the confrontation, Ferrell had been in a car accident and staggered to a nearby house for help. The woman inside called 911 to report a possible break-in and Kerrick responded with two other officers.
Laughrum said dents on the homeowner's door indicate that Ferrell was trying to break in and the fact that Ferrell was not armed does not mean he couldn't injure the officers.
"Unarmed is not harmless, and a body can be a weapon," Laughrum said.
Prosecutors closed their arguments by saying that Ferrell wasn't a threat to Kerrick.
"Did the defendant even really believe that Jonathan was a threat of death or serious physical injury? That belief just wasn't reasonable," said attorney Teresa Postell. She said that when Ferrell approached the officers, he was engaged in more of a "prance" than a "charge."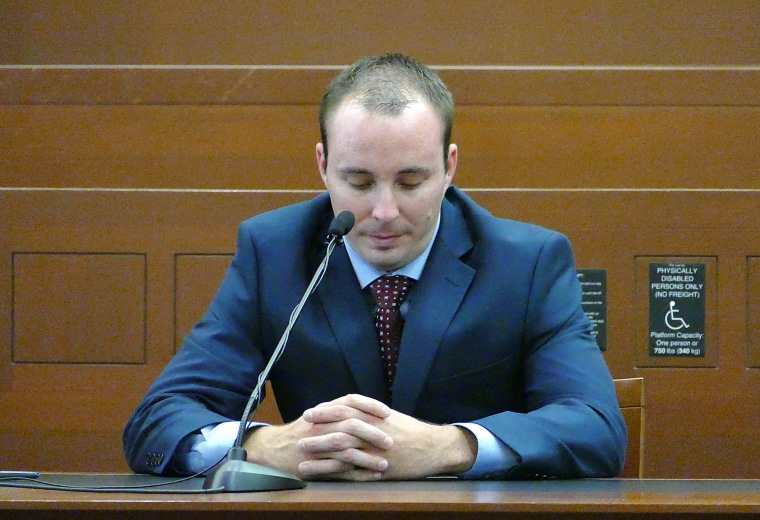 Even if Kerrick perceived the need to defend himself against Ferrell, his decision to use his gun was "excessive," Powell said. She said Kerrick could have warded Ferrell off by fighting him or using his Taser or baton.
"Police officers don't get to shoot someone just because they walk up close to them and they might take their weapon," Postell said. "If the police shot everyone who got 3 to 5 feet away from them, we'd have a whole lot more dead people."
Evidence and testimony shared during the three-week trial is now in the hands of a jury made up of eight women and four men. While police killings of black men that followed Ferell's death have led to protests and riots elsewhere, Kerrick was charged with manslaughter hours after the shooting, and it drew little public reaction.
A first grand jury rejected manslaughter charges against Kerrick, a three year veteran of the Charlotte-Mecklenburg Police Department. Prosecutors argued that some of the members of the grand jury were absent and a second grand jury was convened, which handed down an indictment.
Kerrick faces up to 11 years in prison if found guilty.