In his first interview since leaving the Miami Dolphins, NFL tackle Jonathan Martin says he felt "trapped" by bullying and decided it was best "just to remove myself from the situation."
"I'm a man. I'm a grown man. I've been in locker rooms. There's vulgar language in locker rooms," Martin told Football Night in America's Tony Dungy in the exclusive sitdown.
"One instance doesn't bother me," Martin said of his former teammates' behavior. "It's the persistence of it. I wish I would have had more tools to solve my situation . . . but I didn't.
"I felt trapped like I didn't have a way to make it right. And it came down to the point where, you know, I thought it was best just to remove myself from the situation."
An excerpt of the interview aired on the Nightly News on Tuesday, and there will be more on TODAY on Wednesday. The full interview airs on NBCSN's "Pro Football Talk" on Wednesday at 6:30 p.m. ET. 
Martin, 24, who started playing for the Dolphins in 2012, left the team on Oct. 28, alleging he was harassed by teammates, including guard Richie Incognito, who was accused of leaving a voicemail with racial slurs and expletives.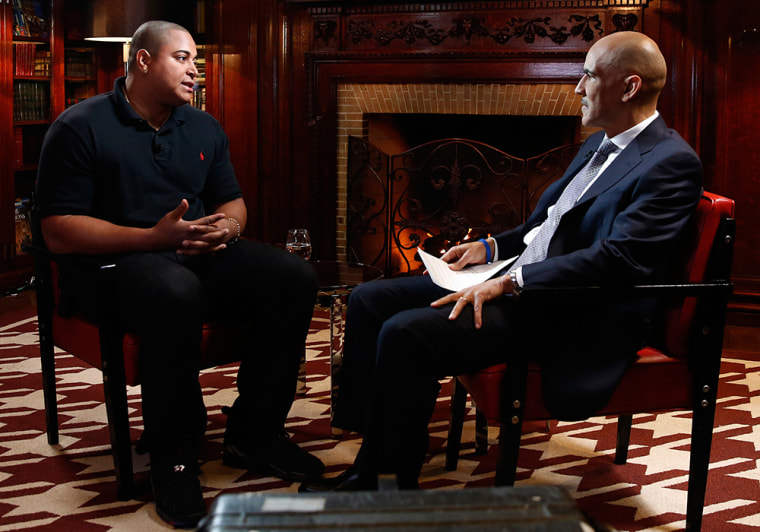 Incognito, 30, was suspended Nov. 3 in the wake of the bullying scandal and has not played while an NFL probe, led by special investigator Ted Wells, is ongoing.
Martin's lawyer, David Cornwell, has said that his client "endured harassment that went far beyond the traditional locker room hazing."
"For the entire season-and-a-half that he was with the Dolphins, he attempted to befriend the same teammates who subjected him to the abuse with the hope that doing so would end the harassment. This is a textbook reaction of victims of bullying," Cornwell said in a statement in November.
"Despite these efforts, the taunting continued. Beyond the well-publicized voice mail with its racial epithet, Jonathan endured a malicious physical attack on him by a teammate, and daily vulgar comments."
Incognito, who is white, has said he's embarrassed about leaving the voicemail for Martin, who is African American, but insisted it was not malicious.
"I'm embarrassed by my actions. But what I want people to know is, the way Jonathan and the rest of the offensive line and how our teammates, how we communicate, it's vulgar. It's, it's not right," Incognito said in a November interview with Fox Sports.
"I understand why a lot of eyebrows get raised, but people don't know how Jon and I communicate to one another," he added.
He said that Martin had sent him a text that said, in an apparent joke, "I will murder your whole effing family." Cornwell said that Martin has simply forwarded Incognito a widely disseminated Internet meme.
Wells has interviewed Martin, Incognito and others from the Dolphins — but it's unknown when his report on the scandal will be released.
Dolphins owner Stephen Ross meanwhile, said on Tuesday that he's spoken with the NFL and Wells about the report, and he's proud of the way the team handled the situation.
"I have an idea what will be in it," Ross said while speaking at a news conference to introduce the Dolphins' new general manager. "I haven't seen the report. I don't know exactly what his conclusion is. When it comes out, we'll do what has to be done. In my mind, I know what direction we're going ... The respect that we gained by how we handled the situation that took place here says a lot about this organization and the people that are running it."
Incognito becomes a free agent this winter. When asked if he or Martin will play for the Dolphins again, Ross was coy.
"I don't believe so — well, I can't say that," Ross said, adding with a chuckle, "Therefore I retract that." 
The Associated Press contributed to this report