Jordan Neely, a homeless busker who appeared to be in mental distress, was put in a fatal chokehold on the New York City subway this week — and the public outcry for accountability has grown louder and louder.
On Monday, Neely gave what witnesses described as an "aggressive speech" aboard a north-bound F train. The situation escalated and he was held in a chokehold for about 15 minutes by a 24-year-old subway rider, according to an eyewitness. Neely was found unconscious by responding officers and was pronounced dead at the hospital.
The incident has raised questions over the city's social safety net and mental health resources for the homeless community and cast scrutiny on city leadership as no charges have been filed in connection with his death. 
What happened?
Police were called to reports of a physical fight inside the Broadway-Lafayette station in Manhattan around 2:30 p.m. Monday.
The investigation found that Neely was "engaged in a verbal dispute with a 24-year-old male" that escalated into a physical altercation, police said. During the "physical struggle," Neely lost consciousness. 
Cellphone video taken by passenger Juan Alberto Vazquez showed the 24-year-old man on the ground with his arm around Neely's neck. Two other subway riders appear to help restrain Neely, who was Black.
Vazquez told NBC New York that Neely got on the train and "began to say a somewhat aggressive speech, saying he was hungry, he was thirsty, that he didn't care about anything, he didn't care about going to jail, he didn't care that he gets a big life sentence."
Vazquez said Neely was held in the chokehold position for about 15 minutes.
Neely was unconscious when police arrived, and he was pronounced dead at a hospital.
He died of "compression of neck (chokehold)" and the manner of death was ruled a homicide by the city's chief medical examiner's office said.
Immediately after the incident, the 24-year-old man was taken into custody for questioning and released.
A police spokesperson said that after the autopsy report revealed the cause of Neely's death as homicide, the district attorney's office is investigating the matter and will decide on whether or not to charge the 24-year-old.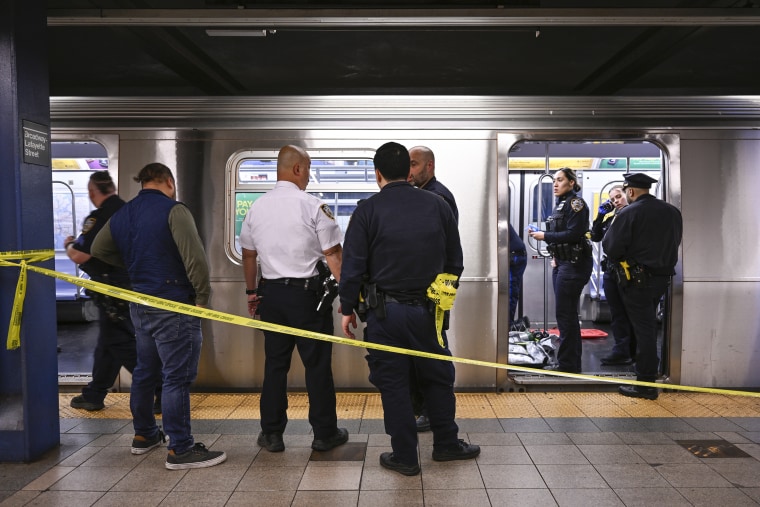 Who was Jordan Neely?
Neely was a familiar face to many New Yorkers — a busker who often performed dance routines in a Michael Jackson costume on the subways and in Times Square.
Manhattan Borough President Mark Levine remembered Neely affectionately in the wake of his death, saying he saw Neely perform his Michael Jackson routine many times on the A train.
"He always made people smile," Levine said. "Our broken mental health system failed him. He deserved help, not to die in a chokehold on the floor of the subway."
Neely suffered from mental illness "which began at age 14 when he experienced the brutal murder of his mother," a law firm hired by his family, Mills & Edwards LLP, said in a statement Thursday. 
According to a 2012 NJ.com report, Neely's mother, Christie Neely was strangled to death in a home in New Jersey that she shared with Shawn Southerland in April 2007. Her body was found stuffed in a suitcase that was dumped on a roadway, the report said.
Neely was 18 when he testified in the trial against Southerland in 2012.
Neely had a lengthy criminal history, with charges including assault and disorderly conduct, law enforcement sources with knowledge of the case said, NBC New York reported.
The Neely family has since retained Mills & Edwards LLP to represent them, saying they are "committed to holding accountable the MTA and Neely's killer."
Attorney Lennon Edwards said: "I took this case because 15 minutes is too long to go without help, intervention and without air. Passengers are not supposed to die on the floor of our subways."
What will happen from here?
The Manhattan District Attorney's Office is reviewing the case of Neely's death, saying: "This is a solemn and serious matter that ended in the tragic loss of Jordan Neely's life."
In the probe, the district attorney's office will review the medical examiner's report, medical records, all available video and photo evidence, and interview as many witnesses as possible, a spokesperson for the office said.
There's no timeline for when the district attorney's office will return a decision on charges.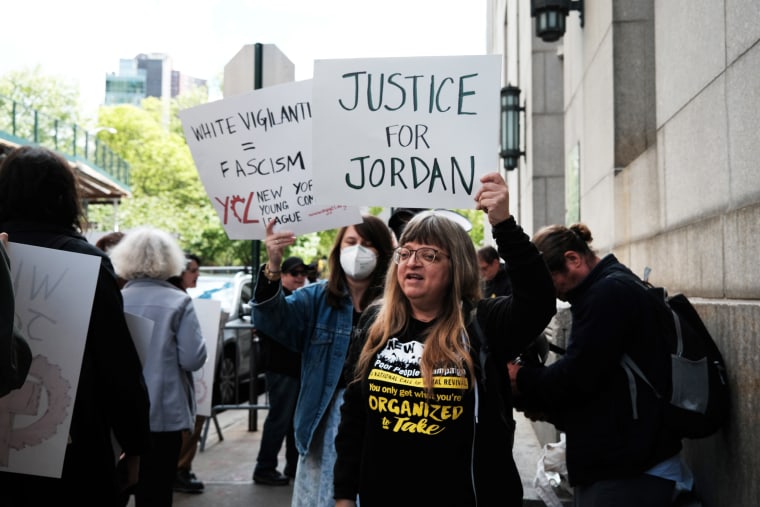 Attorney Donte Mills, who is representing the Neely family, said he would be surprised if charges were not filed in the case in an interview that aired Friday morning on the "TODAY" show.
"It would be incredible to me if the outcome of this was no charge, because how can you say that it's okay for someone to strangle someone," he said.
Since then, there have been calls for action in releasing the 24-year-old subway rider's name and charging him in connection with Neely's death.
On Friday, protesters were seen outside the Manhattan District Attorney's office with signs that said "Jordan Neely Deserved Better From New York," "Justice for Jordan" and "Indict the Coward."
New York Gov. Kathy Hochul told reporters that the video of the subway altercation was "horrific" and that the subway riders' response to Neely was "very extreme." She appeared in favor of charging the 24-year-old, saying "there have to be consequences and so we'll see how this unfolds but his family deserves justice."
Meanwhile, Mayor Eric Adams said he will let the district attorney's investigation play out.
"There are many layers to this. I'm gonna let the process follow its course, and so I won't get engaged with comparisons on where we are, where we aren't. I'm not going to do that. I'm going to let the investigation run its course," he said.
City Council Speaker Adrienne Adams said Neely "was a New Yorker, a son, and a performer, and he should still be alive," in a statement Wednesday — and pointed to racism as a role in the lack of charges against Neely's assailant.
"Racism that continues to permeate throughout our society allows for a level of dehumanization that denies Black people from being recognized as victims when subjected to acts of violence," Adams added. 
State Sen. Brad Hoylman-Sigal, a Democrat, also called out the use of the chokehold, saying even police are banned from using it. 
"There's no excuse for a civilian to use such a deadly maneuver, especially on someone experiencing a mental health crisis," he said.
CORRECTION (May 8, 2023, 11:55 a.m. ET): A headline in a previous version of this article misstated who said Neely was held in a chokehold for 15 minutes. It was one witness, not witnesses and the police.