Two people have been arrested in connection to the murder of Joshua Brown, a key witness in the murder trial of former Dallas police Officer Amber Guyger, and a third suspect has been identified.
Michael Mitchell, 32, who officials say was the suspected getaway driver in the Friday night slaying, was arrested at a motel in Marksville, Louisiana, Tuesday evening, Avoyelles Parish Sheriff's Office Chief Deputy Steven Martel said.
Jacquerious Mitchell, 20, had previously been arrested and was in custody at a hospital, Dallas police Assistant Chief Avery Moore said at a news conference Tuesday.
Thaddeous Green, 22, remains at large, police said.
Officials said the three men traveled from Alexandria, Louisiana, to purchase drugs from Brown, 28, in the parking lot of a Dallas apartment complex.
Jacquerious Mitchell told police that Brown shot him in the chest after Green and Brown got into an altercation during the drug deal, and that Green then shot Brown twice, Moore said.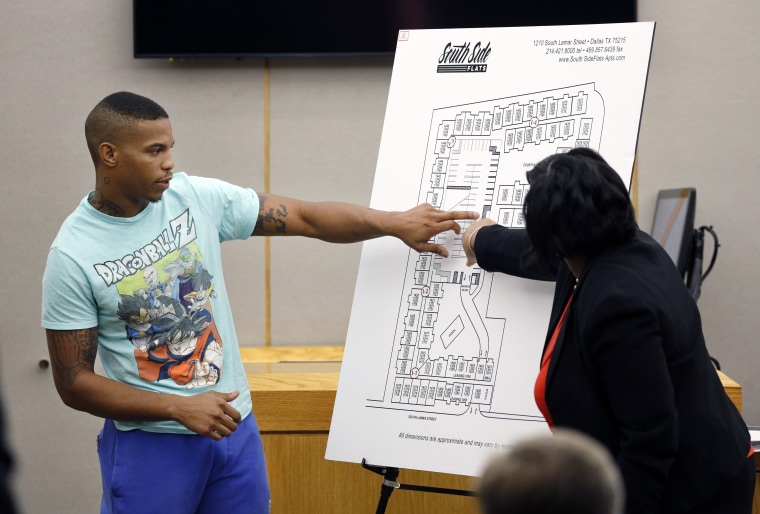 Green took Brown's backpack and the gun used to shoot Jacquerious Mitchell and the three suspects fled the scene, Moore said.
The suspects dropped Jacquerious Mitchell off at a hospital, the assistant police chief said.
Police confiscated 12 pounds of marijuana, 149 grams of THC cartridges and $4,157 in cash during a search of Brown's home, Moore said.
Brown was murdered two days after Guyger was convicted of murder.
Moore said at Tuesday's news conference that Brown's killing was not related to his testimony in Guyger's case.
"As you know, there's been speculation and rumors that have been shared by community leaders claiming that Mr. Brown's death was related to the Amber Guyger trial and somehow the Dallas Police Department was responsible," Moore said. "I assure you that is simply not true, and I encourage those leaders to be mindful of their actions moving forward because their words have jeopardized the integrity of the city of Dallas as well as the Dallas Police Department."
Lee Merritt — a lawyer for the family of Botham Jean, the black man who was fatally shot by Guyger, a white officer who was off duty but in uniform — previously said Brown had reservations about testifying in the trial because of concerns for his safety.
On Tuesday, Merritt released a statement on behalf of the Brown family calling for the Dallas Police Department to turn the investigation over to another agency.
"This family and their representatives have consciously avoided speculating about law enforcement involvement in this tragedy, however, due to the proximity of this murder with the trial of Amber Guyger — rumors abound," the statement said, in part. "A cloud of suspicion will rest over this case until steps are taken to ensure the trustworthiness of the process."
Prior to the arrests, Dallas Mayor Eric Johnson asked the public in a tweet to "refrain from speculation" about Brown's shooting.
Between Saturday and Sunday, several Democratic presidential candidates responded to Brown's murder, with some calling for an investigation.
Brown's slaying Friday occurred less than six miles from the apartment complex where Jean, his neighbor, was fatally shot by Guyger on Sept. 6, 2018.
Brown had lived across the hall from Jean, the 26-year-old accountant, who grew up in the Caribbean island nation of St. Lucia, at the Southside Flats apartment building in Dallas. He was a key witness in the trial, testifying that he heard an exchange between two people and then two quick gunshots. He also testified that he had also walked to the wrong floor of the apartment building in the past, which was Guyger's explanation for why she entered Jean's apartment thinking it was her own.
Guyger lived a floor below Jean.
She was sentenced to 10 years in prison.