Seven weeks after more than 150 victims of Larry Nassar testified before Judge Rosemarie Aquilina at a remarkable sentencing hearing in Michigan, other women from around the country are sharing stories of sex abuse with her.
And Aquilina thinks all of them deserve to be heard.
Earlier this month, she floated on Twitter the idea of holding a symbolic hearing where any survivor could bare their pain and anger and hear from the judge who became a hero of the #metoo movement and a meme in one shade-throwing moment.
While it's still only an idea, Aquilina told NBC News she is serious about trying to make it a reality.
"There is a need for victims who haven't been heard to have a voice," she said in an email this week.
"They want me to listen and I am certainly willing. It will help them to really begin healing. Further, the time to listen is now as the sexual assault issue against children, men and women moves forward and change is on the horizon, finally."
Aquilina said nothing formal has been approved or organized, but survivors who have connected with her are ready to pack their bags.
"I will literally get on a plane with my mom, book a hotel, and I will be there," said Suzanne van Dyck, 51, an interior designer from the Minneapolis area who said she was abused three decades ago.
Sharron Stidfole, 43, said she has told only two people her story of being abused as a preteen but would welcome the chance to tell it in public, as long as Aquilina was there to listen.
The Virginia mom watched a livestream of January's marathon hearing for Nassar — the former USA Gymnastics doctor who pleaded guilty to molesting patients — and was deeply touched by the judge.
"She listened. She looked at those girls in their eyes. She believed them," Stidfole said. "I felt like she was talking just to me."
Praise for Aquilina's handling of the Nassar hearing drowned out a smattering of criticism that she had overstepped her bounds or was grandstanding. Her fans were thrilled by the therapist-like message of empowerment she delivered to every victim and the tongue-lashings she gave the defendant.
Related: Highlights from Judge Aquilina's sentencing of Larry Nassar
A gif of her tossing aside a poor-me letter from Nassar with scorn went viral. Her parting jab after she sentenced him to up to 175 years — "I just signed your death warrant" — spawned front-page headlines.
Her advice to a victim to "leave your pain here and go out and do your magnificent things" became part of the survivor lexicon. And actress Natalie Portman wore a T-shirt bearing the judge's name when she appeared on "Saturday Night Live" last month.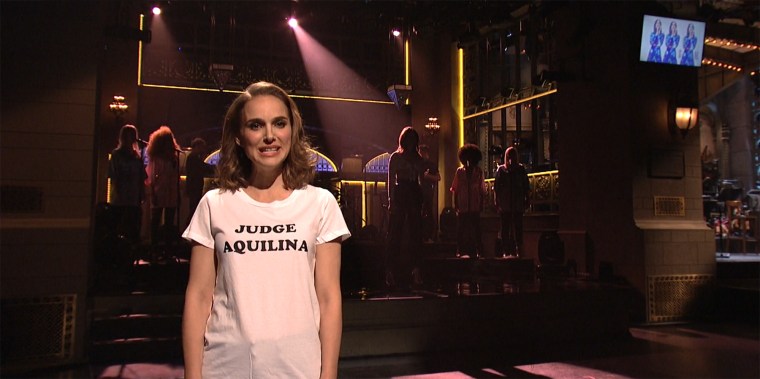 Aquilina hasn't given any interviews about the Nassar case, but she also hasn't abandoned the role she created for herself. Abuse survivors began reaching out to her on social media, and she's been quietly offering support to them.
"Thank you for your kind words," one grateful correspondent tweeted. "It has made me stronger as a person even though at times I don't feel strong."
Van Dyck said she asked Aquilina a question and the judge sent her a private message. Stidfole followed Aquilina on Twitter as soon as the Nassar sentencing was over and was stunned when she followed back a few weeks ago.
"I swear it was like the best day of my entire life," she said.
They wonder how Aquilina even has time to personally respond to strangers. In addition to her duties as a judge on Ingham County's 30th Circuit Court, she is an adjunct law professor and crime novelist who cares for her elderly parents at home.
"I swear it was like the best day of my entire life."
A former JAG officer for the Michigan Army National Guard, Aquilina has also worked as a lobbyist, founded her own law firm, and hosted a syndicated radio talk show. She has five children and two grandkids.
Is her next gig presiding over a kind of People's Court for the #timesup generation? The judge is quick to stress that a lot of pieces need to fall into place before that ambition is realized. The one thing she's sure of: just as she did with the Nassar victims, she would sit on the bench until everyone had their say.
"I would stay as long as it took," she tweeted to a follower recently.
If and when it does happen, van Dyck wouldn't miss it for the world.
"I would drive, fly, whatever to be there and tell my story to her," she said.