The judge who handed down a controversial sentence in a sexual assault case involving a former Stanford student was removed from a new case at the request of prosecutors, the Santa Clara County District Attorney's office said.
The Santa Clara County District Attorney used a procedure known as 170.6, used by attorneys who feel judges are biased.
The judge, Aaron Persky, is under intense criticism for sentencing former Stanford star swimmer Brock Turner to just six months in jail and lifetime registration as a sex offender for sexually assaulting an unconscious woman outside a campus frat party in 2015.
Related: Joe Biden Calls Victim Stanford Sex Assault Case 'a Warrior'
Persky was removed from the new sex assault case after on Monday he dismissed a misdemeanor stolen mail case mid-trial, prosecutors said.
"We are disappointed and puzzled at Judge Persky's unusual decision to unilaterally dismiss a case before the jury could deliberate," Santa Clara County District Attorney Jeff Rosen said in a statement.
"After this and the recent turn of events, we lack confidence that Judge Persky can fairly participate in this upcoming hearing in which a male nurse sexually assaulted an anesthetized female patient," Rosen said.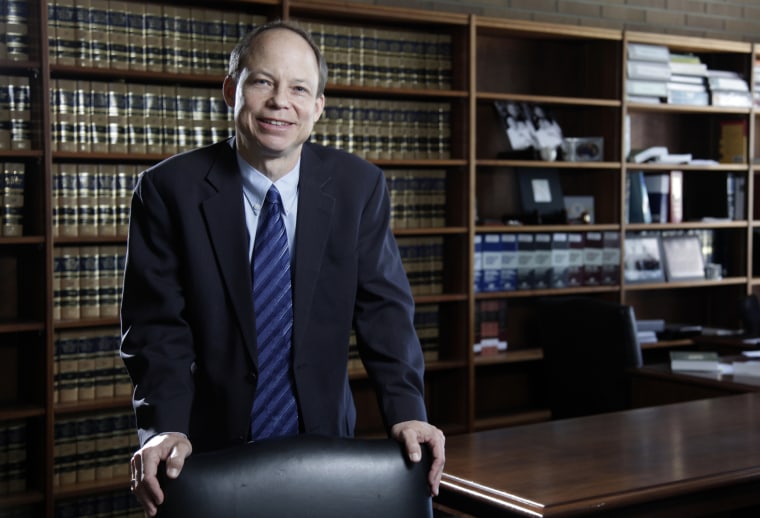 In the Turner case, Turner was sentenced to three years' probation in addition to the jail term.
Prosecutors and defense attorneys have said the sentence Persky handed down was legal, and Persky followed recommendations from the probation office.
The prosecutor in charge of the hearing in the new sex assault case involving the nurse did not immediately return a phone call seeking comment.
The sex assault case Persky was removed from involves a man charged with a felony count of sexual battery for allegedly groping a woman while she was under sedation, the San Jose Mercury News newspaper reported.
"It is one of those situations where we think the victim is particularly vulnerable,'' prosecutor Stacey Capps told the newspaper.
In the stolen mail case, Persky ruled that there was insufficient evidence presented to send a case against Rachel Garcia to a jury, according to James Leonard, supervising deputy district attorney for central misdemeanor unit.
"I was dismayed," Leonard said. "I've gone back and looked at the last 150 jury trials that we've done on my team, and that motion has been granted twice."
The case would have normally be heard in San Jose but was handled by Persky because of an overflow, Leonard said.
Related: Swedish Hero Recounts Nabbing Brock Turner During Assault
A group has vowed to recall Persky through a ballot initiative over the Turner sentence.
Prosecutors could use 170.6 to make sure he is removed from any sex assault cases in the future, Loyola Law School Professor Laurie Levenson told NBC News in a recent interview. Once the affidavit is filed the transfer to another judge is automatic, she said.
"There's no reason he should ever sit on a similar case," Levenson, who also believes the Turner sentence was too short, said last week.
Rosen's office called removing Persky from the new sex assault case "a rare and carefully considered step for our office" and gave no indication it would be more widely used.
"In the future, we will evaluate each case on its own merits and decide if we should use our legal right to ask for another judge in order to protect public safety and pursue justice," Rosen said.