An Ohio judge has declared a mistrial in the case of a white former police officer accused of murdering an unarmed black driver during a traffic stop last year.
The jury on Saturday was unable to reach a verdict for Ray Tensing, 26, charged with voluntary manslaughter in the shooting of 43-year-old Samuel DuBose — an incident caught on police bodycam.
Related: What to Know in Case Against Cincinnati Cop
Hamilton County Common Pleas Judge Megan Shanahan accepted the jury's deadlock Saturday morning. The case is now back in the hands of prosecutors, who must decide whether they will retry the case or dismiss it.
In the meantime, Tensing remains free on a $1 million bond.
Al Gerhardstein, an attorney for DuBose's family, said they are "incredibly upset" and will ask for another trial.
"They are at their wit's end. They have been on hold since Sam was killed," he said after the verdict.
"With the video evidence as clear as it was, [jurors] should not have been stuck," Gerhardstein added.
Tensing, who was fired from the University of Cincinnati's police force, faced up to 15 years in prison if convicted on the murder charge.
The decision came on a fourth day of deliberations by 10 white and two black jurors, who were tasked with weighing whether the shooting was a justifiable use of force after Tensing testified he feared for his life.
Related: Officer Who Fatally Shot Black Motorist Called 'Extremely Proactive'
The trial was a rare example of a police officer being charged in such a case — after several high-profile deaths of African-Americans at the hands of cops has caused deep divisions between law enforcement and communities of color.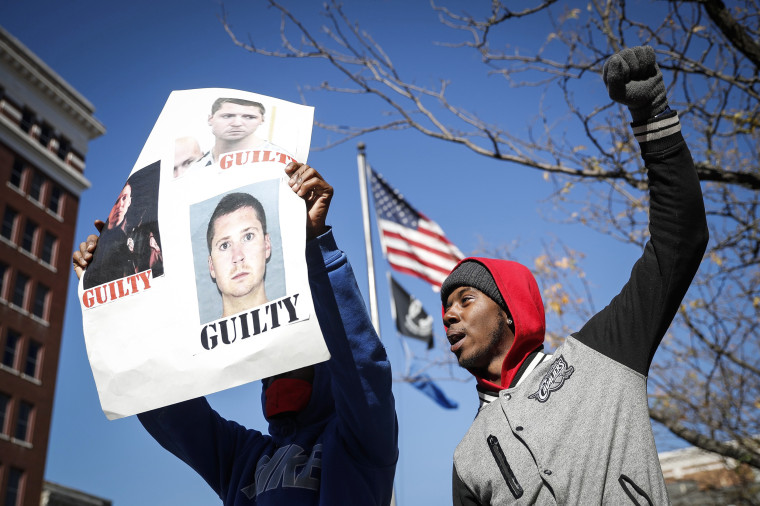 The defense said Dubose used his car as a weapon, and Tensing pulled his gun when he feared for his life when he was dragged.
Prosecutors, however, maintained he was not dragged — and bodycam footage doesn't show that key point, they argued.
Dubose, a father of 13, was pulled over after Tensing said he noticed his car was missing a front license plate. DuBose was shot once in the head.
The city of Cincinnati, on edge during the trial, was placed on high alert Friday in the event of impromptu demonstrations. Protesters affiliated with Black Lives Matter planned to gather in response on Saturday afternoon and Cincinnati Mayor John Cranley called for peaceful protests.
After the verdict, the University of Cincinnati's interim president said in a statement: "We cannot and will not let the outcome of this trial divide us."
"Our campus and our community will come together to listen, to heal and to partner for positive and lasting change," Beverly Davenport said. "More than ever, our communities need us — and we need each other — to be beacons of a better and brighter future."