A federal judge said Wednesday that it "may be necessary" to depose Hillary Clinton about the nature of her personal e-mail server, in a freedom-of-information lawsuit over the employment of top aide Huma Abedin.
Federal District Court Judge Emmet Sullivan made the observation in an order granting a plan for discovery by Judicial Watch, a Washington-based legal group seeking information about the arrangement that allowed Abedin to do outside work while she was working for Clinton at the State Department.
The question in the lawsuit is a narrow one — did the State Department do everything legally required when it searched for documents, in response to a Freedom of Information Act request, about the Abedin employment arrangement?
Related: FBI Director: Democratic Convention Not a Deadline in Clinton Email Investigation
To get the answer, Sullivan said, "questions surrounding the creation, purpose, and use of the clintonemail.com server must be explored through limited discovery," the legal term for gathering evidence in a civil lawsuit.
State Department lawyers have said that when the existence of the private email account was revealed, they conducted a new search for relevant documents among the thousands of pages turned over by Clinton.
Related: President Obama Says Evidence, Not Politics, Dictates FBI's Review of Hillary Clinton Emails
But in his order, Judge Sullivan quoted a judge involved in another FOIA case that the government's willingness to search documents voluntarily turned over "hardly transforms the search into an adequate or reasonable one."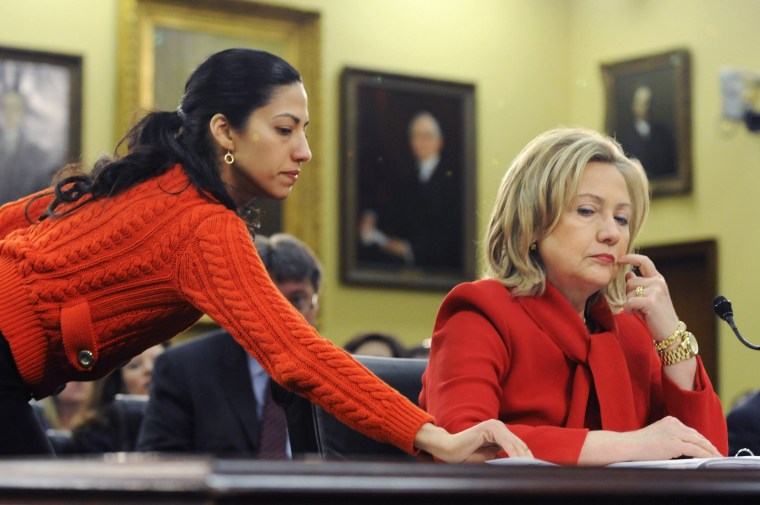 Wednesday's order approves a discovery plan drawn up by both sides and calls for seeking depositions from current and former State Department officials as well as Abedin, former Clinton State Department chief of staff Cheryl Mills, and Bryan Pagliano, a state Department employee who serviced and maintained the private server.
"Based on information learned during discovery, the deposition of Mrs. Clinton may be necessary," Sullivan said.
If so, Judicial Watch must seek his approval beforehand.
While working at the State Department, Abedin was a consultant to the Clinton Foundation and Teneo Holdings, a private consulting firm.
The judge's order said discovery must be finished within two months.
Responding to the judge's comments, a Clinton campaign official told NBC News:
"While we continue to monitor developments in the many, politically motivated lawsuits filed by the same, right-wing groups that have been attacking the Clintons since the 1990s, our focus remains on the independent review being conducted by the Justice Department."
The statement continued, "Hillary Clinton has long expressed her willingness to cooperate in that review in order to help them complete their work. We remain confident that review will affirm that nothing inappropriate took place."