A federal judge Friday ordered new sentencings for Lee Boyd Malvo, one of the two men convicted after a string of sniper shootings that terrorized the Washington, D.C. area in the fall of 2002.
Malvo was 17 at the time of the shootings, and is serving sentences of life without parole.
Ten people were killed and three were wounded in the series of sniper shootings. The victims were chosen at random — in parking lots, at gas stations, while mowing the lawn, and on the way to school.
A Virginia jury convicted the older man, John Allen Muhammad, a Gulf war veteran with mental problems, and he was sentenced to death and was executed in 2009. Prosecutors said a high-powered rifle found in his car was matched to bullets recovered from murder victims.
Related: D.C. Sniper Malvo Says He Felt Like 'Worst Piece of Scum'
Malvo received sentences of life without parole after two separate trials. But in 2012 the U.S. Supreme Court struck down life sentences without parole for juveniles. And in 2016, it said that holding applied retroactively to cases on appeal.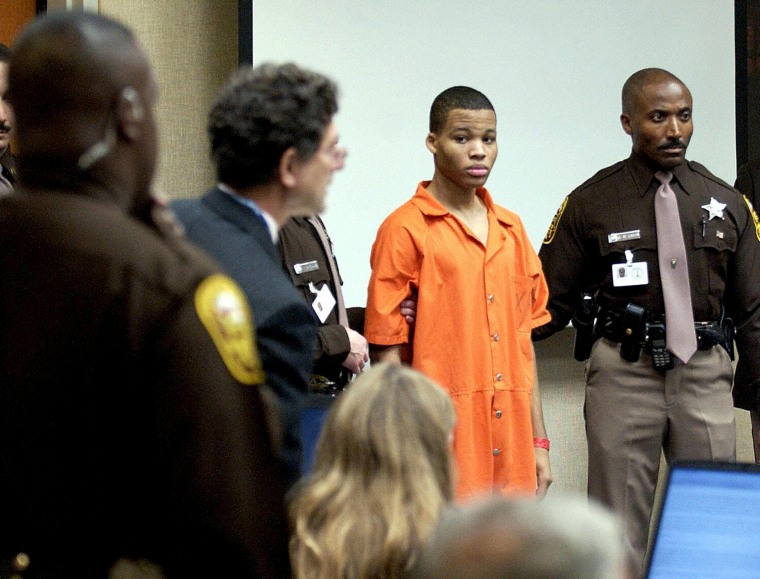 Federal District Court Judge Raymond Jackson ruled Friday that because of those two Supreme Court decisions, Malvo must be resentenced.
The brother of one of the victims of the sniper shootings said he was surprised by the decision, but will accept whatever sentence is imposed.
"We will trust the people who are making these decisions know what they are doing and are not putting a monster on the street," Bob Meyers, brother of Dean Meyers, told NBC News in a phone interview.
A man of deep faith, Meyers said he said he long ago forgave Malvo and Muhammad. "Not because we wanted them not to have consequences but because we wanted to be free of being stuck on that point for the rest of our lives. We wanted to go on with our lives," he said.