California voters on Tuesday backed the recall of the judge who sentenced a former Stanford University swimmer to six months in jail for sexually assaulting an unconscious woman behind a campus dumpster — a sentence blasted by critics as far too lenient.
Judge Aaron Persky of State Superior Court in Santa Clara County has said he was following the rule of law, not public opinion, when he imposed the six-month jail term on Brock Turner, then 20, in 2016. But in the eyes of many critics, the judge had seemed to discount the seriousness of campus sexual assault and the pain of the victim.
With 61 percent of precincts reporting, 59 percent of voters favored removing Persky, and 41 percent were opposed.
Turner was convicted of three felonies — two for digitally penetrating an unconscious or intoxicated person, one for assault with intent to commit rape. Prosecutors pushed for a six-year sentence in state prison, but Persky followed the county probation department recommendation of just six months in jail.
Turner was released after serving three months for good behavior, and he must register as a sex offender for the rest of his life.
The recall campaign was spearheaded by Michele Dauber, a professor at Stanford Law School who says she is a family friend of the victim, who is only known as Emily Doe.
In a statement, Dauber hailed the success of the recall, calling it a vote "against impunity for high status perpetrators of sexual assault and domestic violence, including college athletes."
"We voted that sexual violence, including campus sexual violence, must be taken seriously by our elected officials, and by the justice system," she said.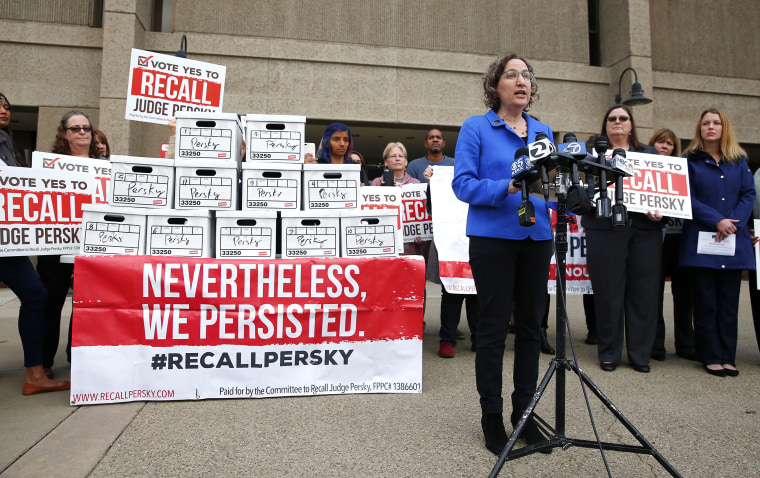 Doe, who has kept her true identity private, has not spoken publicly about the recall effort. But in an essay for Glamour in November 2016, she wrote: "When we all make it a priority to avoid harming or violating another human being, and when we hold accountable those who do, when the campaign to recall this judge declares that survivors deserve better, then we are going somewhere."
In recent months, the campaign to kick Persky off the bench sowed conflict among lawyers, academics, feminists and criminal justice activists across California. The effort's critics said recalling the judge would have a chilling effect on judicial independence and perpetuate mass incarceration by prodding judges to give harsher sentences.
Dauber and her allies claimed that Persky demonstrated a clear pattern of bias — a preference for male defendants accused of sexual misconduct, especially athletes — during his tenure on the bench. But anti-recall forces disputed that, saying Dauber had misrepresented Persky's track record.
The agency that oversees judicial discipline ruled in December 2016 that Persky committed no misconduct when he sentenced Turner, saying there was no evidence that he had displayed bias.
Dauber, for her part, dismissed that finding by the California Commission on Judicial Performance, calling it a "one-sided, closed-door procedure."