A Michigan judge has ruled that the 17-year-old Oxford High School shooter can be sentenced to life in prison without the possibility of parole during a Miller hearing Friday morning.
Ethan Crumbley appeared virtually from jail in an orange jumpsuit for his Miller hearing, a proceeding held as he is a minor to determine if he could be sentenced to life in prison.
He was 15 at the time of the Oxford High School shooting November 2021 that killed Madisyn Baldwin, 17, Tate Myre, 16, Hana St. Juliana, 14, and Justin Shilling, 17, and wounded seven others.
Oakland County Judge Kwamé Rowe said Friday that the court couldn't find a reason that he could be rehabilitated and that the crime does not bear the "hallmarks of youth" and, as such, he can be sentenced to life without the possibility of parole. 
The shooter's next hearing was set for Oct. 20 and his sentencing for Dec. 8.
Though he was convicted of first-degree murder, he couldn't be automatically sentenced to life in prison without parole as adults are because of his age. Miller hearings allow the judge to decide if a minor can be eligible for such a sentence.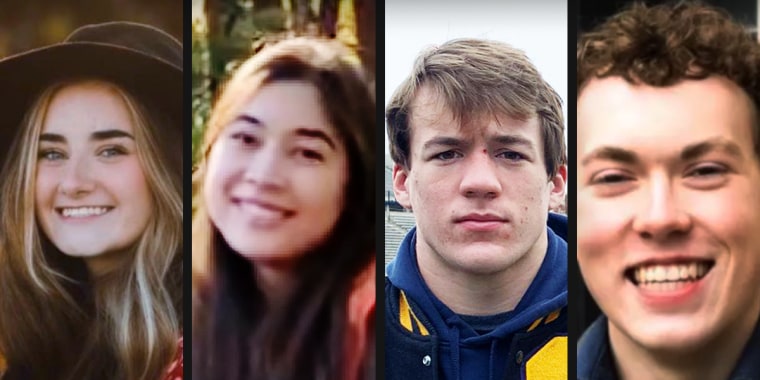 "This crime is not the result of impetuosity or recklessness," Rowe said. "The defendant carefully and meticulously planned and carried out the shooting."
He said the court found that the shooter's possibility of rehabilitation was "slim," and that he "continues to be obsessed with violence" even in jail. At this, the shooter appeared to subtly shake his head and furrow his brows. 
"His obsession with violence is in part what caused defendant to commit the underlying offense. If defendant continues to be obsessed with violence in the jail, how can there be a possibility of rehabilitation?" Rowe said.
Last month, lawyers argued for and against life without parole during Miller hearing proceedings that lasted four days and culminated with Rowe's decision Friday. 
The defense argued the shooter was severely neglected by his parents and a psychologist, Colin King, called him a "feral child," meaning a child who had been abandoned. His attorney, Paulette Loftin, argued for parole saying the shooter could be helped through rehabilitation. 
Oakland County Prosecutor Karen McDonald said during closing argument at those hearings: "Both things can be true — we can feel compassion, but we can also fashion an appropriate sentence and reckon with the very severe, rare circumstances of this crime." 
After the Friday ruling, McDonald commended the teachers and students who testified about the shooting, saying: "I hope the result today brings the victims, their families, and the Oxford community some comfort." 
NBC News has reached out to the shooter's attorney for comment.
Oakland County prosecutors charged him as an adult and he pleaded guilty to all 24 charges against him in October last year.
The gunman admitted to one count of terrorism causing death, four counts of first-degree murder, seven counts of assault with intent to murder and 12 counts of possession of a firearm in the commission of a felony.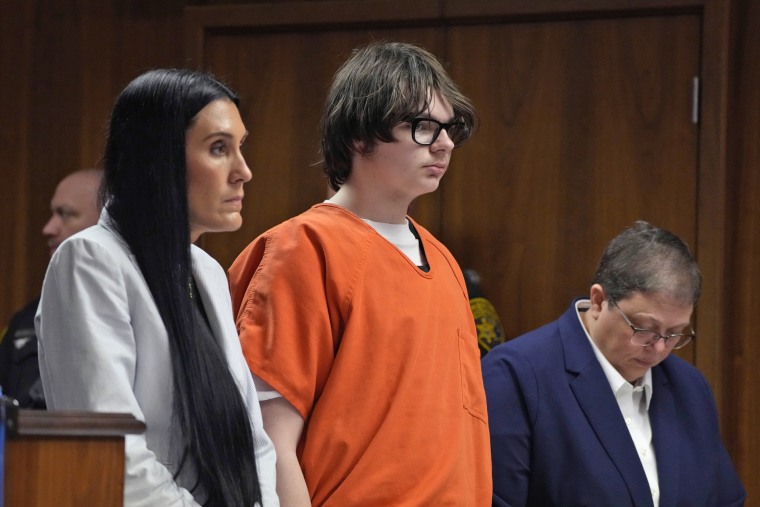 In America's seemingly nonstop series of school shootings, his case stands out because the alleged — and perhaps criminally liable — negligence of his parents.
James and Jennifer Crumbley have been charged with involuntary manslaughter for allegedly failing to take reasonable steps to safeguard the handgun used in the shooting.
That weapon was allegedly purchased by James Crumbley days before the onslaught.
The Crumbleys had been made aware of troubling and violent images in a sketch found on their son's desk the day of the shooting and were urged to get him counseling — but left him at school, prosecutors have said.
The parents have insisted they could not have foreseen their son going on a murderous rampage and defense lawyers are seeking to have their case scuttled before it can even reach a precedent-setting trial.