One of six sexual assault counts against Harvey Weinstein was dismissed in a New York courtroom on Thursday, as prosecutors admitted that police "failed to inform" them about a key interview.
The charged dismissed was Count 6, a criminal sex act in the first degree, stemming from an alleged assault on one-time aspiring actress Lucia Evans.
"I would like to make one thing clear: Nothing in the disclosure regarding Count 6 impacts the strength of the remaining case and the remaining counts in the indictment, all five of them, including predatory sexual assault," Manhattan Assistant District Attorney Joan Illuzzi-Orbon said during a pre-trial hearing in front of Manhattan Supreme Court Justice James Burke.
"We are moving full-steam ahead on the other counts," Illuzzi-Orbon added.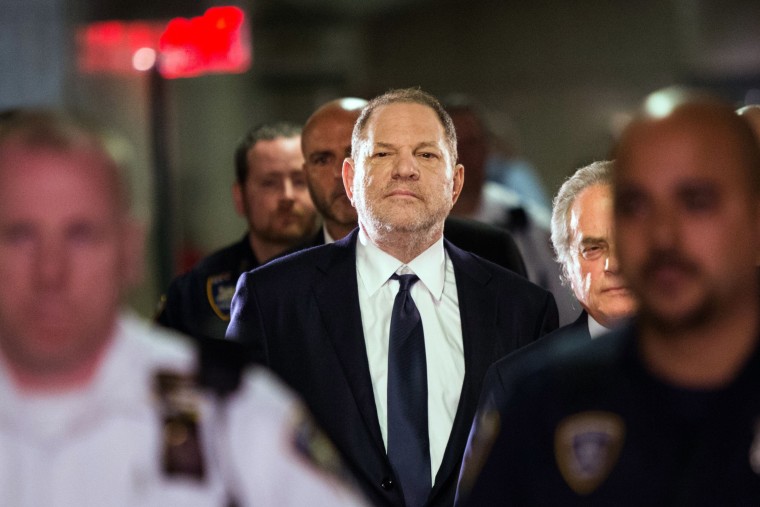 Evans claimed that when she was a 21-year-old college student in 2004, Weinstein forced her to perform oral sex in his office.
Evans' accusations, first reported in The New Yorker magazine a year ago this week, led to dozens of other women coming forward to accuse Weinstein of sexual misconduct.
In a Sept. 12 letter from Illuzzi-Orbon to Weinstein's lawyers, made public for the first time on Thursday, the prosecutor disclosed that police interviewed a friend of Evans. But that interview wasn't passed on to the district attorney until recently.
The witness told an NYPD detective that "the defendant had offered her employment in exchange for oral sex, and that the complainant thereupon had performed oral sex on the defendant."
That same witness told police that Weinstein offered she and Evans money to expose their breasts at a Manhattan restaurant in summer, 2004. The woman said they declined — but that Evans later told her she did flash herself to Weinstein in a hallway of the eatery.
In a follow-up interview with prosecutors, Evans denied both flashing her breasts to Weinstein and telling her friend she had done so, according to the letter.
Prosecutors also conceded that the detective who took the witness' statement asked her to keep quiet.
The detective told her "going forward, `less is more' and that the witness had no obligation to cooperate," according to the district attorney letter.
The friend's statements were, overall, "at odds with the factual account the complainant previously provided our office," according to the prosecution's letter.
"The People have recently learned that this account was earlier provided by the witness to a detective ... who failed to inform our office of important aspects of the account prior to the indictment in this case," Illuzzi-Orbon wrote in the letter to lawyer Ben Brafman.
In court on Thursday, Brafman accused Evans of perjury and called for the detective, identified by the defense as Nicholas DiGaudio, to be investigated.
The NYPD said the detective in question is no longer on Weinstein's case and his work is being reviewed.
"We take these allegations seriously," said NYPD Chief of Detectives Dermot Shea said.
Brafman said all of the disclosures should have been made before his client was indicted.
"And we are pleased with this development. The case is not over, but I think it is permanently and irreparably damaged," Brafman told reporters said outside court. "We will seek to dismiss the indictment, all of the counts."
The defense claims the charge against Weinstein involving Evans actually stems from "a consensual relationship." Brafman said emails between Weinstein and Evanswould have also hurt the prosecution's case.
Despite the charge involving Evans being tossed, her lawyer still said she's a victim of Weinstein.
"The DA threw away Lucia's claims but this says nothing about Weinstein's innocence nor does it reflect on Lucia's consistent allegation that she was sexually assaulted with force by Harvey Weinstein," Evans' lawyer Carrie Goldberg told reporters outside court.
The 66-year-old Weinstein has pleaded not guilty on all remaining charges and is free on $1 million bail.
He still faces five criminal counts involving two other women in Manhattan. They include two counts of predatory sexual assault, criminal sexual act in the first degree, rape in the first degree and rape in the third degree — charges that could land him behind bars for 10 years.