A federal judge has ordered defense attorneys for an alleged money launderer for the Iranian government to detail the involvement of President Trump's "cyber czar," ex-New York mayor Rudy Giuliani, and former Attorney General Michael Mukasey in the case.
As NBC News reported yesterday, Giuliani has joined the defense team of gold trader Reza Zarrab, who is under federal indictment for fraud, money laundering and evading sanctions on Iran, and who has ties to Turkish President Recep Erdogan.
Related: Giuliani To Help Defend Accused Iran Money Launderer
Zarrab, a 33-year-old dual Turkish-Iranian citizen, was arrested March 19 in Florida. He's accused of ducking sanctions by moving hundreds of millions of dollars for the Iranian government and Iranian firms via offshore entities and bank accounts.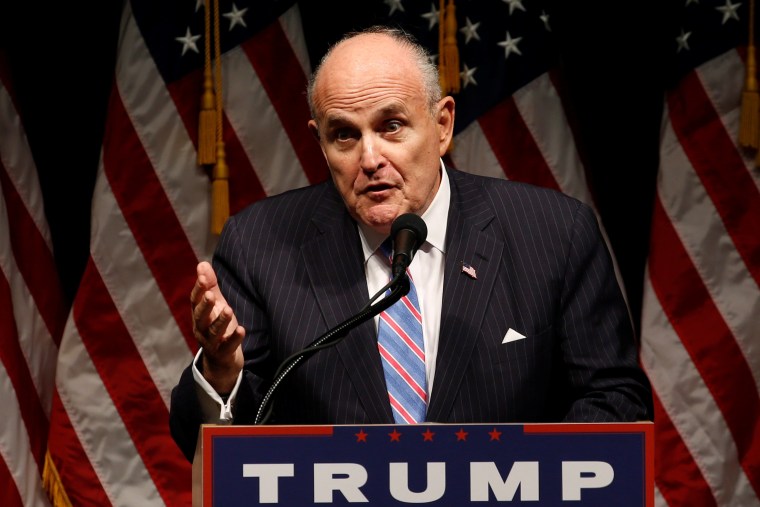 The order comes on the heels of multiple letters filed by the Acting U.S. Attorney for the Southern District of New York in the case.
Prosecutor Joon Kim sent a letter Monday morning notifying the judge in Zarrab's case that Giuliani had joined the defense, and that Zarrab had also hired Mukasey. Kim said he was "advis[ing] the Court of potential conflicts of interest," since Giuliani and Mukasey's firms also represent some banks Zarrab used in transactions.
Zarrab's lead attorney, Ben Brafman, told the court and NBC News in a statement that he would remain as lead counsel, and that neither Giuliani, Mukasey nor their firms would appear in court.
Kim sent a follow-up letter Monday night suggesting that Giuliani and Mukasey had joined the defense to "explore a potential disposition of the criminal charges in the matter." Kim further argued for a hearing on the matter before the judge by raising his concerns that "Mr. Giuliani and Mr. Mukasey's involvement in this case is intended to occur entirely outside of the Court's purview and knowledge."
The judge then asked Brafman to explain Giuliani and Mukasey's role in the case, and also why the men hadn't notified the court of their involvement, as is generally required.
The New York Times reported Monday night that both Giuliani and Mukasey had previously visited Turkey to discuss the case with Erdogan. A U.S. official contacted by NBC News did not dispute the Times account.
Erdogan defended Zarrab when he was fingered in a 2013 Turkish corruption scandal that also implicated Erdogan associates. The Turkish leader called Zarrab, who had given his wife's charity $4.5 million, a philanthropist and praised his contributions to Turkish society. All charges against Zarrab and Erdogan's pals were dropped.