Looks like luck doesn't run in the family.
A Pennsylvania judge won $291.4 million while on vacation in the Florida Keys this week, while his brother won a slightly less impressive prize in the same drawing: a measly seven bucks.
James Stocklas, 67, of Bethlehem, Pennsylvania, was wrapping up a month-long fishing trip with friends and relatives when he and a couple buddies stopped at a convenience store Tuesday to buy a bag of ice and some lottery tickets, the Florida Lottery said.
It wasn't until Friday morning over breakfast back at his favorite local diner in Pennsylvania that Stocklas saw the winning numbers — and realized they were his.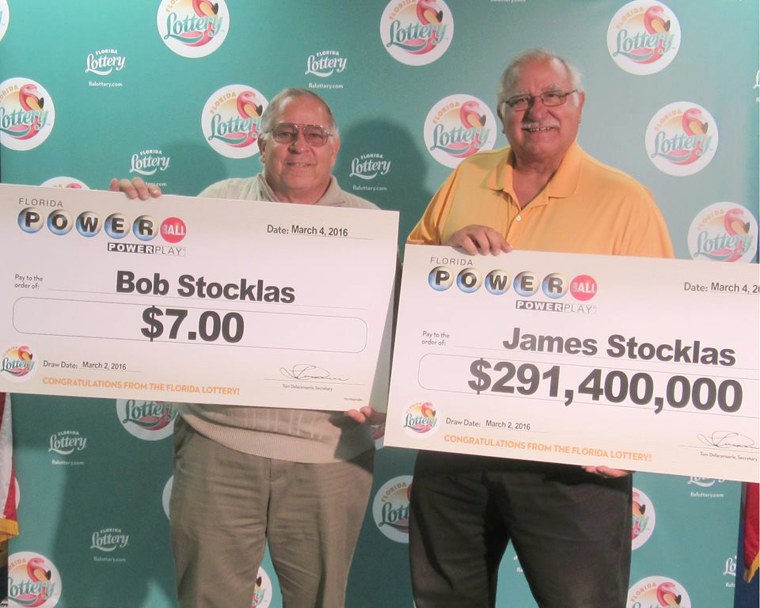 "I was yelling and I bought everyone in the diner breakfast," Stocklas told The Morning Call newspaper in Pennsylvania. "When I found out, I was shaking for an hour straight."
Stocklas' ticket was the sole winner of the monster Powerball lottery, but he is sharing the prize with the two friends he was with when he bought it. He opted for a one-time, lump-sum payment amounting to $191,470,307.58, the Florida Lottery said in a press release.
The three friends will take home more than $40 million each after taxes, Stocklas told The Morning Call.
There were no additional details provided about Stocklas' brother Bob's whopping $7 win, for which the Florida Lottery also printed out on an oversized check, just like they did for James Stocklas' $291.4 million win.
Neither brother immediately returned requests for comment from NBC News on Saturday.
James Stocklas and his friends — Barry Bartakovits of Hellertown and a Pennsylvania woman who Stocklas didn't identify — immediately decided to put their winnings to use when they learned of their good fortune: They rented a private jet to go back to Florida to claim their money. At $3,000 an hour, the jet cost around $20,000, Stocklas told The Morning Call, and the three sipped champagne onboard.
But it hasn't been all highfalutin glam for the trio since they won. On Friday night, before flying back home, they grabbed dinner at an Applebee's restaurant.
"I know, Applebee's," Stocklas told The Morning Call. "We are really going top shelf, right?"
The massive jackpot followed a series of Florida Powerball rollovers with no winners that began on Jan. 16.
Stocklas, a senior district judge in Northampton County, says he will go back to work on April 1 — and he swears that isn't an April Fool's joke.
"I'll be back on the bench," he told the paper. "There's no doubt."