WASHINGTON — Former Trump campaign chair Paul Manafort and his associate Rick Gates — indicted this week on charges ranging from conspiracy to money laundering — will remain on home confinement with GPS monitoring until at least next week.
"I have concerns about flight," U.S. District Judge Amy Berman Jackson said as both men appeared in a Washington courtroom on Thursday afternoon.
Manafort and Gates are the first known people to be indicted in connection with special counsel Robert Mueller's probe into the Trump campaign's alleged ties to Russia and Moscow's interference in last year's presidential election.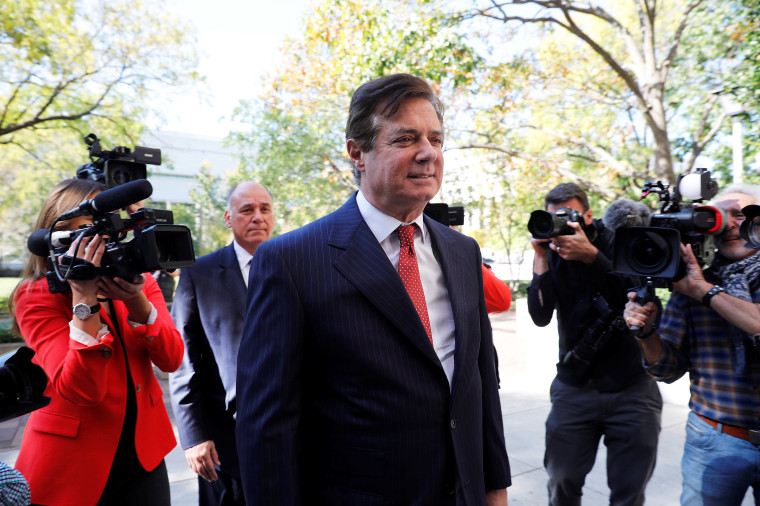 The pair have been on home confinement since their indictment on Monday — Manafort on a $10 million bond and Gates on a $5 million bond. The conditions of their release will be decided at a bail hearing on Monday. They could be tried as early as April.
In court papers filed before Thursday's hearing, Manafort's attorneys argued that the prosecution's request for "substantial" bail conditions was misplaced and that he has known since August that he might be indicted.
"Apparently, the Government Memorandum seeks to persuade this Court that Mr. Manafort is a serious risk to simply up and leave his wife of almost 40 years, his two daughters, and his grandchildren, so that he can live the rest of his life on the lam," they wrote. "This is an imagined risk; it is not real."
"Given the substantial media coverage surrounding Mr. Manafort and this investigation, it is fair to say that he is one of the most recognizable people on the planet today. Query where such an individual could even hide?" they added.
Related: Manafort Faces Charges That Are Tough to Beat
The defense said the $10 million bond was enough to guarantee Manafort's appearances in court, and claimed that a forfeiture action of $18 million would "wipe out a substantial portion" of his wealth.
"Mr. Manafort is ready to defend these allegations and preserve his livelihood and assets," they wrote.
Gates is also seeking to get off home confinement, arguing that he needs to travel for work and "is a devoted husband and a very involved father who closely manages the daily needs of four young children who depend on him financially."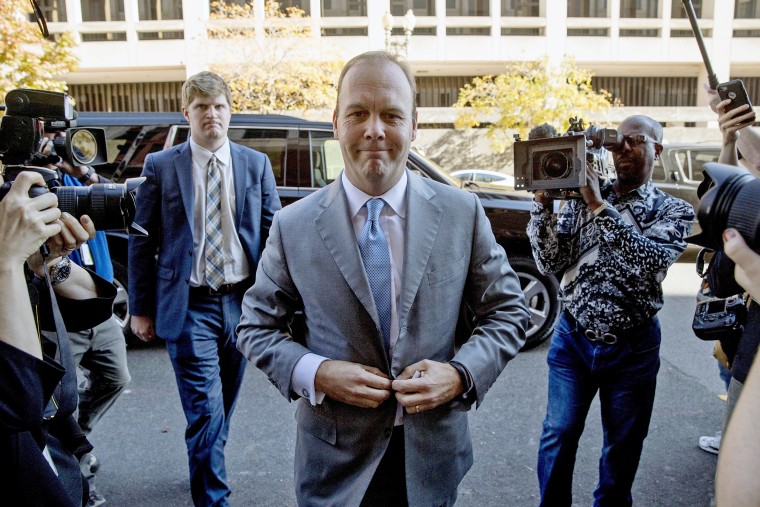 He and Manafort are accused of using offshore accounts to funnel a fortune they made through lobbying work for Ukraine. Between 2006 and 2016, they hid tens of millions of dollars by laundering the money through scores of U.S. and foreign corporations, partnerships and banks, according to the charges.
Manafort used the funds to finance a "lavish lifestyle," prosecutors charged. Their accounting included $5.4 million on home improvements in the Hamptons, $934,350 to an antique rug store in Virginia, $520,440 to a clothing store in Beverly Hills, $655,500 for landscaping in New York, a $1.5 million Soho condo; a $3 million Brooklyn brownstone, and a $1.9 million house in Virginia.
A grand jury indicted the men on 12 charges, including conspiracy against the United States, money laundering, being an unregistered foreign agent and failure to file reports of foreign bank and financial accounts.
Mueller's office calculated the possible maximum sentences under federal sentencing guidelines if the pair are convicted: Gates could serve up to 12 years and seven months in prison, and Manafort is facing up to 15 years and eight months.
Another target of Mueller's investigation, former campaign foreign policy adviser George Papadopoulos, secretly pleaded guilty last month to lying to federal agents about his contacts with Russians — a development that some say upped the ante in the sprawling inquiry.
Sources told NBC News that Manafort and Papadopoulos had email contact about efforts to set up a meeting between Trump and officials in Moscow, but the charges against Manafort are not tied to that.