Julie Chen, the wife of former CBS Chief Executive Leslie Moonves, held back tears as she said goodbye the network's daytime show "The Talk."
"Right now, I need to spend more time at home with my husband and our young son," Chen said in a taped video played at the end of Tuesday's show. "I've decided to leave The Talk."
"I love you all and I know this show and the sisterhood it stands for will live on for many, many, many more years to come," she said, addressing her co-hosts.
Chen had been absent from the show since the season premiere on Sept. 10.
"We are grateful for her many other contributions, respect her decision and wish Julie all the best in everything she does," CBS said in an emailed statement.
The daytime series, which airs on the CBS network and is produced by CBS Television, involves discussion about issues of the day. Chen, 48, found herself in a delicate situation when her husband became part of the news.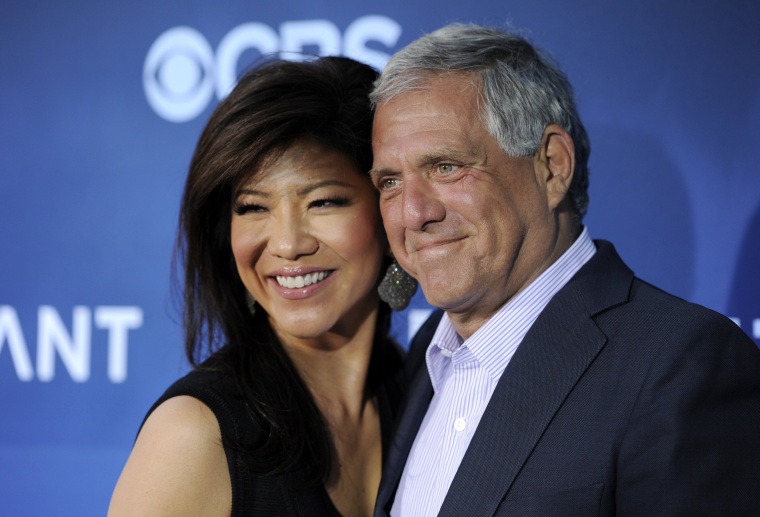 Moonves stepped down from the company earlier this month after a series of allegations of sexual misconduct by women Moonves had worked with during his career. CBS has hired two law firms to investigate the claims. Moonves has denied any wrongdoing.
Sharon Osbourne, co-host of "The Talk," had initially backed Moonves on air, and then spoke out against him on the show last week.
"The man has a problem," Osbourne said.
Chen will continue with another CBS series "Big Brother," though the show's finale is next week.
Chen has worked at CBS since 1999, and married Leslie Moonves in 2004. She has supported Moonves throughout the scandal, tweeting out a statement in June.
"I fully support my husband and stand behind him and his statement," she wrote.
She put that support on display on Sunday, appearing on "Big Brother" for her usual hosting duties and signing off by adding her husband's name to her own.
"From outside the 'Big Brother' House... I'm Julie Chen Moonves," she said. "Good night."