This Sunday, daredevil Nik Wallenda -- who famously traversed Niagara Falls on a tightrope last year -- will attempt another extreme balancing act: walking a tightrope over the Grand Canyon. Wallenda carries on a family tradition with his tricks -- he is the seventh generation of the "Great Wallendas," a stunt-performing family. And he calls to mind daredevils past, who have shocked the public for more than 100 years with their daring feats (and failures.)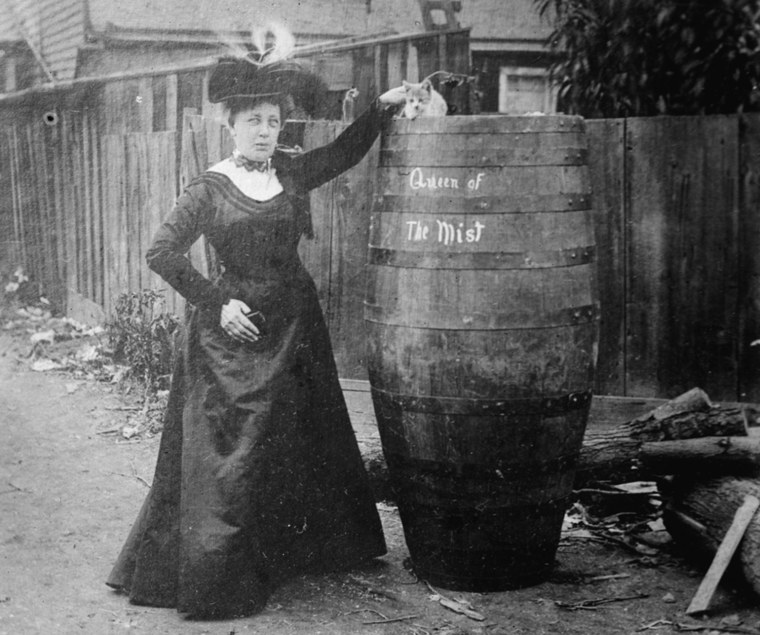 Annie Edson Taylor (1901)
The historic stunts attempted at Niagara Falls vary from swims and falls under and over the falls to tightrope walks and velocipede rides over them. Though many had tried and failed before her, Annie Edson, a 63-year-old schoolteacher, was the first daredevil to successfully go over the enormous waterfalls. Taylor – who believed the fall would pave her way to fame and fortune – took the plunge in a wooden barrel on Oct. 24, 1901. It took 17 minutes for the barrel to be pulled to shore where, to tremendous surprise, Taylor emerged with no more than a gash on her head.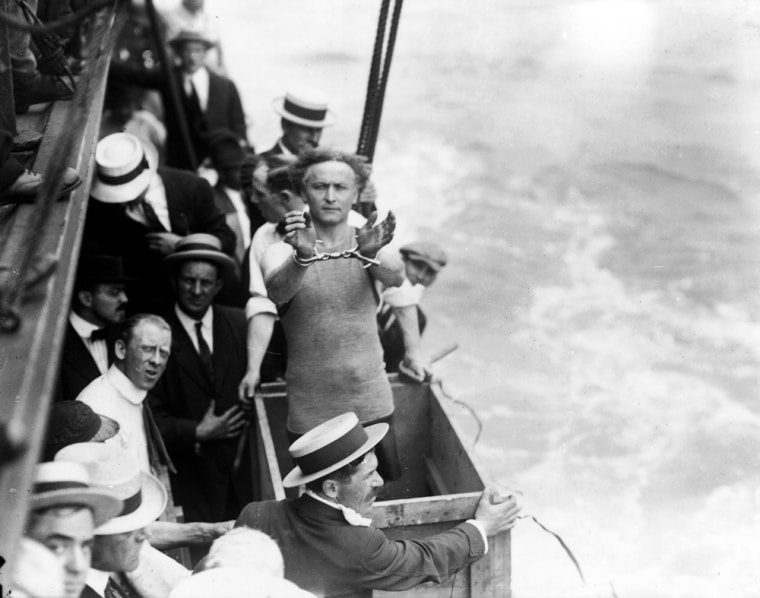 Harry Houdini  (1912)
Harry Houdini's legendary escape acts captivated audiences around the turn of the 20th century. In 1912, Houdini first performed one of his most famous tricks when he escaped from a securely closed packing crate completely submerged in New York's East River. The trick began with Houdini publicly locked in handcuffs and leg-irons inside the 200-pound crate, which was then nailed shut, secured and lowered into the water. As if by magic, it took Houdini only 57 seconds to escape.
Philippe Petit (1974)
In the early 1970s, Philippe Petit made a name for himself by walking across wire strung between landmarks like the towers of Paris' Notre Dame and the pylons of the Sydney Harbour Bridge. Petit's most daring walk, however, took place on Aug. 7, 1974, between New York's newly erected Twin Towers. Petit did not have permission to perform his legendary stunt, and he playfully evaded authorities, who stood on the roofs of both towers, for 45 minutes as he walked back and forth across the wire with only a balancing pole. Petit was arrested after he stepped off the wire, but all formal charges were eventually dropped due to the stunt's popularity among the public.
Evel Knievel (1974)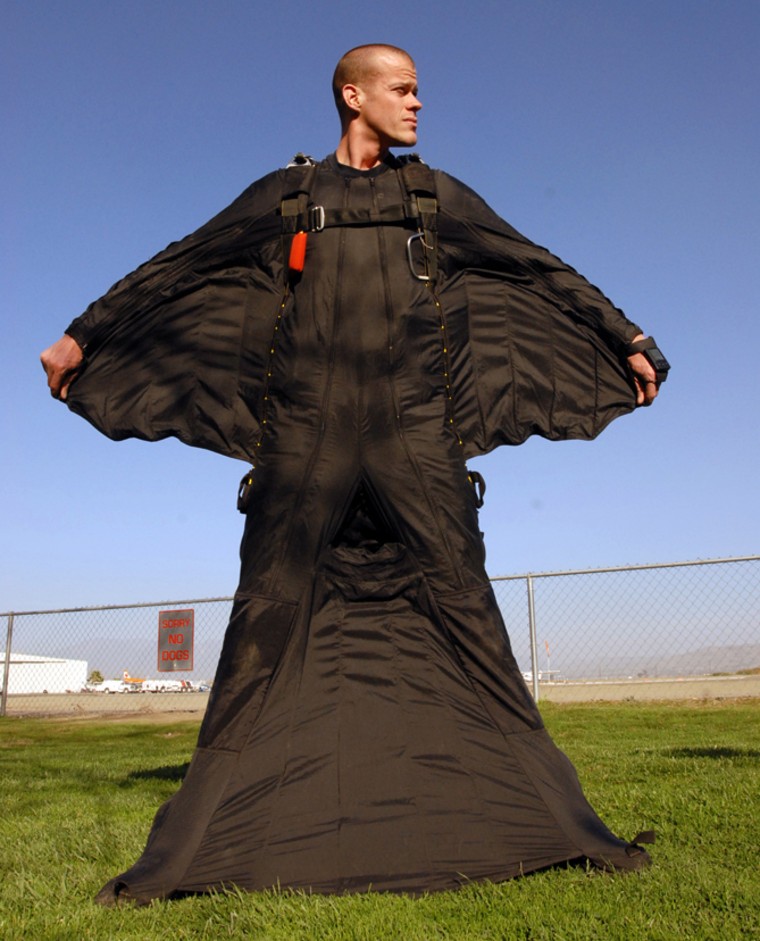 Evel Knievel, possibly the most famous daredevil of all time, attempted his most ambitious jump ever -- attempting to soar over Snake River Canyon with a rocket-powered cycle on Sept. 8, 1974. The launch was unsuccessful, though; the parachute on Knievel's "skycycle" accidentally deployed, and headwinds carried Knievel back into the canyon, where he crashed, 600 feet below, suffering only minor injuries. Knievel died in 2007 but continues to inspire the next generation of daredevils – both stuntman Mike Hughes and Knievel's son, Robbie, have vowed to recreate the failed jump. Hughes has begun testing his own steam-powered rocket and plans to take the leap on the 40th anniversary of Knievel's jump in 2014.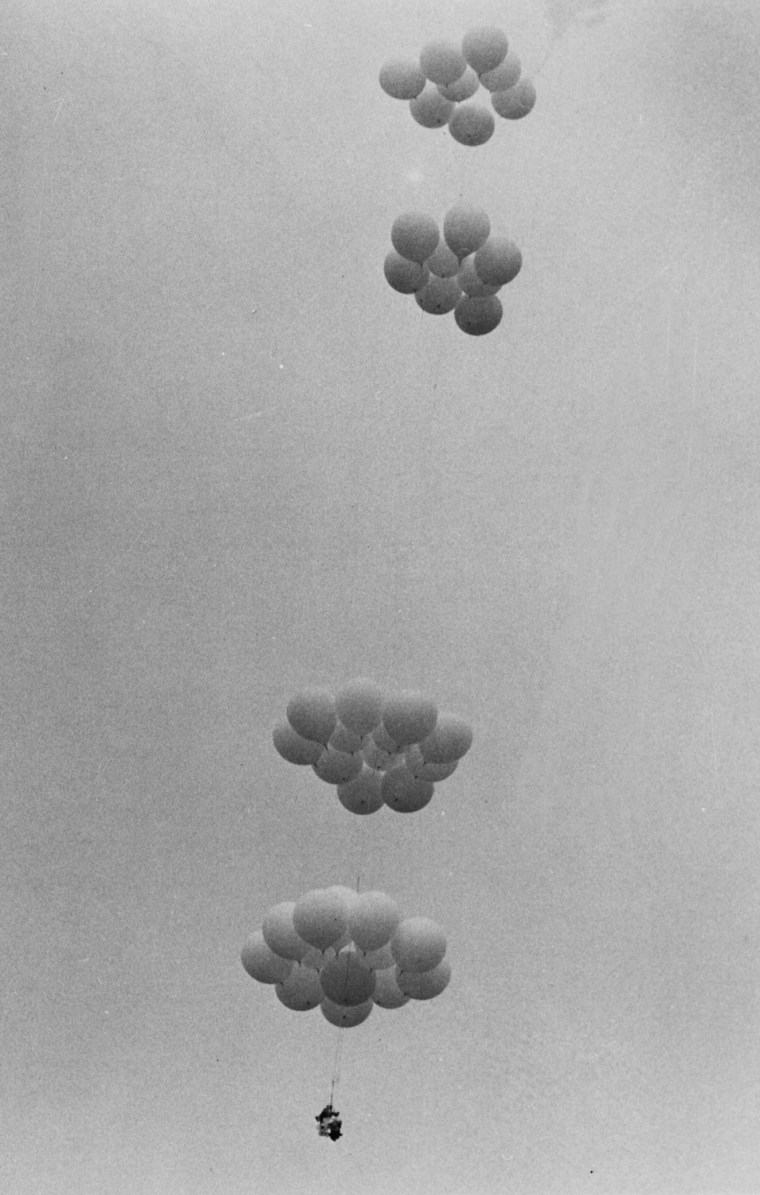 Larry Walters (1982)
On July 2, 1982, truck driver Larry Walters boarded his homemade flying machine – a patio chair tied to 45 helium weather balloons. Walters had anticipated rising up to a hundred or so feet, but, much to his surprise, his calculations were off and the lawn chair climbed to an altitude of 15,000 feet. After flying for nearly an hour, Walters shot pellets at the balloons and gracefully descended , inadvertently landing on several power lines and causing a major blackout. Upon reaching the ground, Walters was arrested for having flown into federal airspace.
Jeb Corliss (2006)
In April of 2006, professional BASE jumper Jeb Corliss, known for jumping from landmarks such as Seattle's Space Needle and Petronas Twin Towers in Kuala Lumpur, Malaysia, tried and failed to jump off the observation deck of the Empire State Building. Corliss had been planning the jump for years. But as he prepared to jump, he was restrained by building security and  arrested by NYPD. Corliss received three years' probation and 100 hours of community service, along with a permanent ban from the Empire State Building.
Travis Pastrana (2010)
On New Year's Eve 2009, crowds gathered in Long Beach, Calif., to watch Travis Pastrana break the world record for longest rally car jump. Pastrana's jump of 274 feet was successful, shattering the previous record of 171 feet set three years prior by Ken Block, Pastrana's Subaru teammate. Upon landing, Pastrana's Subaru skidded and crashed into a wall, but the driver emerged unharmed and victoriously backflipped into the water he had just crossed.
Alain Robert (2011)
The French climber Alain Robert -- aka "the French Spider-Man" -- has been arrested for nearly all of his daring climbs, some of which include scaling the world's tallest buildings with nothing more than climbing shoes and chalked hands. On March 28, 2011, he performed a legal climb of the tallest building in the world: the 2,722-foot Burj Khalifa in Dubai. Though it's not usually his style, Robert decided to conform to safety laws and allowed himself to be attached to a safety harness for the six-hour event.
Felix Baumgartner (2012)
On Oct. 14, 2012, Austrian daredevil Felix Baumgartner fell to Earth after ascending to an altitude of 128,100 feet (approximately 24 miles) via helium balloon. Baumgartner became the first human to break the sound barrier, and his jump was the highest and fastest in history, with his maximum speed measured at 833.9 miles per hour. The world was able to experience the spectacular views of Earth's stratosphere, along with the moment of the jump, from a camera installed in Baumgartner's capsule.