Two of the jurors who awarded sportscaster Erin Andrews $55 million in a peeping-tom video scandal said the entire panel was persuaded by the sportscaster's tearful recollection of the trauma she endured — but it took some time to agree on how much money she deserved.
Some felt the $75 million Andrews demanded was reasonable. Others thought $10 million was plenty, juror Terry Applegate, 63, said. In the end, after deliberating more than seven hours Monday, they met at $55 million.
The jury of five men and seven women did the same thing when assigning blame for the September 2008 video of Andrews, who was in Nashville, Tenn., to cover a football game for ESPN, Applegate and fellow juror Noble Taylor told NBC News.
They ordered convicted stalker Michael David Barrett to pay about $28 million, while the owner and operator of the Nashville Marriott at Vanderbilt University to pay about $26 million.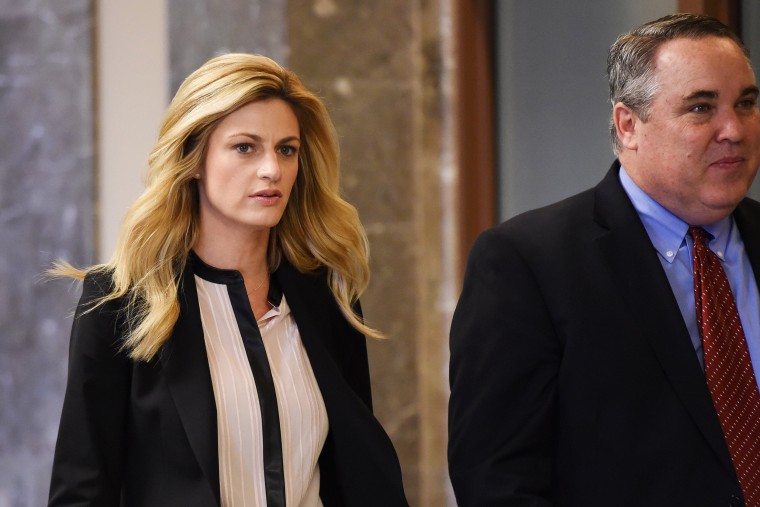 "I think the jury as part of the process wanted to make sure Erin was recognized for these eight years when she's battling this because she didn't have to," Applegate, president of a corporate management outsourcing company, said.
"She did it, I think, out of principle, to make the world a better place. And the hotel needed to have a little hurt, to understand that this is not an insignificant thing to happen — and should never, ever happen again."
Taylor, a 45-year-old sergeant for the Nashville Police Department, said that as a husband and father, he was swayed by Andrews' transparency, and by her parents, who took the stand to describe their daughters' anguish. He argued for awarding Andrews the full $75 million.
"I've got two sons and a wife, and I think about what if it was my wife inside that room, or my kids," Taylor said.
Barrett served more than two years in prison for secretly filming Andrews in Nashville and Columbus, Ohio by removing door peepholes and aiming a cellphone camera into her rooms.
Andrews' lawyers argued during the two-week trial that the hotel's owner should have kept Barrett from finding out where she was staying and from booking a room next to hers. The hotel, the lawyers said, also should have alerted Andrews that someone had asked to sleep next door.
But lawyers for the companies running the hotel at the time — West End Hotel Partners and Windsor Capital Group — argued that Barrett alone was responsible. Even if he wasn't, they argued, Andrews' continued professional success showed that she hadn't suffered severe and permanent damage.
Taylor said he wasn't swayed by that argument.
"A person like that is going to be driven no matter what happens," he said.
He added: "I can't fault her. I kind of congratulate her."
Both Applegate and Taylor said they hoped their decision would send a message to the hotel industry that it is accountable for guests' privacy.
"It's important that when we walk into hotels or any public building that says they're going to take care of us that they take care of us, and we feel safe and secure in their environment," Applegate said. "And this hotel did not do that."