Sportscaster Erin Andrews won a $55 million judgment Monday against a stalker and the owner of a Nashville, Tennessee, hotel where he recorded secret nude videos of her.
The judgment, announced by a state circuit court jury in the late afternoon, is less than the $75 million Andrews had sought from the owner and operator of the Nashville Marriott at Vanderbilt University and the stalker, Michael David Barrett, who has already served a prison sentence.
The jury deliberated for less than eight hours, splitting the blame — and the damages — roughly equally between Barrett, who will have to pay about $28 million, and the two companies, which are on the hook for about $26 million.
Andrews originally included Marriott International in the suit, but the judge dismissed the company early in the process, ruling that it wasn't responsible for security at a hotel run locally by a franchisee.
Neither Andrews nor her lawyers spoke to reporters after the verdict was announced. But Andrews tweeted a statement thanking the jury and the people of Nashville.
Barrett recorded Andrews by removing door peepholes and aiming a cellphone camera into her room. He has served more than two years in prison for secretly filming Andrews in Nashville and Columbus, Ohio.
Andrews' lawyers argued during the weeklong trial that the hotel should have kept Barrett from finding out where she was staying and from booking a room next to hers while she was in town in September 2008 to cover a college football game for ESPN. The hotel, the lawyers said, also should have alerted Andrews that someone had asked to sleep next door.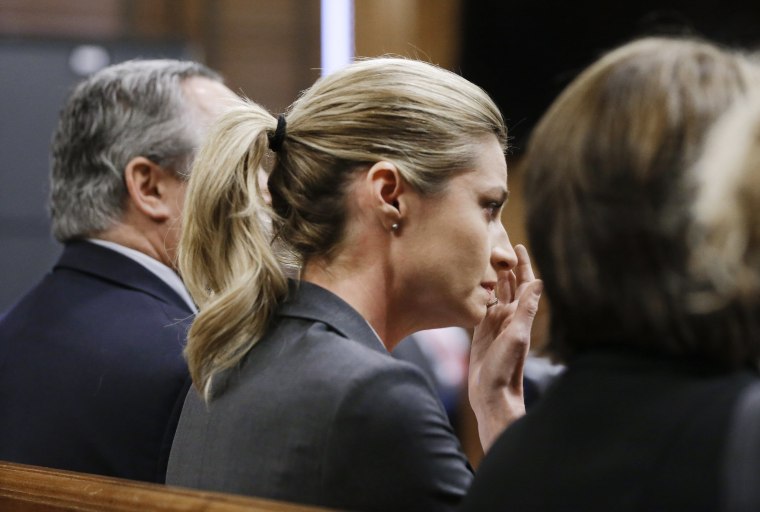 Andrews, who now works for Fox Sports and co-hosts "Dancing with the Stars," took the stand, tearfully describing the humiliation of knowing millions of people had watched the videos — and of being harassed online and in public.
But lawyers for the companies running the hotel at the time — West End Hotel Partners and Windsor Capital Group — argued that Barrett alone was responsible. Even if he wasn't, they argued, Andrews' continued professional success showed that she hadn't suffered severe and permanent damage.
"Her career skyrocketed, her career went up, so from our perspective, none of the benchmarks that would indicate a serious mental injury existed," Marc Dedman, a lawyer for the companies, told reporters after the verdict.
Jim Todd, a prominent defense attorney and former prosecutor in Nashville who's not involved in the case, told NBC News that he believed the seven women and five men on the jury decided with their hearts, not their heads.
"They were siding with their own emotions about what happened to her as opposed to the law and how they should have apportioned the damages," Todd said late Monday afternoon.
"She still travels. She still stays in hotels. She still does everything she did before this happened — and frankly does it better," Todd said.