A former New Hampshire prep school student accused of raping a freshman girl as part of a campus tradition was acquitted Friday of the most serious charges against him.
Owen Labrie, now 19, was cleared of three counts of felony sexual assault, each of which carried up to 20 years in prison. He was convicted of misdemeanor sexual assault and a separate felony charge that carries up to seven years.
Labrie sobbed in court as the verdict was read.
He was accused of raping the girl in May 2014 at their boarding academy, the prestigious St. Paul's School in Concord. Prosecutors said he did it as part of a ritual called the "Senior Salute," in which graduating seniors try to have sex with underclassmen.
The jury of three women and nine men deliberated for about eight hours over two days.
Labrie will face sentencing on Oct. 29, and is out on $15,000 bail in the meantime. He must adhere to a 5 p.m. to 8 a.m. curfew and turn over his passport.
The now-16-year-old girl also cried as the verdict was read, and was held by her parents.
In a statement, the girl's family said that a "measure of justice has been served" and a partial conviction still requires Labrie "to take ownership for his actions."
But the family said the school must also "bear the shame" for essentially doing nothing to stop the Senior Salute tradition.
"We still feel betrayed that St. Paul's School allowed and fostered a toxic culture that left our daughter and other students at risk to sexual violence," the family added. "We trusted the school to protect her and it failed us."
The two-week trial has cast a harsh light on the Episcopal boarding school, whose alumni include Secretary of State John Kerry, former FBI Director Robert Mueller, a Kennedy and three Vanderbilts.
After the verdict was read, St. Paul's rector, Michael Hirschfeld, released a statement commending the victim for her "remarkable moral courage and strength."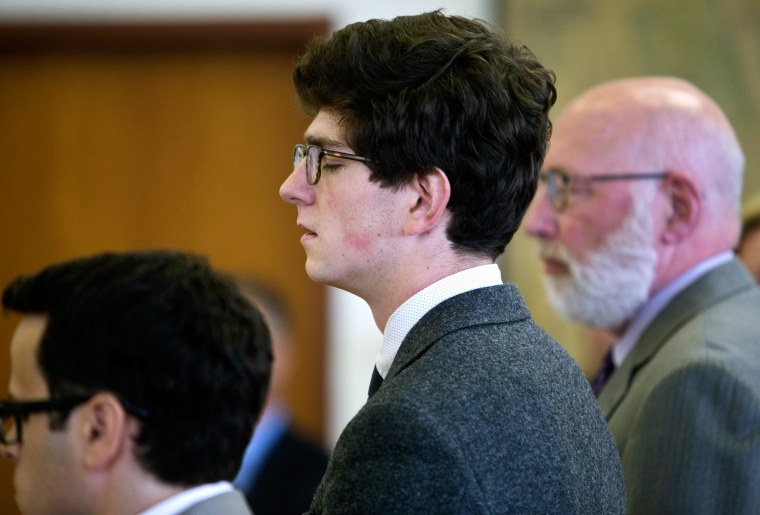 Hirschfeld did not specifically mention the Senior Salute, but said the school has a "responsibility to ensure that our students live and learn together in a community that is built on respect, caring, and support for one another. Anything short of that cannot and will not be accepted."
Labrie was acquitted of the three felony rape charges and of misdemeanor simple assault. He was convicted on three counts of misdemeanor sexual assault, endangering the welfare of a child and a felony count of using a computer to seduce a minor under 16, which requires him to register as a sex offender.
The jury foreperson said in a statement that every member of the jury "cared deeply about the process" and "were serious about everything."
"We did our due diligence," the foreperson said.
Defense lawyer Jay Carney told reporters outside the court that his client's sex convictions will be like "a brand, a tattoo" that he will bear for life. "Owen's future is forever changed," Carney said.
Carney said he will request probation for Labrie.
Prosecutors said Labrie, through emails and Facebook messages, manipulated the then-15-year-old freshman to meet him two days before his graduation in a secluded attic on campus, where consensual physical touching progressed into intercourse that she did not want to have.
DNA evidence presented at trial indicated there was the presence of Labrie's semen inside his accuser's underwear.
"He was going to get what he wanted and not take 'no' for an answer," prosecutor Joseph Cherniske told the jury on Thursday.
In closing arguments, prosecutors asked the jury to review the evidence and center their verdict on two questions: Did Labrie sexually penetrate his accuser, and if so, was it done without her consent?
The defense gave a different account: The young woman was friends with Labrie, was willingly with him in the attic, and made up being sexually assaulted to protect her reputation when her older sister learned she had spent time with the defendant.
Labrie has denied that he had intercourse with his accuser, saying that "divine inspiration" stopped him from going further even after he put on a condom. He testified Wednesday that he only told his friends he had sex with the girl because he wanted to look good in front of them.
Carney said that the accuser never indicated she felt violated in subsequent emails and messages with Labrie following their encounter.
"She had to make a decision whether it was her reputation that was going to go in the toilet or Owen's," Carney said Thursday. "She took the easier choice."
Labrie, of Vermont, had received a full scholarship to Harvard, which was put on hold, and had planned to go to divinity school after graduating from college.