A Manhattan federal jury ruled against former Alaska Gov. Sarah Palin on Tuesday in her lawsuit accusing The New York Times of defamation.
The unanimous decision came a day after the judge presiding over the case, U.S. District Judge Jed Rakoff for the Southern District of New York, took the unusual step of announcing that he would be dismissing Palin's case regardless of the jury's verdict.
"You decided the facts, I decided the law," Rakoff told jurors after announcing the verdict. "It turns out they were both in agreement, in this case."
Members of the New York Times defense team gave one another celebratory hugs after the verdict was announced.
"The New York Times welcomes today's verdict. It is a reaffirmation of a fundamental tenet of American law: public figures should not be permitted to use libel suits to punish or intimidate news organizations that make, acknowledge and swiftly correct unintentional errors," Times spokeswoman Danielle Rhoades Ha said in a statement after Tuesday's verdict. 
"It is gratifying that the jury and the judge understood the legal protections for the news media."
There was no immediate reaction from Palin. One of her Tampa, Florida-based lawyers, Kenneth Turkel, said he was "disappointed" with the verdict but praised Palin for having the "strength, resolve and courage to pick a fight with the New York Times in New York City."
It was Palin's second legal defeat in her long-running defamation battle against the Times, and her attorneys have already indicated they plan on appealing the verdict.
Palin was the governor of Alaska when she rocketed to fame in 2008 after Sen. John McCain of Arizona, the GOP presidential nominee, picked her as his running mate. She claims her reputation was damaged by a Times editorial bearing the headline "America's Lethal Politics" that incorrectly linked her to a 2011 mass shooting in Arizona that nearly killed then-U.S. Rep. Gabby Giffords, D-Ariz.
The Times quickly published a correction and the editor then in charge of that section, James Bennet, issued an apology.
But Palin, whose public gaffes had already made her a punchline to many Americans and whose feisty persona made the Republican firebrand a conservative hero, sued the Times anyway for unspecified damages shortly after the editorial was published in 2017.
Rakoff tossed Palin's first lawsuit two months after it was filed in 2017, saying she had failed to show that the newspaper knew it was publishing false statements in the editorial.
But a three-judge panel of a federal appellate court in Manhattan reinstated it in 2019, saying Rakoff should have given Palin's team more time to obtain emails and other evidence that might help their case.
But right from the start of her second defamation trial, legal experts — including her own lawyers — doubted Palin would prevail because the hurdles for public figures to prove that they've been libeled are high.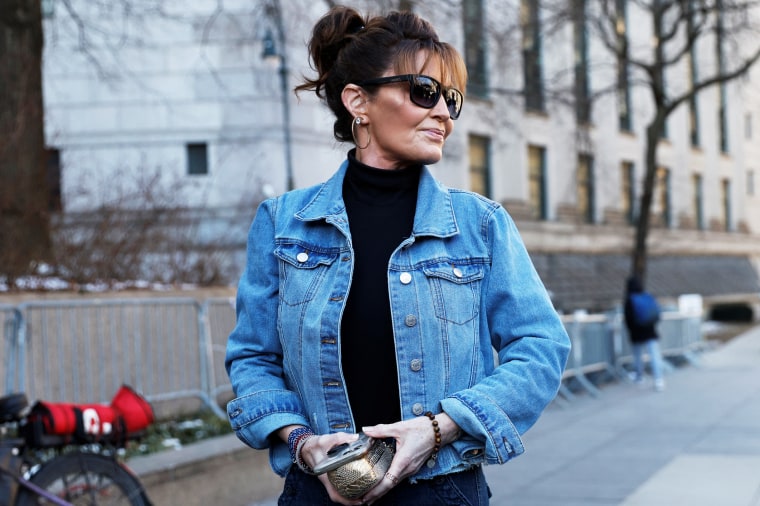 "We come to this case with our eyes wide open, keenly aware of the fact that we're fighting an uphill battle," Palin's lawyer Shane Vogt said in an opening statement.
To win, Palin needed to prove that the Times' claim was false and that the news outlet had operated with "actual malice," meaning it published the claim knowing it was false.
Both times, Palin was represented by Vogt and Turkel, who helped Terry "Hulk Hogan" Bollea win a huge libel suit that bankrupted the media outlet Gawker.
Tech billionaire Peter Thiel, a supporter of former President Donald Trump, bankrolled the Hogan lawsuit. Palin has refused to say who is footing the bill for her defamation lawsuits.