Attorney General Jeff Sessions sees answers to the nation's opioid epidemic and uptick in violent crime by looking at what's been used in the past, most notably law enforcement crackdowns that put more people in jail.
On Wednesday, he endorsed another vintage tactic.
"I think we have too much of a tolerance for drug use ─ psychologically, politically, morally," Sessions told law enforcement officials in Richmond, Virginia. "We need to say, as Nancy Reagan said, 'Just say no.'"
Sessions invoked a phrase that was once central to President Ronald Reagan's 1980s war on drugs.
Related: Sessions Reviewing Whether to Crack Down on Marijuana Possession
"Just Say No" was the marketing mantra behind a public-education campaign that complemented an offensive marked by aggressive policing and mandatory-minimum prison sentences. The zero-tolerance approach, a response to fears about crack cocaine, helped drive down crime rates but also fueled a dramatic increase in the American prison population.
Thirty-five years later, the iconic slogan, and the advertising campaigns it inspired ("This is your brain on drugs"), are now considered by many to be outdated and ineffective. The same thing goes for many of the resulting drug-education programs, which were based on the "Just Say No" model of lecturing resistance to peer pressure. Perhaps the best known of them is DARE, in which police officers warn kids about the dangers of drugs.
Sessions didn't mention any programs by name in his speech to law enforcement officials on Wednesday, but he recalled the effort fondly:
Educating people and telling them the terrible truth about drugs and addiction will result in better choices by more people.
That philosophy is only half right, said Eric Sterling, who as a Congressional aide helped draft the tough-on-crime laws that marked the Reagan Era and now works to unwind their effects as executive director of The Criminal Justice Policy Foundation.
"He's right that this should be getting attention at the highest level, that parents should take action and find things that are effective," Sterling said. "But when he starts using rhetoric like 'just say no," he is identifying with the more superficial approach that is not effective with the target audience of teenagers you're trying to reach. It's an approach that is not evidence-based."
A Sessions spokesman declined to elaborate on the attorney general's remarks.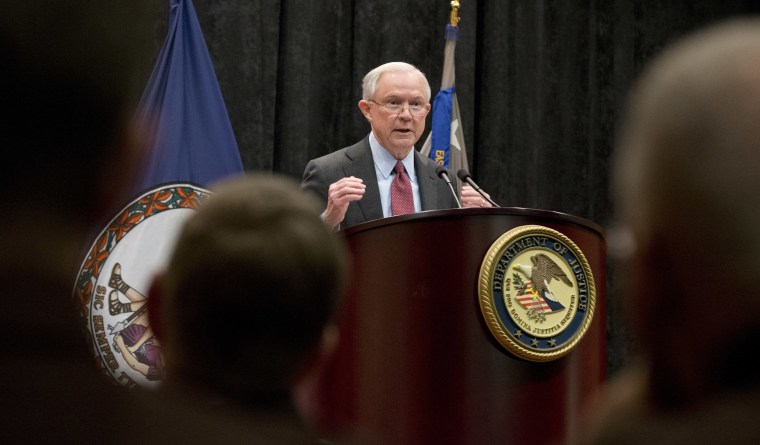 Daniel Raymond, deputy director of planning and policy at the Harm Reduction Coalition, took issue with Sessions' premise that society is more tolerant of drug use. Sessions bemoaned in particular the growing acceptance of marijuana.
Despite more states legalizing pot, its use by young people hasn't changed much in recent years, and their use of other drugs has declined, Raymond said. Those conclusions are included in the latest findings by the National Institute on Drug Abuse.
Prevention efforts, Raymond said, "should not be about hammering that drugs are bad, but that some people have vulnerabilities, and need to be given skills to get through life without relying on illicit drugs."
Today, he and other advocates say, there is a new generation of programs based on scientific research on addiction.
Michael Hecht, a Penn State professor who developed a school program ─ keepin' it REAL ─ that the U.S. surgeon general endorsed in a landmark 2016 report on drug abuse, said he opposed a return to "scare campaigns" that focused on telling young people about drugs' effects. But he argued that many programs that emerged from that period did play a role in reducing drug use.
The most effective, he said, are programs known as "social influence interventions" that stress interactions among young people. Today's version of DARE, he said, has embraced that approach.
The opioid crisis, driven by people who get addicted to prescription painkillers then turn to cheaper heroin, is different from earlier crises in that they're tied to deeper problems within the health care system ─ and opens up a new landscape of potential prevention efforts.
"It's a different problem and may well require a different solution," Hecht said.