A Justice Department investigation has concluded that Baltimore police routinely stop, search, and even arrest the city's black residents without provocation, destroying the community's trust in local law enforcement.
Launched after last year's unrest following the death of Freddie Gray in police custody, the investigation reviewed more than six years of records, concluding that Baltimore police make groundless stops and use excessive force, especially in the city's minority communities.
It found deficiencies in training, policies, and supervision "that fail to equip officers with the tools they need to police effectively and within the bounds of federal law."
Mayor Stephanie Rawlings-Blake, who asked the Justice Department to conduct the investigation, said Wednesday the report is an important step on the path to reforming BPD, the Baltimore Police Department.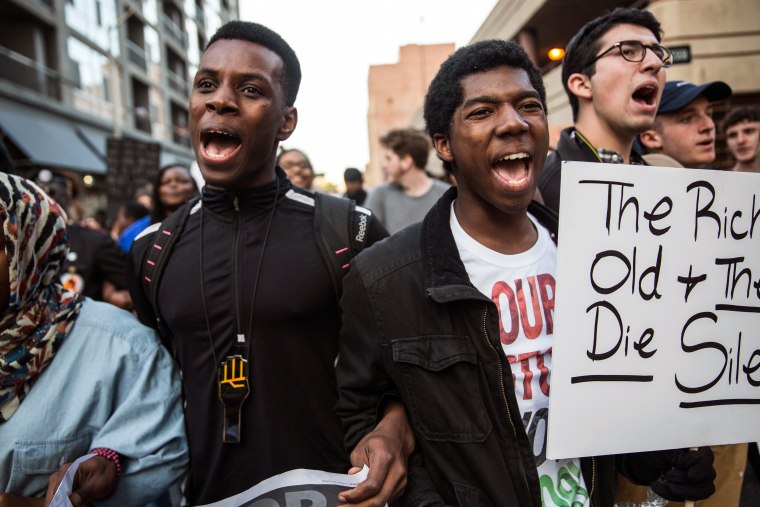 "The findings are challenging to hear. I never sugar-coat our problems, nor will I run away from our most pressing challenges. The transparency of the report offers crucial a crucial foundation if we are going to move forward," she said.
Related: Justice Department Wants to Track All 'Arrest-Related' Deaths in U.S.
The Civil Rights Division report traced much of the problem to a decision in the 1990's to pursue "zero tolerance" enforcement, encouraging officers to make large numbers of stops, searches, and arrests "with minimal training."
One result, it said, was over 300,000 pedestrian stops in a roughly five-year period for minor offenses and with minimal or no suspicion of lawbreaking, concentrated in black neighborhoods.
One black man in his mid-50s was stopped 30 times in less than four years, the report found, but none of the encounters results in a criminal charge or even a ticket. Hundreds of others were stopped at least ten times.
During many of those sidewalk stops, police patted down or frisked pedestrians. The report said some were even strip-searched in public. But of all those stops, less than four percent resulted in arrests.
"These violations have deeply eroded the mutual trust between BPD and the community it serves, trust that is essential to effective policing, as well as officer and public safety," said Vanita Gupta of the Justice Department's Civil Rights Division.
Related: Baltimore Officer Acquitted in Freddie Gray Death to Get $127K in Back Pay
African-Americans were also disproportionately pulled over for traffic stops and searched for illegal drugs, even though officers found contraband twice as often when searching white residents.
The report said Baltimore's police too often resort to physical force when it's not needed, such as when a subject does not immediately respond to commands but poses no threat, and against juveniles and people with mental health problems.
But it said the police department does far too little to investigate complaints about use of excessive force.
Mayor Rawlings-Blake estimated it could cost the city as much as $10 million a year to undertake the necessary reforms. "We have to figure out how we can repair this relationship, because that is how we will see a much safer city."