Holding defendants in jail because they can't afford to make bail is unconstitutional, the Justice Department said in a court filing late Thursday — the first time the government has taken such a position before a federal appeals court.
It's the latest step by the Obama administration in encouraging state courts to move away from imposing fixed cash bail amounts and jailing those who can't pay.
Related: A Victory in Bail Reform for Criminal Justice Advocates
"Bail practices that incarcerate indigent individuals before trial solely because of their inability to pay for their release violate the Fourteenth Amendment," the Justice Department said in a friend of court brief, citing the Constitution's guarantee of equal protection.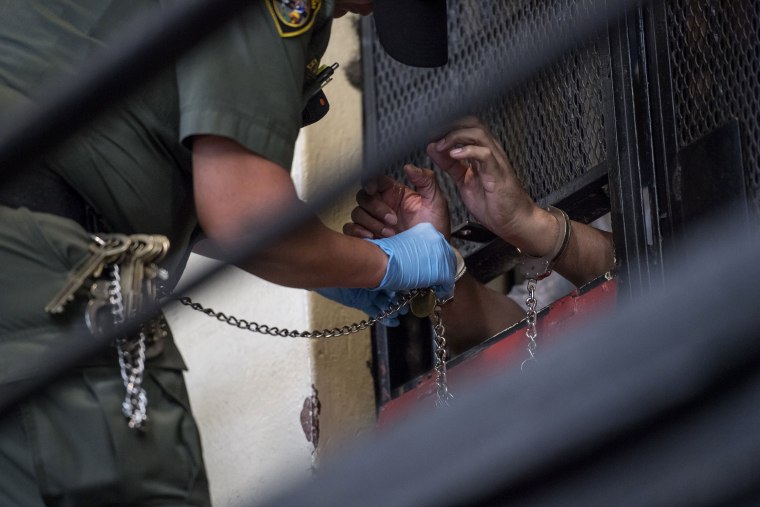 The filing came in the case of Maurice Walker of Calhoun, Georgia. He was kept in jail for six nights after police arrested him for the misdemeanor offense of being a pedestrian under the influence. He was told he could not get out of jail unless he paid the fixed bail amount of $160.
Related: Civil Rights Advocates Applaud Feds' Fight Against 'Debtors' Prisons'
Justice Department's civil rights lawyers said in their brief that courts must consider a person's indigence and look at other ways of guaranteeing an appearance in court.
"Fixed bail schedules that allow for the pretrial release of only those who can play, without accounting for the ability to pay," the government said, "unlawfully discriminate based on indigence."
A federal judge in January ruled in Walker's favor, ordering the city to let those arrested on misdemeanor offenses be released on their own recognizance and to make other changes in its post-arrest procedures.
In appealing that order, the city said the preset amounts of the city's bail schedule are tied to the seriousness of each offense and are specifically allowed under Georgia law.
Related: Reformers Seek to Undo Growth of New 'Debtors' Prisons'
"A system of unsecured recognizance bonds," the city said in its appeal," greatly reduces the incentive for defendants to appear."
The city is supported by the Georgia Sheriff's Association and by a group representing the nation's bail bondsmen. They argue that the Constitution does not guarantee bail, it only bans excessive bail.
"It thus simply cannot be that any defendant arrested for any crime must be immediately released based on a bare assertion of indigence," the group said in its court filing.
Related: Lawsuit Charges 13 St. Louis Suburbs With "Extorting" Black Drivers
Barry J. Pollack, president of the National Association of Criminal Defense lawyers, said Friday said he applauded the Justice Department's for making "critically important arguments."
A spokesman for the defense lawyers group said it believes "pretrial liberty must be the norm and detention prior to trial the carefully limited exception."