The Justice Department on Friday formally charged a teen with dual U.S. and Israeli citizenship in connection with a series of threats to Jewish Community Centers, schools, and commercial airline flights that resulted in evacuations and put communities on edge.
Michael Ron David Kadar, 18, who was arrested by Israeli police in March, is charged in Florida and Georgia with making threatening interstate communications, making interstate threats related to explosives, conveying false information and perpetuating a hoax, and cyberstalking.
Kadar is accused of making threats as far back as August of 2015 to elementary schools in Georgia as well as "swatting" calls to a private residence there.
Over the course of nearly two years, Kadar would go on to threaten Jewish community centers, airports, schools, and specific commercial airline flights, the government alleges.
"Today's charges into these violent threats to Jewish Community Centers and others represent this Department's commitment to fighting all forms of violent crime," U.S. Attorney General Jeff Sessions said in a statement. "These threats of violence instilled terror in Jewish and other communities across this country and our investigation into these acts as possible hate crimes continues."
The FBI says that they issued more than 100 subpoenas and search warrants to various internet providers in order to start to track the calls. They say they analyzed the calls and started to detect patterns in the time of day, methodology, and phrases Kadar used — all of which helped them piece together his identity.
They say Kadar disguised his voice through text-to-voice services or a spoofing application and used the terms "bloodbath" and "bomb" repeatedly in his calls.
The Anti-Defamation League praised the U.S. charges, and said Kadar should be extradited to face charges in the United States.
"These threats were hate crimes that sparked widespread fear in these intentionally-targeted Jewish community institutions — causing evacuations, significant service disruptions, program cancellations, and deep community anxiety," ADL CEO Jonathan A. Greenblatt said in a statement.
In the complaint filed in Georgia, the FBI said that Kadar searched for news media reports following his phoned-in threats.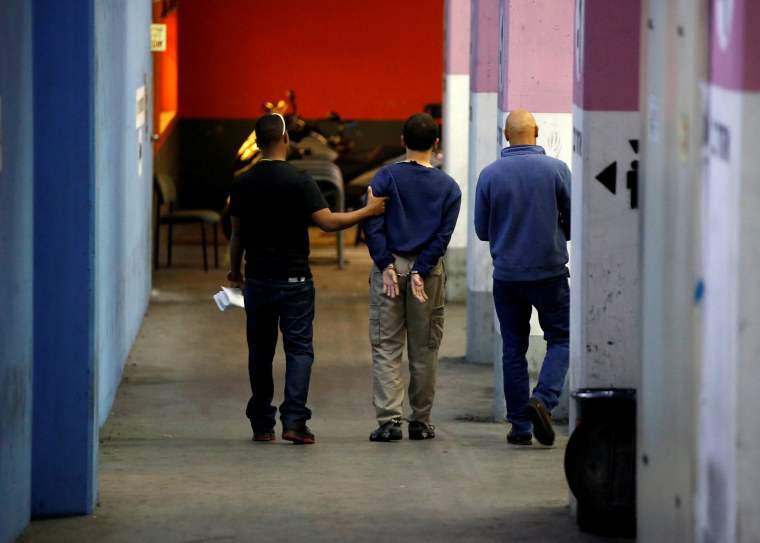 Eventually, investigators say that they were able to deduce that IP addresses in Israel were connected with the calls.
Related: Missouri Man Nabbed in Copycat Threats Against Jewish Centers
The complaint confirms that a joint Israeli-FBI investigation began in the early fall of 2016, as NBC News first reported last month. In total by the end of the investigation, authorities in Israel, Australia, New Zealand, and the United States were involved.
The Florida complaint highlights how menacing Kadar's threats were. The FBI says that in a Feb. 20, 2017, bomb-threat call Kadar stated "in a short time, a large number of 'Jew children' were going to have their heads blown off from the shrapnel."
Kadar's mother has told NBC News that she was "shocked and horrified" at the allegations, and claimed her son has a brain tumor and is autistic, and that could explain his alleged behavior.
The family's lawyer, Shira Nir, told NBC News that even "the best surgeons in the world refused to operate on him due to immediate danger for his life."
Authorities say Kadar kept meticulous records. As part of the Israeli National Police's search they say Kadar had kept records and organized the threat calls by date and location on a USB drive on his computer.
To further mask his location law enforcement says he used an antenna attached to a cable from his home in Israel that would allow him to use multiple Wi-Fi systems in his neighborhood.
The criminal complaints cover threats made in Florida and Georgia. The Florida complaint addresses threats to JCCs in Florida from Jan. 4 to March 7.
In the Georgia case, Kadar is charged with giving authorities false information about a phony home invasion and shooting at a home in Athens on Jan. 3, according to court documents.
President Donald Trump was criticized for what some saw as a slow response to a wave of threats made to JCCs in many states, including New York, Alabama, Ohio, Illinois and Texas.
After a February visit to the National Museum of African American History and Culture in Washington, D.C., Trump told NBC News: "Anti-Semitism is horrible, and it's gonna stop and it has to stop."
Some felt he should have spoken up sooner. The president early on in his first speech to Congress condemned threats to Jewish Community Centers and vandalism of Jewish cemeteries.
A spokesperson for the Department of Justice did not immediately know whether Kadar would be extradited to the United States to face charges. He's currently being detained in Israel and faces charges there for the same threats.