A police dog in Ohio died Sunday after a weekend shootout at a grocery store, authorities said.
Police were responding to a burglary alarm at the shop Saturday morning in Canton when a gunman opened fire, NBC affiliate WKYC of Cleveland reported.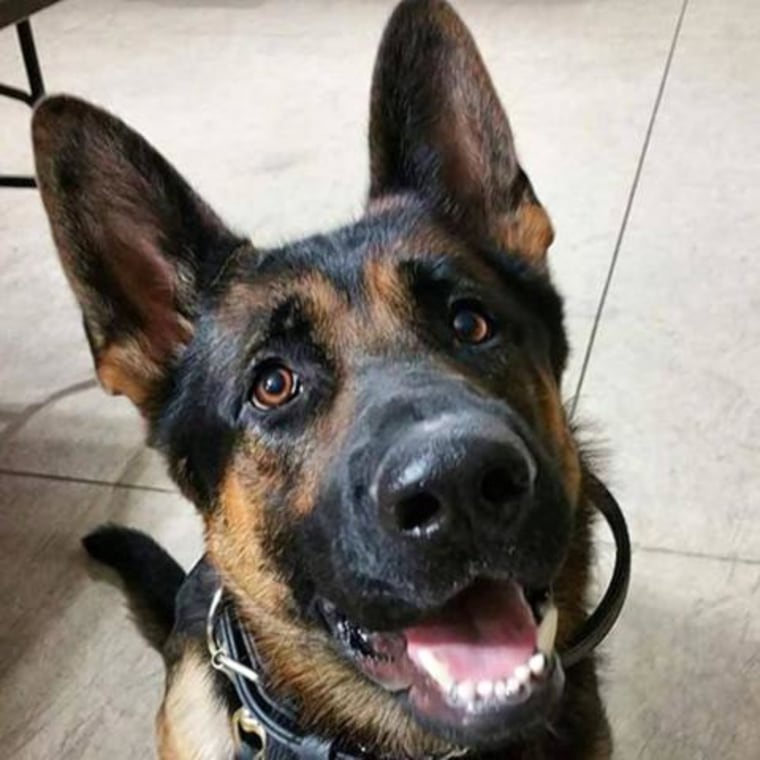 The police fired back, striking the suspect in the leg, the station reported, but their K9 officer, Jethro, was struck three times, the Canton Police K9 Association said in a Facebook post.
The gunman fled but was later found in a yard hiding near the grocery store, according to WKYC. Although the bullets missed Jethro's vital organs and bones, one hit the bridge of his muzzle, the Facebook post said.
It "didn't penetrate but is the equivalent of getting hit in the forehead with a hammer," the post said, adding that although Jethro was still battling brain swelling, he appeared to be recovering.
"He is a bullheaded badass tough guy," the post said. "He is fighting the good fight."
But later Saturday, the news grew grim: Jethro wasn't sleeping. "He's just trying to beat this thing the way he's used to, by fighting," a Facebook post said. "So they have given him a sedative that has finally allowed his brain to settle enough to actually close his eyes and rest."
Sunday, police announced that Jethro "took a sudden turn for the worse" and died. A photo posted on the K-9 Association's Facebook page showed what appeared to be Jethro's body on a cart at a Veterinary clinic; draped it over it was an American flag.
"RIP Jethro," the post read.