A police officer in Kansas City, Kansas, was killed Tuesday afternoon after pursuing suspects wanted in a drive-by shooting, authorities said.
Kansas City, Kansas, police Capt. Robert Melton was pronounced dead at the hospital. Police said two people are in custody and they are not looking for any other suspects, NBC affiliate KSHB reported.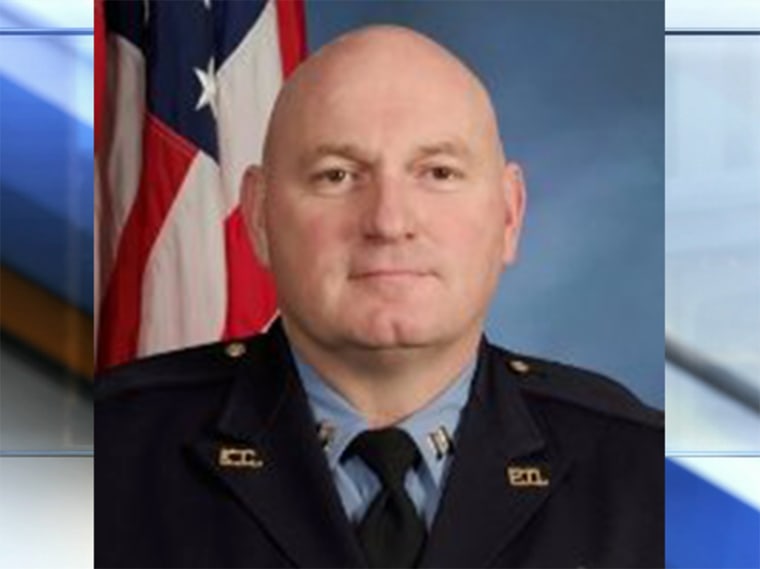 "There's a lot of pain and brokenness in our community and nation right now," Kansas City Mayor Mark Holland said at a news conference, pleading with residents to "not go down a path" of fear and hatred.
Melton's death is the latest to rock the law enforcement community in the city of 467,000 people after KCK Police Detective Brad Lancaster was killed in May.
The region is also reeling after the revelation that Gavin Long, the suspected shooter in Sunday's deadly ambush of three officers in Baton Rouge, Louisiana, was from neighboring Kansas City, Missouri.
Kansas Gov. Sam Brownback tweeted Tuesday afternoon that the state "grieves for the KCK officer who today lost his life in the line of duty."
Melton, 46, was a 17-year law enforcement veteran, served in the Kansas National Guard and was known for consistently wearing a bullet-proof vest — something he regularly reminded his colleagues to do as well, officials said.
Police Chief Terry Zeigler said details of Melton's shooting would be made public at a news conference Wednesday morning.
The fatal chain of events began when a person called 911 at around 1:30 p.m. CT (2:30 p.m. ET) to say multiple people were firing at them from a car, reported NBC affiliate KSHB.
Neighbors told the station they heard 15 to 20 shots.
Police arrived moments later, and one person was taken into custody. Melton arrived and pursued the car in a chase.
The suspects "bailed from the vehicle" and opened fire, striking Melton, Zeigler said. Police said three people in all were taken into custody, but one of them was released after it was determined they were not involved, KSHB reported. Police were expected to release more information at a Wednesday morning briefing.
Officer-involved shootings and attacks have been in the forefront in recent weeks with the killing of cops in Baton Rouge and Dallas.
In suburban St. Louis, a police officer who was shot July 8 by a driver in a traffic stop was left paralyzed, Ballwin officials said Monday.