Kanye West is back in the public eye after his recent hospitalization: He was spotted walking into Trump Tower amid a sea of politicos Tuesday morning.
The unexpected sighting of the "Gold Digger" singer at the gold-plated Fifth Avenue home of President-elect Donald Trump was caught on camera, a day after "Us Weekly" reported West was seen in various places around New York City, including the Waldorf-Astoria hotel, in one of his first appearances since his illness.
West's visit came on the same day Trump announced he would nominate ExxonMobil CEO Rex Tillerson as secretary of state, and a day after Trump canceled a long-awaited press conference — the first in months — aimed at discussing the president-elect's business conflicts of interest.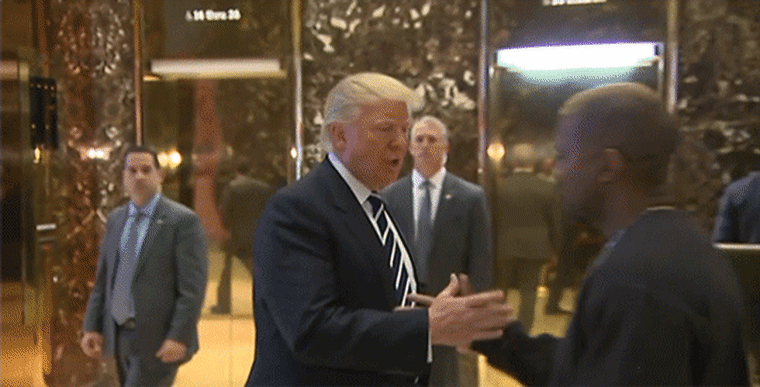 After posing for pictures with West, Trump ignored reporters' questions about the canceled business conflicts of interest press conference and about Tillerson being tapped to head the State Department.
Meanwhile, the president-elect's team met with members of the National Diversity Coalition for Trump on Tuesday. Also seen in the Trump Tower lobby was Trump campaign chief Steve Bannon and Republican National Committee spokesman Sean Spicer.
Trump and West were later seen walking in the lobby together. West refused to answer a question from NBC News about whether he still wants to run for president in 2020, something he has mentioned in the past, but told reporters as he stood next to Trump, "I just want to take a picture right now."
The two stood side by side — Trump in a suit and West in a black sweatshirt — as cameras clicked.
"He's a good man," Trump said. "We've been friends for a long time."
Last month, West was booed at a concert after he told the crowd that he didn't vote for anyone in the election, but if he had, it would have been Trump.
West later tweeted that he wanted to discuss a range of "multicultural issues" with Trump. "These issues included bullying, supporting teachers, modernizing curriculums, and violence in Chicago," he wrote. "I feel it is important to have a direct line of communication with our future President if we truly want change."
He also made an apparent change to his earlier vow to run for president in 2020, when Trump will be up for re-election. This time, he suggested he'd avoid challenging the president-elect.
The last couple months have been tumultuous for West and his wife, Kim Kardashian. Kardashian has rarely been seen in public herself after she was allegedly held at gunpoint and robbed of $10 million in jewels in Paris.
West, 39, was hospitalized on Nov. 21, reportedly for exhaustion.
The singer is not easy to politically pigeonhole, and he has managed to publicly feud with the two presidents preceding Trump.
President Barack Obama derided West in an interview that was supposed to be off the record, which West responded to in the song "Power." West famously said "George Bush doesn't care about black people" at a Hurricane Katrina telethon, a theme he returned to repeatedly in songs and interviews.
Related: Analysis: Kanye and Trump Benefiting from Confident, 'Crazy' Brand
While West's lyrics cover many traditionally progressive political themes — economic inequality, racism, private prisons, police brutality — they do not suggest a rigid partisan orientation. His lyrics also touch on his conversations with George Tenet, criticism of gang violence in Chicago, and the possibly irreverent claim, in "New Day," that West might raise his son a Republican in order to display his family's acceptance of all races.
But despite drawing headlines for praising Trump at his recent concert, West and his family have also donated thousands of dollars to Clinton — most notably at a Los Angeles celebrity fundraiser in August.