Kathleen Sebelius, who oversaw the bug-ridden rollout of a federal health insurance program that she herself called "miserably frustrating," is resigning as secretary of Health and Human Service, U.S. officials told NBC News on Thursday.
The officials said President Barack Obama on Friday will nominate Sylvia Mathews Burwell, currently director of the White House Office and Management and Budget, to succeed Sebelius, 65, the former governor of Kansas, who was an original member of the Cabinet that Obama appointed when he took office in January 2009.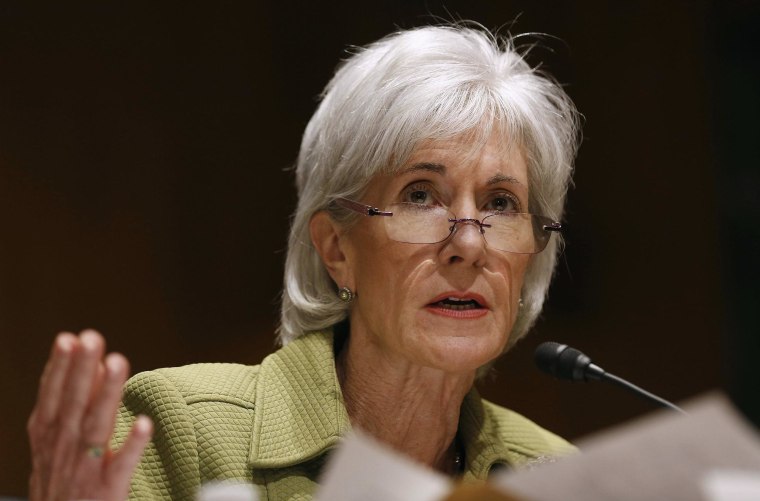 No reason for Sebelius' departure was immediately available, but she came under sustained criticism as head of the agency in charge of the controversial rollout of Obama's health care reform initiative.
Sebelius told Obama of her intentions in early March, a White official said, but she didn't tip her hand when she told the Senate Finance Committee earlier Thursday that 7.5 million Americans had signed up for health coverage under the new law — a figure that exceeded the original expectations despite the months of problems.
Sebelius has apologized numerous times for the glitch-prone website, which initially blocked many Americans from comparing and enrolling in health insurance plans. Testifying before a House committee in October, she conceded that the website, healthcare.gov, was "a miserably frustrating experience for way too many Americans."
The chief information officer for the HHS agency running the site resigned the following month.
The White House official said Obama was "deeply grateful" for Sebelius' service.
Republicans weren't so kind.
In a statement, Reince Priebus, chairman of the Republican National Committee, noted Sebelius' stewardship of the insurance website, saying, "No matter who is in charge of HHS, ObamaCare will continue to be a disaster and will continue to hurt hardworking Americans."
But House Democratic leader Nancy Pelosi of California said that in the end, the insurance plan worked and Sebelius deserved the credit.
"Her legacy will be found in the 7.5 million Americans signed up on the marketplaces so far, the 3.1 million people covered on their parents' plans, and the millions more gaining coverage through the expansion of Medicaid," Pelosi said in a statement.
"Beyond the law, her lasting impact will be felt in her work to expand mental health services, decrease disparities across communities, and promote women's health."
Burwell, 48, became head of the OMB a year ago, leaving as president of Walmart's charitable foundation to take the job. She was previously head of global development at the Bill and Melinda Gates Foundation and served in the administration President Bill Clinton as deputy head of the OMB and chief of staff to Treasury Secretary Robert Rubin.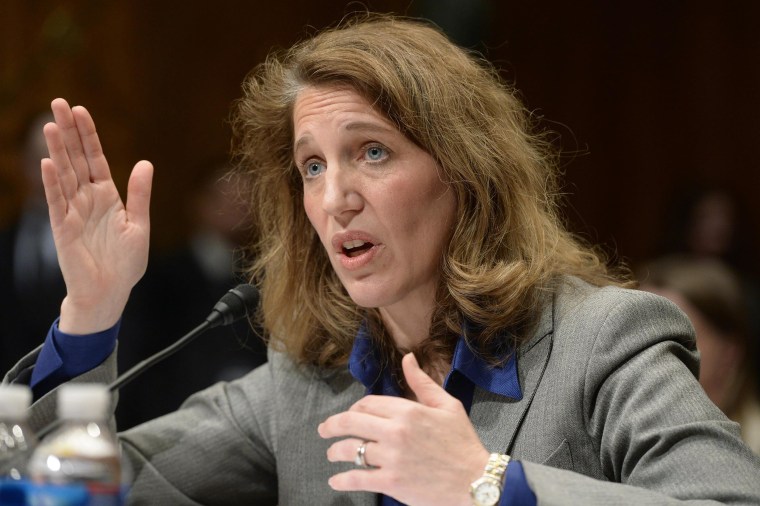 Burwell was the official who gave the order in October to shut down the federal government in a budget dispute with House Republicans.
Cabinets historically turn over significantly in presidents' second terms. Sebelius' resignation leaves five members who have been with Obama since he was sworn in more than five years ago:
Attorney General Eric Holder
Agriculture Secretary Tom Vilsack
Housing and Urban Development Secretary Shaun Donovan
Education Secretary Arne Duncan
Veterans Affairs Secretary Eric Shinseki
John Harwood of CNBC and Gina Gentilesco of NBC News contributed to this report.