The acquittal of an undocumented Mexican immigrant in the fatal shooting of a woman on a Northern California pier reignited a bitter political debate over illegal immigration, forcing San Francisco to defend its policies and refocusing public attention on controversial "sanctuary cities."
President Donald Trump blasted the verdict as a "disgrace" and Attorney General Jeff Sessions called on San Francisco and other cities to get rid of immigration policies that block local officials from cooperating with federal deportation efforts. Meanwhile, thousands of Twitter users threatened to #BoycottSanFrancisco.
But city officials stood their ground.
"San Francisco is and always will be a sanctuary city," Mayor Ed Lee's office said in a statement.
Jose Ines Garcia Zarate, 45, who has been deported five times, was acquitted on Thursday in the killing of Kathryn Steinle, 32. Steinle was fatally shot in the back on July 1, 2015, while she and her father were strolling along Pier 14 in the tourist-friendly Embarcadero district of San Francisco. Defense attorneys argued that Garcia Zarate killed her in a freak accident. Prosecutors argued he intended to shoot and kill her.
Related: Politics aside, experts say verdict based on reasonable doubt
Several weeks before Steinle was killed, Garcia Zarate was released from a San Francisco jail — despite a federal request to detain him for a sixth deportation.
Trump seized on the case during his presidential campaign as proof the United States needed his proposed wall along the border with Mexico, and the killing became a national flashpoint. San Francisco, then and now, was put on the defensive for limiting police cooperation with federal immigration authorities.
"San Francisco's decision to protect criminal aliens led to the preventable and heartbreaking death of Kate Steinle," Sessions said in a statement on Thursday night. "I urge the leaders of the nation's communities to reflect on the outcome of this case and consider carefully the harm they are doing to their citizens by refusing to cooperate with federal law enforcement officers."
Thomas Homan, deputy director of U.S. Immigration and Customs Enforcement, castigated San Francisco's sanctuary city status as a "blatant threat to public safety."
"It is unconscionable that politicians across this country continue to endanger the lives of Americans with sanctuary policies while ignoring the harm inflicted on their constituents," Homan said in a statement Thursday, adding that ICE would work to take custody of Garcia Zarate and "ultimately remove him from the country."
Sessions has repeatedly vowed to withhold federal public safety grants from sanctuary cities, and the Trump administration has tried to hamstring local authorities who refuse to help federal agents detain and deport people living in the country illegally.
Those efforts were dealt a blow this week when a federal judge permanently blocked an executive order signed by Trump earlier this year that would have cut funding from sanctuary cities.
Related: Judge permanently blocks Trump sanctuary cities order
Garcia Zarate was acquitted of first-degree murder, second-degree murder and involuntary manslaughter. But the six-man, six-woman jury did convict him of the lesser charge of felony possession of a firearm. He's back in court on Dec. 14 for sentencing and will remain in county jail until then, according to the San Francisco County Sheriff's office.
Veteran legal experts said the high-profile case, despite the political firestorm swirling around it, ultimately came down to a question of reasonable doubt. The jurors were evidently not convinced Garcia Zarate acted with intent — a bar prosecutors needed to clear to convict him of the most grave charges against him.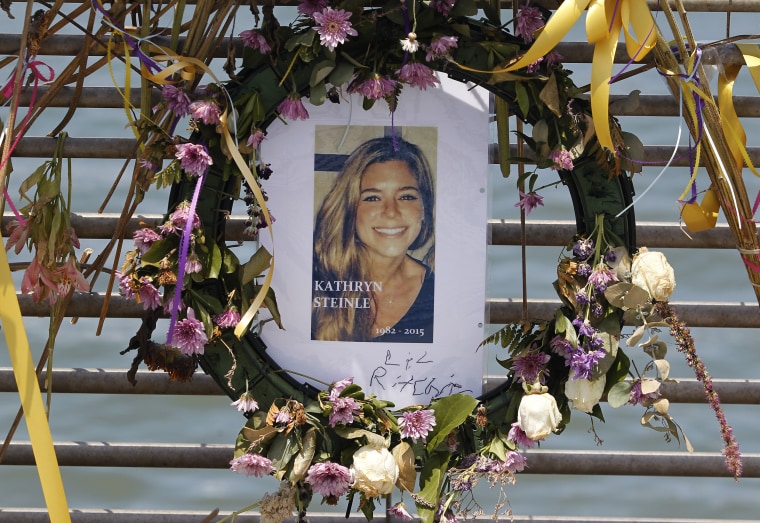 "As controversial and tragic as this case may be, and as political as it has become, my best guess is that this turned out to be a very conventional case in that ... the defense just cast doubt on the prosecution's theory," said Robert Weisberg, a criminal justice professor at Stanford Law School.
The judge during the trial prohibited discussion of Garcia Zarate's immigration status, including the fact that he had been repeatedly deported to Mexico. Instead, jurors were told to focus on the events surrounding Steinle's death.