A 20-year-old woman with dreams of becoming a marine biologist was fatally shot by a homeowner Saturday when the car she was in turned into the wrong driveway in upstate New York.
Kaylin Gillis' death, which occurred days after 16-year-old Ralph Yarl was shot and seriously injured after ringing the wrong doorbell in Kansas City, has sparked a national conversation around gun violence as well as "stand your ground" and "castle doctrine," both self-defense laws.
On Tuesday, an attorney for the suspect in Gillis' death spoke about the incident for the first time, saying his client "did not intend to hurt anyone." However, questions remain around why the suspect, Kevin Monahan, allegedly opened fire.
What happened?
Gillis' friend pulled into the driveway of a home that they mistakenly believed belonged to another friend, authorities said.
Monahan, 65, is alleged to have fired at the car from his porch after the group of four friends realized they'd pulled into the wrong driveway and were leaving the home in Hebron, roughly 50 miles north of Albany, Washington County Sheriff Jeffrey Murphy told reporters.
Two shots were fired, one striking Gillis, who was sitting in the passenger seat, according to authorities.
"This is a very sad case of some young adults that were looking for a friend's house and ended up at this man's house," Murphy said.
The area where Gillis was shot is rural, with little cellphone or internet service. Her friends drove a few miles away to call 911, the sheriff said.
Gillis was pronounced dead several miles southeast of the home on Paterson Hill Road, where shots were fired.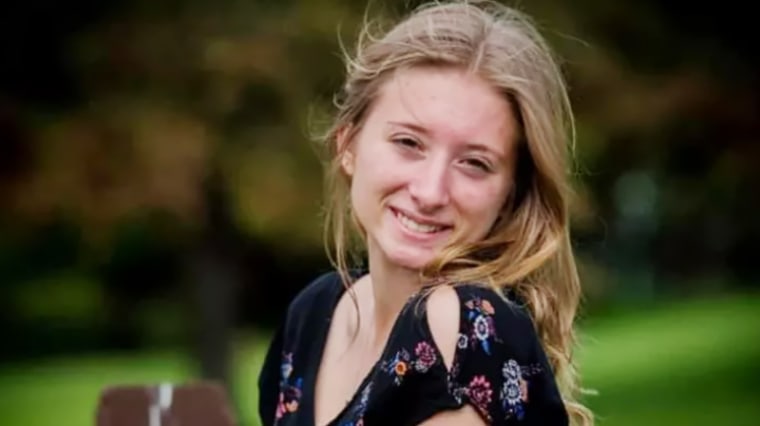 Who was Kaylin Gillis?
Gillis graduated in 2021 from Schuylerville High School. The school's varsity cheerleading team posted a tribute on Facebook that included photos of Gillis during her time on the squad.
"She was such a sweet girl, with a kind heart and big smile. She was always laughing," the team wrote in the post. "Rest easy sweet girl, our hearts are broken. Please keep her teammates, friends, family, Schuylerville staff members, and all that knew her in your thoughts and prayers."
Those themes were echoed in a statement from the family and an obituary published on the website of Flynn Bros. Inc. Funeral Home, where a "celebration of Kaylin's life" will be held Friday.
Gillis was a big sister, daughter and devoted friend, her family said in the statement shared Tuesday with NBC News.
"Kaylin was a kind, beautiful soul and a ray of light to anyone who was lucky enough to know her," the statement said. "She was just beginning to find her way in the world with kindness, humor, and love."
Public records and a verified GoFundMe page created to raise money for Gillis' funeral expenses indicate she turned 20 in February.
Relatives described Gillis as "a talented artist" who created drawings of animated figures and real-life characters.
She was "a Disney fanatic" who knew every movie, hero and princess ever created, the statement and obituary said. Her favorite characters were Mickey Mouse and Stitch.
Gillis also loved animals, particularly goats and dolphins.
"She was looking forward to starting college in Florida to pursue her dream of becoming a marine biologist," the statement said.
Most of all, Gillis "was the glue of her family," according to the obituary. "Family was most important to her, and she never missed a Sunday Dinner ... Any chance she could spend with her family she would."
In the statement, the family added: "She was taken from us far too soon, and we are devastated. Our family will never be the same but we will be guided by Kaylin's positivity, optimism, and joy as we learn to live with her loss."
'This was a series of errors,' suspect's attorney says
Monahan was arrested on a charge of second-degree murder. He was arraigned on Sunday afternoon, where he pled not guilty.
Because the local magistrate cannot set bail or consider a suspect's release on that kind of felony, Monahan was remanded to the Warren County Jail, where he remained Tuesday, according to his attorney, Kurt Mausert.
"He's charged with a subdivision of the murder statute which says he intentionally took a life," Mausert told NBC News, adding, "Mr. Monahan did not intend to hurt anyone."
"This was a series of errors that were made that he is part of. When you have a victim and a tragedy, the thing everyone wants is a villain, but not every time there's a victim and tragedy is there a villain. A number of errors were made that were unintentional," he added.
Mausert did not disclose what those errors were and Monahan has not said anything to authorities about why he opened fire. The sheriff said the suspect, described as a laborer and a longtime resident of the home, was uncooperative when deputies responded.
Monahan's next court appearance is a bail hearing in Washington County Court on Wednesday afternoon.
Lawmakers call for an end to 'this senseless gun violence'
Gillis has garnered national attention, with politicians beginning to weigh in on social media.
"No one should be shot for showing up to the wrong house," New York Gov. Kathy Hochul said in a tweet Tuesday. "My prayers are with the families and loved ones of Ralph Yarl and Kaylin Gillis. We cannot become numb to these tragedies. We must put an end to this senseless gun violence."
Sen. Kristen Gillibrand, D-NY., discussed the shootings of Yarl and Gillis in a post on her Facebook page.
"I'm praying for them and their families," Gillibrand wrote. "These shootings are horrifying — and infuriating. Our children shouldn't be met with lethal violence for making simple, completely harmless mistakes. This reckless, senseless gun violence has stolen far too many children from their families and it must be stopped."