From New York City to San Diego on Saturday, thousands of protesters demonstrated against the Trump administration's immigration policies.
The "Keep Families Together" rallies took place in California, Texas, and New York, as well as in other states, as droves of people focused the protest around the separation of families at the U.S.-Mexico border.
More than 2,300 children were taken from their families in recent weeks under the Trump administration's "zero tolerance" policy in which people entering the U.S. illegally face being prosecuted. But after public outcry, President Donald Trump on Wednesday ordered that the families crossing into the country illegally no longer be separated.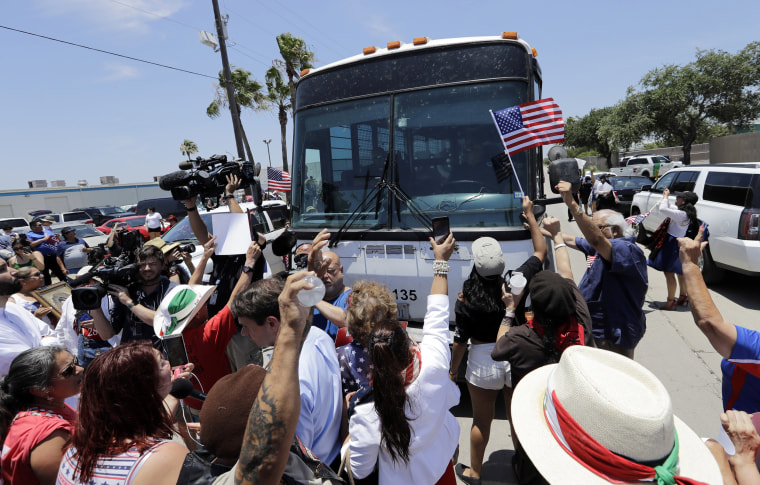 However, the protesters on Saturday sought to draw attention to the many migrant families already detained in the country that have yet to be reunited and to highlight that Trump's order does not require their reunification.
Health and Human Services Secretary Alex Azar "is bringing to bear all the relevant resources of the department in order to assist in the reunification or placement of unaccompanied alien children and teenagers with a parent or appropriate sponsor," said a statement from Health and Human Services spokesperson Evelyn J. Stauffer on Saturday. "The Secretary has tasked the Office of the Assistant Secretary for Preparedness and Response with applying their operational and logistical expertise in addressing this complex effort."
In San Diego, more than 5,000 people gathered to demonstrate in support of reuniting the families. A rally was also held early Saturday in Fort Worth, Texas, where the Texas Democratic Convention is being held.
At one point, in McAllen, Texas, protesters surrounded a bus of detainees outside Rio Grande Valley Sector's Centralized Processing Center, attempting to block it from making its way to a different holding facility in the state.
Manuel Muñoz, of Austin, Texas, who was among the protesters, told MSNBC that while a rally was being held, the bus carrying children and families tried to pass.
"When we tried to find out where they're going, they didn't want to tell us," Muñoz said. "I mean, we're here to protest the detention of families and children because it's unjust what's going on. And so here we are trying to stop what we can [by] using our resistance."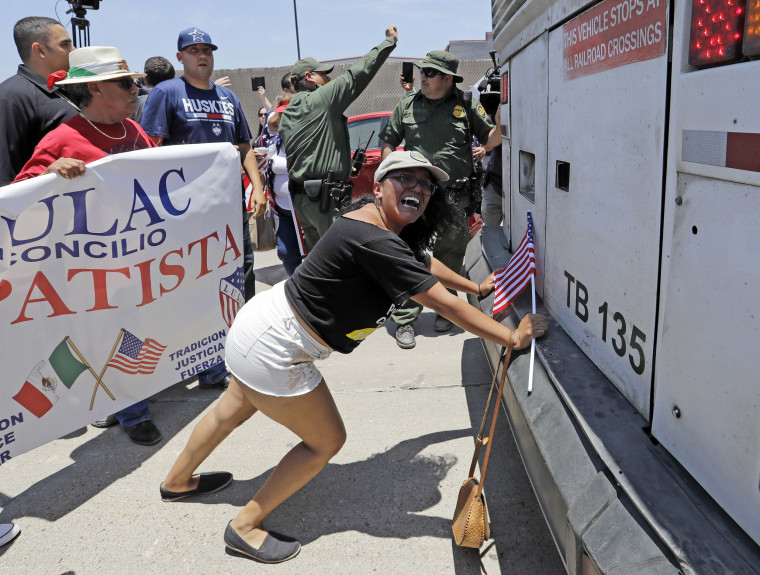 The protest was originally scheduled to end around 3 p.m. CT (2 p.m. ET). The bus still appeared to be in the area after that time, however, and the protest continued into the late afternoon, Muñoz said.
"Immigration issues are not just an immigrant problem. It's the entire country's problem. I'm here because the kids need to be free," Muñoz said.
Two dozen Democratic U.S. House members toured a McAllen immigration facility on Saturday. After the visit, the lawmakers described seeing children sleeping behind bars, on concrete floors and under shiny emergency blanks.
It's unclear if the site where the lawmakers toured is the same location where Muñoz and other protesters rallied.
U.S. Rep. Jackie Speier, D-California, said, "It is, for all intents and purposes, a prison."
Even when parents and children aren't separated, they are often housed in adjacent cells that keep them apart, the lawmakers said.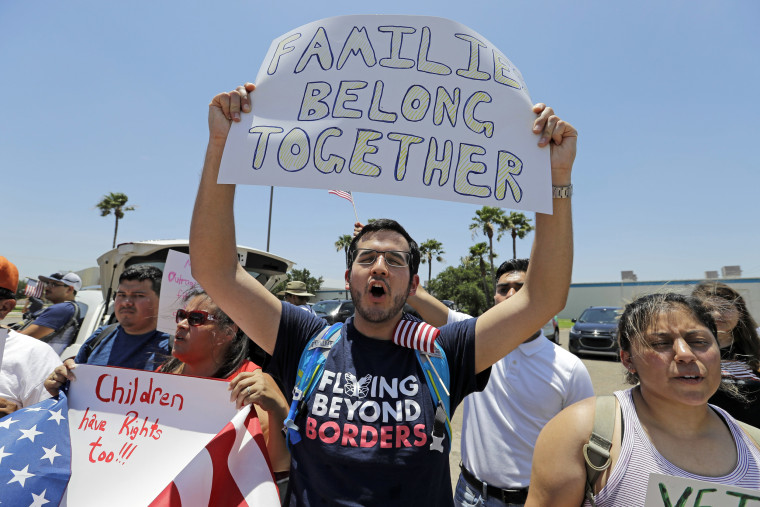 The Democrats added they hadn't seen a clear federal system for reuniting those who were split up, since everyone — even infants — is assigned "A'' or alien numbers, only to be given different identification numbers by other federal agencies.
"There are still thousands of children who are out there right now untethered to their parents and no coherent system to fix that," Rep. Joe Courtney, a Democrat from Connecticut, told reporters after the tour.
The Department of Homeland Security said in a statement Saturday night that Customs and Border Protection has reunited 522 children separated due to the "zero tolerance" policy. The department said that 16 other children who were to be reunited with their parents had been delayed due to weather, and that DHS expects those 16 will be reunited within 24 hours.
"As of June 20th HHS has 2,053 separated minors being cared for in HHS funded facilities, and is working with relevant agency partners to foster communications and work towards reuniting every minor and every parent or guardian via well-established reunification processes," DHS said in the statement.
The department also said that "currently only 17% of minors in HHS funded facilities were placed there as a result of Zero Tolerance enforcement, and the remaining 83% percent arrived to the United States without a parent or guardian." An email to DHS seeking more clarification on the numbers was not immediately returned late Saturday.
In Florida, Democratic Sen. Bill Nelson and four of the state's Democratic House members toured a detention center in Homestead, where approximately 100 immigrant children were being held after being taken from their parents.
Nelson and other lawmakers were turned away from the facility on Tuesday while trying to access the center, according to Rep. Debbie Wasserman Schultz. She added that they should have only been asked to wait a few hours to enter — not days.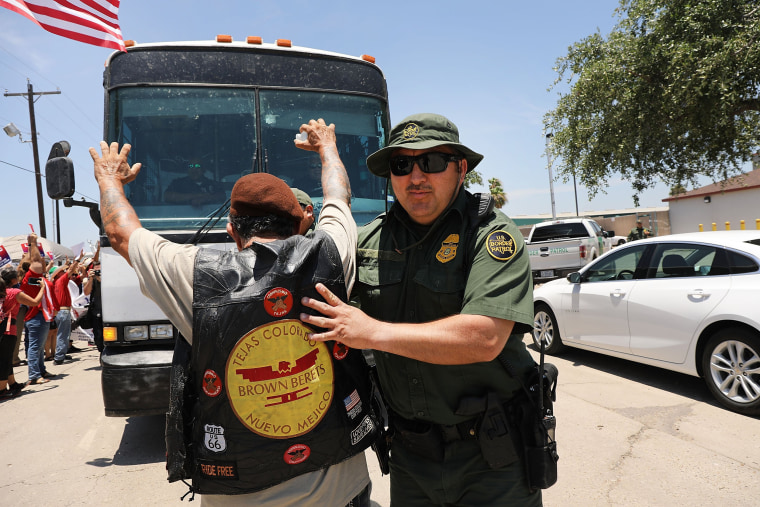 Rep. Darren Soto said the decision by the facility's administrators to deny Nelson and Wasserman Schultz access earlier made him wonder what they were hiding.
Reps. Frederica Wilson and Ted Deutch took 50 red, white and blue balloons with them inside. Wilson said the balloons were to show the children that the American people care about them.
While the protests raged on across the nation, Trump was landing in Nevada where 300 people gathered in Las Vegas to protest outside a casino where the president headlined a fundraiser for Republican Sen. Dean Heller. He also delivered the keynote address at the Nevada GOP convention.
During his keynote address, Trump referenced the gang MS-13, calling members "animals" and said that immigration is a strong issue for Republicans to run on.
"They think immigration, being weak on the border, which is therefore allowing tremendous crime to come into our country. They think that that's a good issue for them," Trump said. "I don't think being weak on the border, being pathetically weak on the border, I don't think that's a good issue. I may be wrong. I think I got elected largely because we are strong on the border. I really believe that."