"The Last Rainforest." "Silence = Death." "Apartheid."
Though many associate the late artist Keith Haring with his seemingly innocuous images of barking dogs, crawling babies, beating hearts and flying saucers, his work often tackled social justice issues – from nuclear proliferation to AIDS to the environment to racial and income inequality.
"The Political Line," opening Saturday at the de Young Museum in San Francisco, is the first show to look at Haring's art from a social justice perspective, grouping it by themes such as racism, capitalism and consumerism, the growing use of technology in everyday life, the treatment of those suffering from HIV/AIDS, the suppression of individual freedoms, and environmental devastation.
"For the first time, Keith Haring can be understood in the way he actually worked, and that was he was very political," said Dieter Buchhart, curator of the exhibit. "He was very much engaged in many of the relevant questions and issues of his time." A version of the show ran last year in Paris and organizers hope the San Francisco version will travel to two European cities after it closes on Feb. 16, 2015.
Haring, who took his art to the streets of many major cities and often engaged the public in his creations, died in 1990 at age 31 from AIDS-related complications. Having learned basic cartoon drawing from his father and growing up on the works of Disney, he used a variety of materials - tarpaulin, canvas, enamel, walls, collage and even the black paper put up on empty advertising space in the New York subways – to channel his thoughts on the world.
"It's about bucking the system. It's about questioning authority."
"The baby, the heart, the barking dog - it looks more like a family ideal but when you really look at the work you suddenly see, wow there is really some power in those works," Buchhart said, calling Haring one of the "most political artists of his time."
The exhibition showcases more than 130 of those works from 46 different private and public lenders, including pieces rarely seen, such as one of the show's signature paintings, Untitled from 1982. It's a figure outlined on a large vinyl tarp in yellow and red paint, breaking a stick.
"We felt that that image really in the simplest possible way spoke to a kind of political activism," said Julia Gruen, a friend of Haring's and executive director of the Keith Haring Foundation, which loaned many of the artist's works to the show. "The image itself does not refer to a specific cause. It's really about fighting against oppression. It's about bucking the system. It's about questioning authority."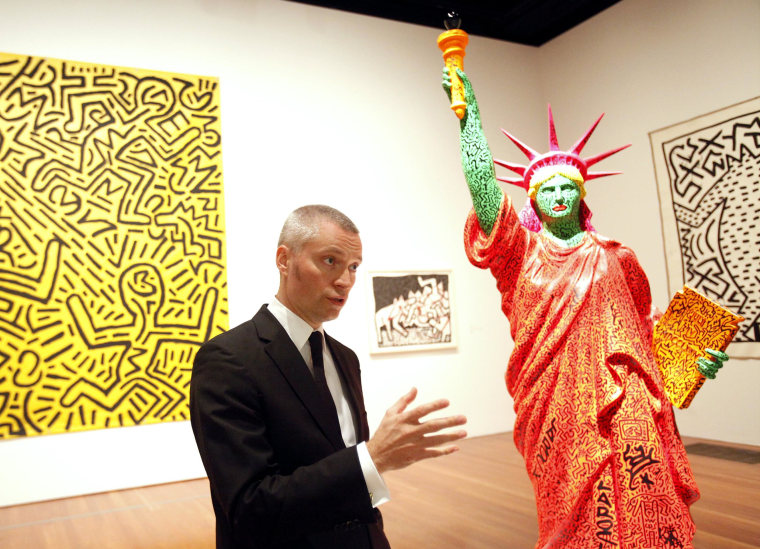 Haring's genius was his ability to "communicate very directly, very immediately through his chosen symbols and iconography," said Julian Cox, chief administrative curator of the Fine Arts Museums of San Francisco. "He could reduce a work to the fewest forms possible to make his point."
Another rarely-seen work on view is Haring's 1982 Statue of Liberty (with LA II, Angel Ortiz), a fluorescent green-, pink-, yellow- and orange-colored enamel and acrylic on fiberglass of the iconic sculpture in New York Harbor. A black light bulb has replaced Lady Liberty's eternal flame. And the life-size statue is covered with Haring's classic figures running, falling upside down, appearing lifeless or trapped in a television.
"With the Statue of Liberty, it's a very sensitive theme, because it's a symbol of freedom," Buchhart said. "He questions, 'Where are we now with our freedom?'"
The show also presents many of Haring's better-known social justice works. One is his 1988 "Silence = Death," an upside-down rose-colored triangle with figures inside covering their ears, eyes or mouth. A pink triangle patch was used to identify gay men in World War II concentration camps and was later re-appropriated by activists as a pro-gay symbol in the 1970s and to fight AIDS in the 1980s.
Another of Haring's key works on display is his 1984 piece, subtitled Apartheid, which shows a black figure, holding a cross, being pulled by a white figure who has tied a rope around his neck.
"Racism is an issue that was of paramount concern to Haring," said Cox. Haring's Apartheid became the poster child image and an important fundraising tool for the anti-apartheid movement: "That gives you one indication of how directly Haring would address prevailing issues in the culture of his time through his artwork," Cox added.
Haring used his work as part of campaigns to end nuclear proliferation or apartheid, handing out photocopies of his art at protests. Noting Haring's extensive writings on his craft (the artist kept many journals), Cox said: "He really did consider his art and his social activism and his political orientation as being one and the same thing."
"He questions, 'Where are we now with our freedom?'"
Haring aimed for his art to be accessible, too, from his days creating chalk drawings in the subway to opening up a store, Pop Shop, in New York to sell buttons, T-shirts and mugs bearing his trademark images – rejecting the notion that artwork should only be displayed in museums or galleries and sold for lots of money, said his sister, Kristen Haring.
Keith would even give out buttons bearing his artwork to people he met in the subway.
"Very often during his lifetime, he was dismissed by people who were taking this very easy, superficial read of his work and only seeing the fun stuff, or only seeing him trying to reach a lot of people," Kristen said, "and not thinking about why he was doing it and not understanding the huge body of work that was about such controversial topics that they were not exhibited that much in his lifetime."
Haring often broached the question of commercialism and capitalism in his work, as can be seen at the de Young exhibit in a rarely shown work from 1985, Andy Mouse. In it, he depicts close friend Andy Warhol as a bubble gum-colored Mickey Mouse, set on a green background with yellow-and-black dollar signs floating around him.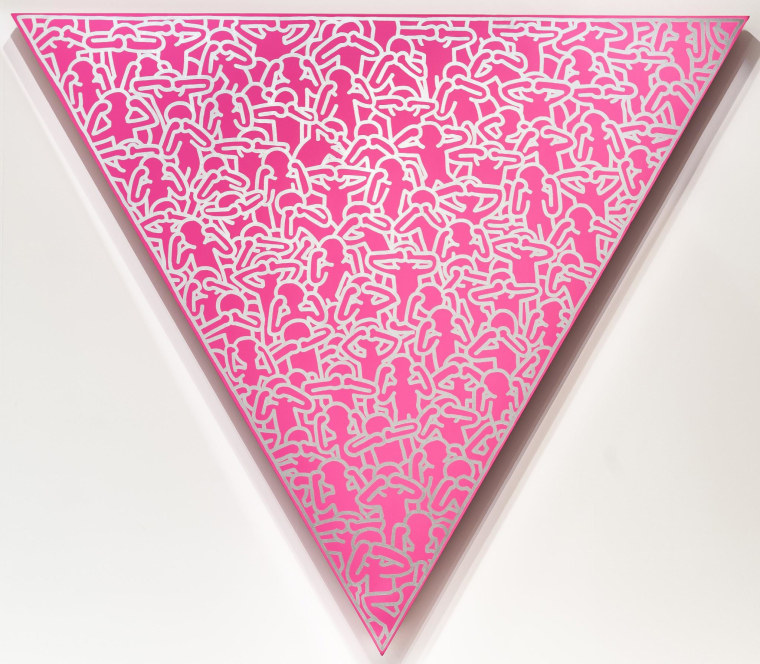 "It's full of vigor and life. This is something that's really important about Haring, too, that even though he is very serious about what he is doing, there is a joyfulness and a wonderful lightness in his work," Cox said.
For Kristen Haring and the show's organizers, Haring's work resonates today with the emergence of new social justice movements like Occupy Wall Street, and the fights against climate change and to end racial and income inequality. His concerns about technology suppressing individuality, as shown in his Untitled work from 1983 (with Kermit Oswald) of a figure whose brain has been replaced by a computer, also seem oddly prescient of today's tech-obsessed existence, his sister said.
"Activism was at the heart of his artistic practice, and that is something that is often forgotten because the images that have most saturated the culture are the ones that are easiest to consume," said Haring, who teaches history of science and technology at Stanford University. "This is a collection of work that will surprise people who are used to seeing the fun Haring pop."
In the end, organizers would like for visitors to leave with a feeling of hope, which permeates a lot of the artist's works. The show's final painting (Untitled) is the last one Haring created before his death in 1990. It shows a crowd of yellow figures – outlined in red and green, with purple dots – that appear to be cheering with open, welcoming arms.
It seemed like a final statement from the artist, said Buchhart.
"His vision of a better world, it's the hope that remains," he said.