Keith Lamont Scott was calmly walking backward when Charlotte, N.C., police shot him to death this week, a lawyer for Scott's family said after relatives were allowed to watch police video of the shooting.
In a statement Thursday night, Justin Bamberg, a lawyer for the family, said Scott, 43, exited his vehicle "in a very calm, non-aggressive manner" when ordered to do so by police Tuesday afternoon outside a condominium complex near the University of North Carolina at Charlotte.
And when he was shot, "Mr. Scott's hands were by his side and he was slowly walking backwards," according to Bamberg.
Police have said Scott was armed and posed an imminent deadly threat when he was shot by Charlotte-Mecklenburg County police Officer Brentley Vinson, who, like Scott, is African-American. They said a gun was found near his body.
On some points, Bamberg indicated that Scott's widow, Rakeyia Scott, and other relatives concurred with several observations made by Police Chief Kerr Putney.
Putney said Thursday that the video showed that officers gave Scott multiple commands before they opened fire. Bamberg also said the video shows that "police did give him several commands."
And Putney said the video didn't show "absolute definitive, visual evidence" that Scott brandished a weapon at the officers. Bamberg also said "it is impossible to discern from the videos what, if anything, Mr. Scott is holding in his hands."
Where police and the family disagree is in their characterizations of Scott's actions toward police.
Putney has said that Scott acted aggressively and threateningly and that the video "supports what we've heard and the version of the truth that we gave about the circumstances."
"If there's an encounter [and] you go down and the weapon is right there, it's kind of obvious a weapon was involved, even though I didn't visually see it from my angle," Putney told NBC station WCNC.
The family, meanwhile, says Scott was cooperative and calm.
"After watching the videos, the family again has more questions than answers," Bamberg said.
Charlotte Mayor Jennifer Roberts, who imposed a midnight-to-6 a.m. curfew, told MSNBC-TV late Thursday that she had seen the videos and agreed with both Putney and the family that they were "ambiguous."
"There is not a clear picture," Roberts said. "The body camera is moving, and the view is obscured at a few points."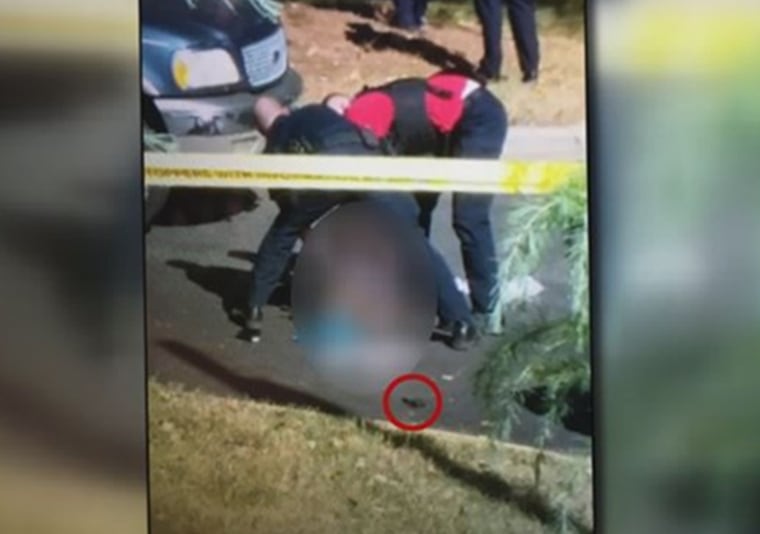 Bamberg didn't address the publication of a photo taken by a witness that appears to show a gun on the ground near Scott's body moments after the shooting.
But he did address one unsettled point raised by some of Scott's relatives, who have said since almost immediately after the shootingnot only that he was unarmed, but also that he was disabled.
Bamberg said at a news conference that Scott was involved in a "very bad accident approximately a year ago, suffered some pretty severe bodily injuries, suffered some head trauma."
He provided no details of the accident or of the nature of Scott's injuries, but he repeated: "At the end of the day, he was disabled."
Charlotte has been roiled by protests following Scott's death. Large protests continued Thursday night, but they remained relatively peaceful.
Shortly before 11 p.m., police and state troopers in formation fired a few rubber bullets, along with tear gas or pepper spray, as protesters tried to march up a hill toward Interstate 277. The protesters quickly dispersed.
A man who was shot Wednesday night in what police described as a "protester-on-protester" clash died Thursday, police said. Police arrested 44 people on charges including failure to disperse, assault, and breaking and entering.
The National Guard and state troopers were deployed to help local police in case protests continued Thursday night after North Carolina Gov. Pat McCrory declared a state of emergency.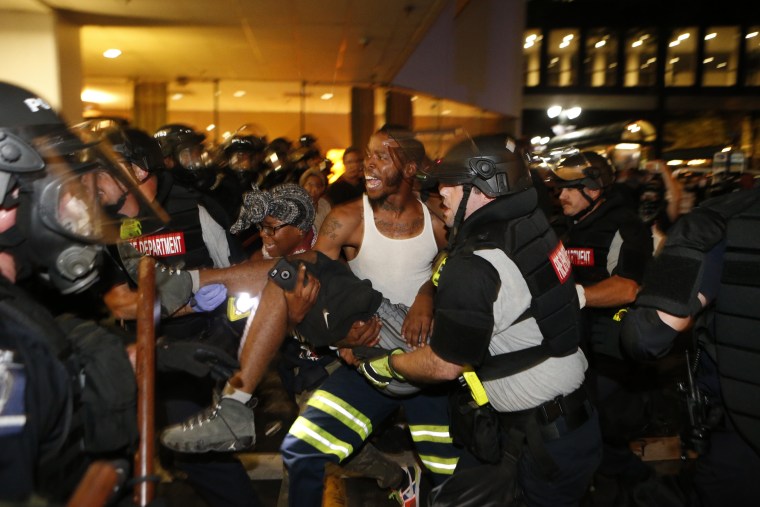 The police video, and the differing interpretations of it, remained at the center of the contentiousness Thursday. Three of the officers involved in Scott's shooting were wearing body cameras, although Officer Brentley Vinson, who fired the fatal shot, wasn't, Putney said.
Vinson, 26, who is also African-American, has been placed on paid administrative leave, as is standard procedure.
Scott's family added their voices to calls from community members and activists who said the video should be viewed in order to clear up discrepancies between the police's account and the family's version.
"It was incredibly difficult for members of the Scott family to view these videos, but as a matter of the greater good and transparency, the Scott family asks that the Charlotte-Mecklenburg Police Department publicly immediately release both of the videos they watched today," Bamberg said.
Related: The History of the Police Dashcam
While Putney agreed to let Scott's family the videos, he said he wouldn't make them public to "protect the integrity of the investigation."
Later, in the interview with WCNC, he acknowledged that because McCrory had assigned the State Bureau of Investigation to conduct an independent investigation, "it's going to be out of my hands."
Roberts, the mayor, said she didn't think the videos should be released while the investigations were active.