A Kentucky court clerk is once again asking a federal judge for an order freeing her from the obligation of issuing marriage licenses, a move that would allow her to remain in office while still refusing to acknowledge same-sex unions.
Kim Davis ignited a fierce debate in her office in Rowan County, Kentucky this week when she defied orders to comply with a U.S. Supreme Court ruling declaring the constitutionality of same-sex marriages. Davis, a born-again Apostolic Christian, said issuing the licenses to gay couples would violate "God's definition of marriage" and would infringe on her religious freedom.
The unorthodox gambit appears to have little chance of succeeding.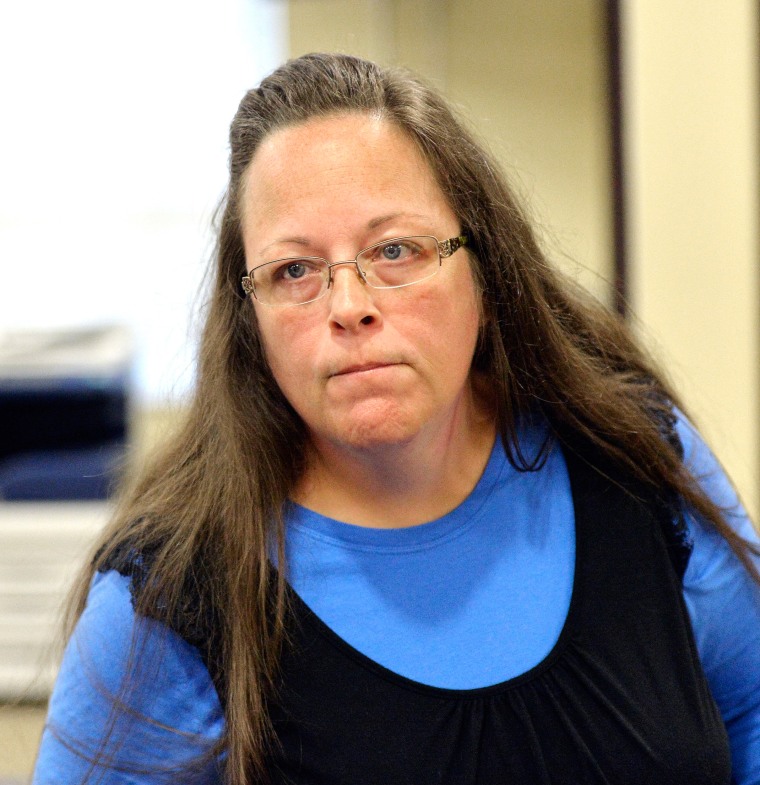 Her request was filed Wednesday with the same judge that issued an earlier order directing her to grant marriage licenses in performance of her official duties while her freedom-of-religion claims move through the courts. Davis is essentially asking the judge for a way out of that order.
Her lawyers argued she shouldn't have to issue any licenses until her claims are resolved.
Davis is already facing demands that a judge find her in contempt of court. A hearing that issue is scheduled for Thursday; her lawyers must file their response by the close of business Wednesday.
The American Civil Liberties Union, which is one of the groups seeking the contempt order, called Davis' move "a blatant attempt to have a second bite at the apple."
"This matter is settled, and Ms. Davis can't avoid the contempt hearing tomorrow by asking for a do-over," ACLU senior staff attorney Heather Weaver said.
Davis continued to fend off hopeful same-sex couples on Wednesday, turning away two men from Ohio who'd driven to Rowan County for a marriage license.
Robbie Blankenship and Jesse Cruz acknowledged they could have sought a license in their home state, or in another Kentucky county, but said they had the right to get one wherever they chose.
As reporters watched and protesters shouted, Davis told the couple her office wasn't issuing licenses. Blankenship argued with her, accusing her of "using God for hate" and accusing Davis, who has been divorced three times, of hypocrisy.
"Your interpretation of the Bible doesn't trump the Constitution," Blankenship said.
"Our Constitution was founded on faith," Davis replied.
The argument ended with Davis telling them, "we're done," and retreating to her office.
Afterwards, Blankenship called the encounter "devastating."
"She needs to recognize that she's not working under the authority of God in this building," he said.
Two other county clerks in Kentucky are standing with Davis and also refusing to issue marriage licenses to same-sex couples.
Casey Davis, the clerk in Casey County, is riding his bicycle across the state to protest courts' demands that the licenses be granted. And Kay Schwartz, the clerk in Whitley County, has said clerks are being bullied by the federal government.