A Kentucky clerk was sent to jail Thursday after a judge found her in contempt of court for refusing to issue same-sex marriage licenses to gay couples.
Kim Davis, a clerk in Rowan County, was found in contempt of court on Thursday morning by Judge David Bunning. Davis has said granting marriage licenses to gay and lesbian couples would "violate God's definition of marriage" and infringe on her personal beliefs as an Apostolic Christian.
Bunning said Davis would be released only when she agreed to follow his order and issue marriage licenses.
Davis was visibly emotional from the stand during the two-hour hearing. She testified that she became a Christian in January 2011 on the day her mother-in-law died.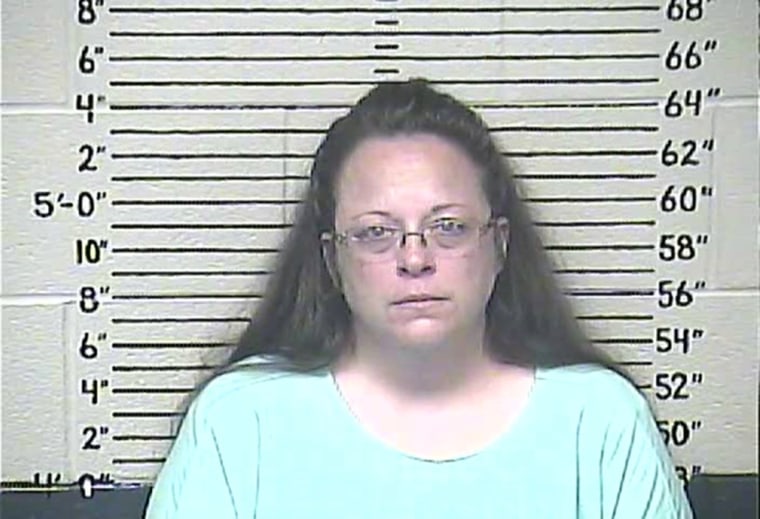 "God's moral law conflicts with my job duties," Davis told the judge. "You can't be separated from something that's in your heart and in your soul."
But Bunning was unconvinced. "I myself have genuinely held religious beliefs," the judge later said, but "I took an oath."
Davis thanked the judge as she was being led out of the courtroom and turned over to U.S. Marshals.
The judge told all six of Davis' deputy clerks that they must issue marriage licenses to gay couples — or else they will face fines or jail time, too.
The lawyer for Davis, whose defense is funded by the Liberty Counsel, a religious freedom group, argued that the deputy clerks can only issue licenses under Davis' authority. But the judge overruled this objection.
On Thursday afternoon, five of the six deputy clerks testified they would comply with the judge's order to issue same-sex marriage licenses. Plaintiffs raised the question of whether that license would be legal, without the county's clerk's signature. The judge would not rule on that one way or the other.
S
ome were emotional about the decision.
Deputy clerk Melissa Thompson told U.S. District Judge David Bunning that she doesn't really want to, but she will comply with the law. She wept and said: "I'm a preacher's daughter, and this is the hardest thing I've ever had to do in my life."
The lone holdout among the deputy's clerk is the clerk's son, Nathan.
Attorneys for the couple's suing Davis proposed allowing her out of custody if she agrees to not interfere with her deputies issuing marriage licenses for gay couples. The judge agreed to the proposal and ordered Davis be returned to the courtroom.
But Davis did not return to court, with her attorney speaking on her behalf.
The attorney said Davis "would not make any representation" that she would allow marriage licenses to be issued, thus not accepting the compromise that would have led to her release.
She remains in custody for contempt of court and is headed to jail.
Judge Bunning spoke directly to Davis' son, and said, "I want to ensure that orders of the court are complied with."
"I do expect compliance," he said.
Mat Staver, chairman of the Liberty Counsel, said Davis was being "treated as a criminal" for violating her conscience. Davis' defense is funded by the religious freedom group.
"While she may be behind bars for now, Kim Davis is a free woman," Staver said in a statement. "Her conscience remains unshackled."
Davis also faced stiff fines, but Bunning ruled that any financial penalties wouldn't be enough because others could pay them for her. Attorneys for the plaintiffs suing Davis also argued that allowing her to disobey a federal order would set a dangerous example.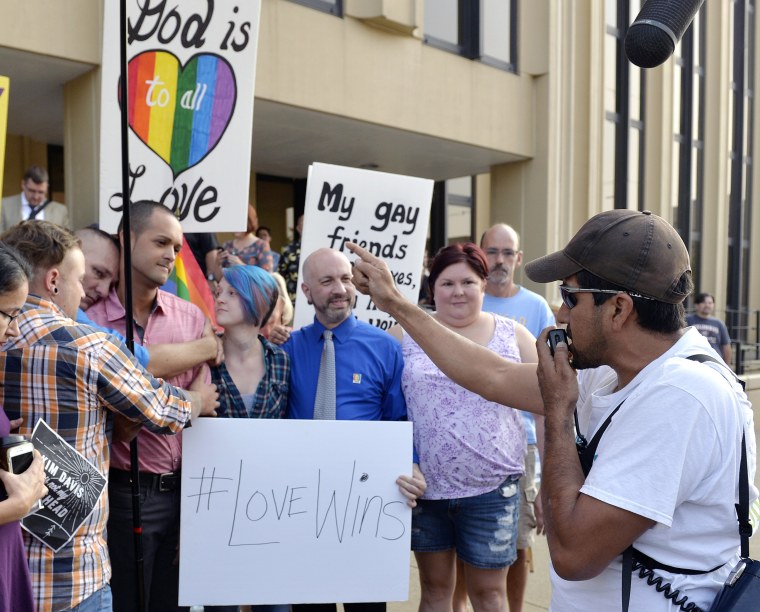 Bunning upheld the Supreme Court's decision in June to legalize same-sex marriage nationwide, and wrote last month after the contempt lawsuit was filed that the state is merely forcing her to do her job within the law.
Before the hearing, dozens of protesters on both sides of the issue clashed outside of the federal courthouse in Covington, some in support of Davis for standing up for her beliefs.
While clerks in other states have made similar refusals, Davis' defiance is the most prominent — leading GOP presidential candidates to weigh in and casting a spotlight on her personal life, too.
It was revealed this week that she was divorced three times and had children out of wedlock before a religious awakening became a turning point in her life.
Davis, a registered Democrat, had worked as a deputy clerk for 27 years before voters in Rowan County elected her as clerk last November.
As an elected official, she can only be removed in a vote by state legislators, who don't reconvene in the State House until January.
Despite her political leanings, she's likely to get much support from Republican lawmakers.
White House spokesman Josh Earnest told reporters Thursday afternoon that no public official is above the law.
"Certainly not the president of the United States, but neither is the Rowan County clerk," Earnest said. "That's a principle that is enshrined in our Constitution and in our democracy and it's one that obviously the courts are seeking to uphold."