Surveillance video caught the moment a Kentucky Fried Chicken restaurant in North Carolina exploded, reducing it to rubble.
The explosion happened around 12:30 a.m. Thursday in Eden, which is about 35 miles north of Greensboro. Eden police said the fast-food restaurant closed between 10:15 and 10:30 p.m. and nobody was inside at the time it was destroyed.
There have been no reports of injuries, authorities said.
Video from Eden Drug, a pharmacy next door to the KFC, showed the building suddenly ripped apart by a large blast as debris flew through the air. A photo the Eden Police Department posted on Facebook showed the store reduced to just a partial building frame.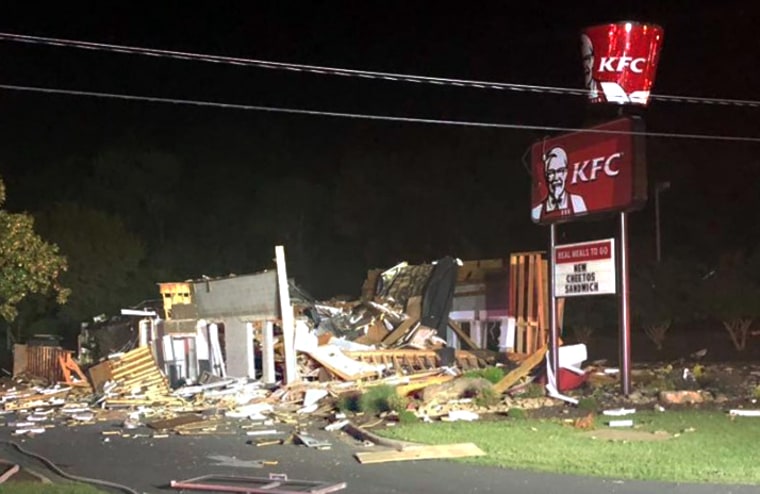 "We are devastated by this incident, but most importantly we are grateful that all of our restaurant team members are safe and no one was injured," a KFC spokesperson said in a statement.
Employees who are affected will have their choice to work at six area KFC restaurants "to minimize disruption to their work schedules and pay" while the Eden location is rebuilt, the spokesperson said.
The KFC Foundation's Family Fund will also provide additional assistance, to help with things such as transportation and other expenses, for eligible employees.
Eden Mayor Neville Hall told NBC affiliate WXII in Winston-Salem, North Carolina, that he was several miles away and still felt the blast. He said residents and the store's employees are lucky.
"It's hard to see that and think you can be lucky about anything," he said, noting that if the blast had occurred hours earlier, the restaurant would have been "packed with people."
Authorities are still trying to determine the cause of the explosion. NBC affiliate WCNC in Charlotte, North Carolina, reported that energy and natural gas crews arrived at the KFC location shortly after the explosion.