A shooting spree allegedly carried out by a white suspect who took the lives of two black people at a Kroger store in Kentucky is being investigated as a possible hate crime, federal prosecutors said Friday.
According to a statement issued by the United States Attorney's Office in the Western District of Kentucky, federal investigators are working with local law enforcement to determine how the alleged gunman, Gregory Bush, will tried in court.
Among the possible charges for the Wednesday shooting are "potential civil rights violations such as hate crimes," according to U.S. Attorney Russell M. Coleman.
"Our hearts break for the families of the those we lost to the tragedy at the Jeffersontown Kroger. The murders are not being taken lightly by the United States government," said Coleman.
Police reports state that Bush, 51, entered the store around 2 p.m. ET Wednesday and shot the first victim, Maurice Stallard, 69, multiple times, including after he collapsed to the floor. After exiting the store, the gunman shot the second victim, later identified as Vickie Lee Jones, 67, in the parking lot.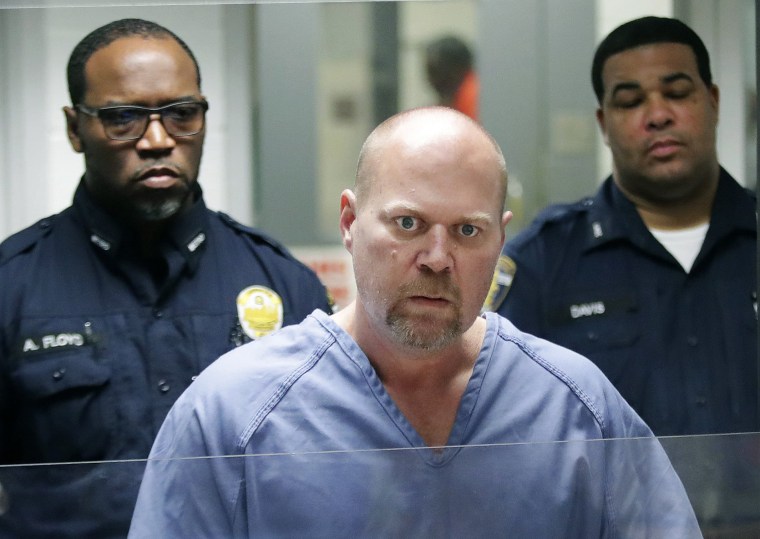 NBC affiliate WAVE first reported late Wednesday that the gunman came upon an armed white bystander outside the store but asked him not to shoot because "whites don't kill whites." The man was later identified as Ed Harrell by the Louisville Courier-Journal and has spoken to the FBI about his interaction with the suspect.
NBC confirmed that account with the witness' wife, Elaine Harrell.
Jeffersontown Police Chief Sam Rogers had previously declined to comment on a possible motive or whether race was being looked at as a possible motive in a Thursday evening news conference.
But Rogers did say that there is "some mental illness history with the suspect in question."
Rogers also said Bush initially attempted to enter the First Baptist Church of Jeffersontown, a predominantly black church, 10 to 15 minutes before the shooting but was "unsuccessful." He said he could not confirm whether the man was armed at the church.
Bush, who is currently in custody at a corrections facility in Louisville, appeared in court Thursday for arraignment and his bond was set at $5 million, according to court records. He is charged with two counts of murder and 10 counts of wanton endangerment.