Kentucky's lone abortion clinic is embroiled in a legal fight against health regulators and the state's anti-abortion governor.
The stakes are high: If the clinic, the EMW Women's Surgical Center in downtown Louisville, loses, Kentucky will become the first state in the nation with zero abortion clinics.
The showdown started Wednesday in a Louisville federal courtroom and centers around a state law that requires EMW to have agreements with a local hospital and an ambulance service for its patients, in the event of an emergency.
State regulators say those services are necessary for women's health. EMW says it has had agreements with a hospital and an ambulance company on file for years, and says Gov. Matt Bevin's administration informed them "out of the blue" in March that the agreement had been deemed insufficient.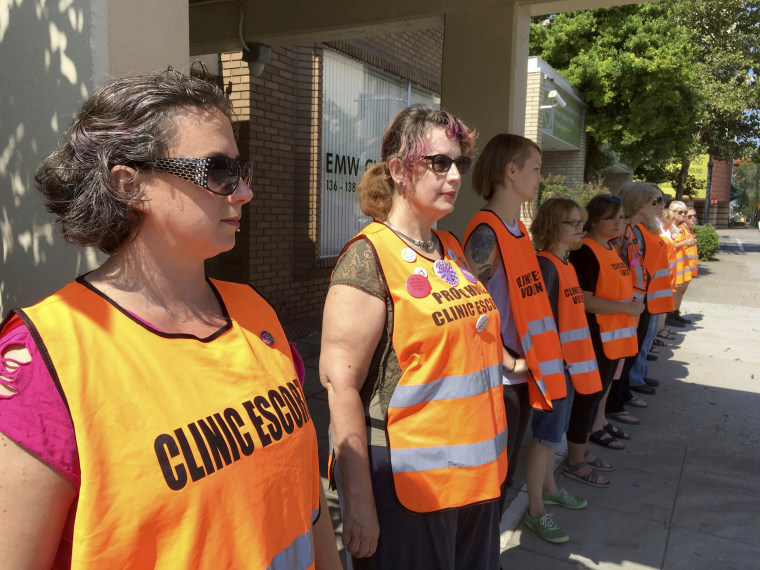 The clinic called the move "blatantly unconstitutional" in a lawsuit seeking an injunction, and said that if EMW was forced to close, "Kentucky women would be left without access to a critical and constitutionally protected medical procedure."
Related: Kentucky's Last Abortion Clinic Sues State to Stay Open
"This is absolutely just another attempt to ban abortion in Kentucky," EMW attorney Donald L. Cox told NBC News at the time.
Bevin is a vocal abortion opponent who has called himself an "unapologetically pro-life individual." He has been at odds with EMW since his election in 2015.
A spokeswoman for Bevin defended his requirements for the clinic ahead of the trial.
"Essentially all health care facilities in Kentucky are required to have such agreements, and it is telling that the abortion industry believes that it alone should be exempt," the spokeswoman, Amanda Stamper, told The Associated Press.
The clinic is a daily site for protesters, said Christine, who is part of a group of volunteers who escort patients as they enter EMW. She asked to be identified by her first name only out of concerns for her safety.
"They call the escorts Nazis, the doctors murderers, the people walking into the clinic murderers," Christine said of some of the protesters. Others, she added, line the sidewalk outside the clinic chanting prayers, or stuff pro-life pamphlets into patients' pockets as they pass by.
Related: Texas Abortion Restrictions Blocked by Federal Judge
The clinic is desperately needed in Kentucky, Christine added.
"There are people in this state who already drive three or four hours to get to Louisville," she said. "Why should someone have to drive six or seven hours to get a medical procedure that's legal in all 50 states?"
EMW's legal team believes the case "falls squarely" within a 2016 Supreme Court ruling that struck down Texas regulations that required doctors who perform abortions to have admitting privileges at nearby hospitals and forced clinics to meet certain standards for outpatient surgery.
The Supreme Court has found that access to an abortion must be guaranteed, but it is not clear whether eliminating every clinic in a single state would violate that order.
"Will we build on the momentum of last year's Supreme Court decision upholding abortion rights?" Dr. Ernest Marshall, who opened EMW in the early 1980s, told the AP. "Or will Kentucky be the harbinger of a future where the right to abortion only exists if you live in the right zip code?"
The Kentucky trial is expected to last two to three days.