Kentucky's last abortion provider is suing the state to stay open.
The EMW Women's Surgical Center in Louisville claims in a federal lawsuit that Gov. Matt Bevin's administration informed them "out of the blue" that the clinic was not in compliance with state rules and ordered them to stop performing abortions starting Monday, April 3.
"If EMW is forced to close its doors, there will be no licensed abortion facility in the Commonwealth of Kentucky," the suit states. "Kentucky women would be left without access to a critical and constitutionally protected medical procedure."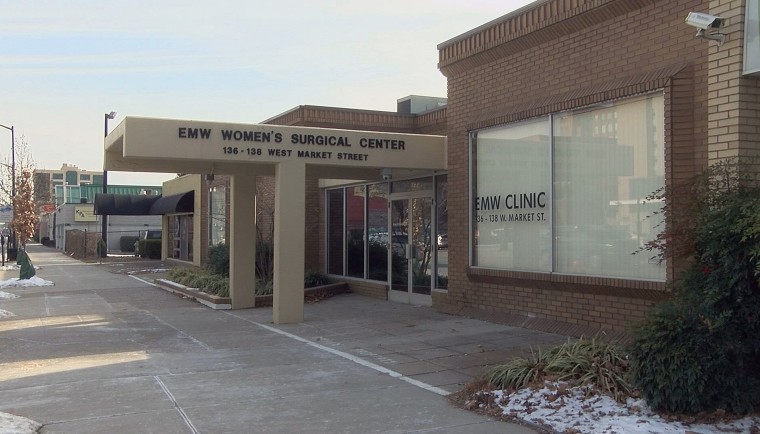 The clinic is seeking an injunction against what it calls Bevin's "blatantly unconstitutional" move.
"This is absolutely just another attempt to ban abortion in Kentucky," said EMW attorney Donald L. Cox, adding that the clinic "has been properly licensed for decades." "The governor's war plan has some serious deficiencies in them. Other than that, it's a great plan."
Related: Senate Votes to Allow States to Defund Planned Parenthood
There was no immediate response from Bevin's office to the lawsuit.
At issue is the state's requirement, outlined in the lawsuit, that "an abortion facility maintain agreements with a local hospital and ambulance company to transfer patients in the rare event of an emergency."
Cox said EMW has had such an agreement in place with the University of Louisville Hospital and a local ambulance company since 2014. The clinic passed its most recent inspection last year and had it license renewed through May 31, he said.
"Despite these facts, out of the blue, on March 13, 2017, the Cabinet for the first time raised technical objections to the Agreements and sent a letter to EMW threatening to shut the clinic down in 10 days," according to the lawsuit.
EMW charged in the papers the governor was retaliating against them for filing an earlier lawsuit "challenging Kentucky's new forced ultrasound requirement."
It's no secret that the governor — a married father of 10 (four of them adopted) — opposes abortion and has called himself an "unapologetically pro-life individual."
This year, Bevin signed two bills into law curbing abortion, including one that bans them after the 20th week of pregnancy. And he used tactics similar to the one he's using on EMW to block abortions from being performed at the company's other clinic in Lexington and at the Louisville clinic of Planned Parenthood of Indiana and Kentucky.
The Bevin administration is "taking the position that even though EMW signed an agreement with the hospital they say the actual owner of the hospital has to sign it," said Cox.
Currently, the public hospital is managed by KentuckyOne Health, an affiliate of the Denver-based Catholic Health Initiatives.
"What they appear to be saying is we have to go to the Catholics to get permission to do abortions," Cox said. "Not a very likely scenario."