A 22-month-old boy was found near a strip mine not far from his Kentucky home on Wednesday, about three days after he was declared missing.
Kenneth Neil Howard was found crying on a cliff area in Prestonburg by the county's search and rescue team, authorities said during a Thursday press conference. Kenneth's parents told Captain Carter Conley of the Magoffin County Rescue Squad that the boy, who was airlifted to an area hospital, is doing well.
"Unfortunately, neither one could ride in the helicopter due to space, but they were looking at him, talking to him, and he was just eyes wide, what I'd say with a grin, just taking it all in," Conley said. "You would think a 22 month old would be scared, this little gentleman was cool, calm, collected."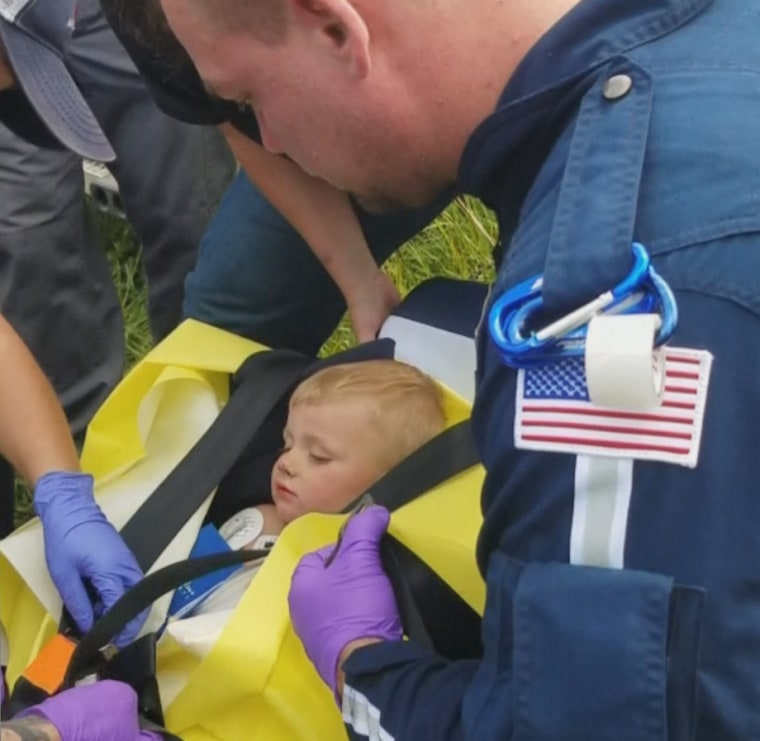 Hundreds of people from throughout Kentucky, Ohio and Tennessee took part in the search efforts to find Kenneth after he disappeared from his backyard Sunday night, according to NBC-affiliate station WLEX. Authorities eventually found him using a grid search method, chosen based on the fact that children between 1 and 3 usually stay within a quarter mile of where they were lost.
Rescuers described the area where Kenneth was found as mountainous with rough terrain on the border with Floyd County. He survived about 67 hours in cold and rainy weather wearing only a T-shirt and sweatpants, authorities said.
Chris Hecker with Kentucky State Emergency Management said Thursday that it was "by the grace of God" that his teams were able to find the little boy, whose cries led rescuers to his location.
"My guys that found him probably would have walked by him," Hecker said. "And not because they didn't want to find him, but just because of the overgrowth, the denseness. We're at fully canopy, which is when the trees are grown over and the bushes and weeds and everything."
Kenneth's father Elden told NBC-affiliate station WSAZ that being told his son was found was like a boulder had been lifted off of him.
"Best thing to ever happen to me in my life," Elden Howard said.