After being washed out by Superstorm Sandy last year, the New York City Marathon kicked off for the first time in two years on Sunday morning as arguably the best-protected race that a runner could enter as a result of enhanced security measures and police presence on land and by sea.
Kenyan Priscah Jeptoo caught up with Buzunesh Deba — who maintained a strong lead at the halfway point — two miles before the finish line and won with a time of 2:25:07.
Following up her victory in the London Marathon, Jeptoo's time in New York earned her the World Marathon Majors title and a $500,000 bonus.
The money is awarded to the man and woman who have won the most points in majors — Tokyo, Boston, London, Berlin, Chicago and New York — over the past two years.
Kenyan Geoffrey Mutai won the men's race by a minute with a time of 2:08:24. Mutai already held the course record for the Marathon with a time in Boston of 2:03:02. He set New York's course record when he won in 2011 with a time of 2:05:06 in nearly perfect conditions — but did not get the chance to defend his title in 2012, due to Superstorm Sandy causing the race to be cancelled.
"Today was a very tough race," Mutai told Reuters. "To win a race for the first time is easy. To defend your title is not easy." 
Sunday's race marked the third time that Kenyans have swept New York's Marathon, officials said.
With his second-place finish, Ethiopia's Tsegaye Kebede won the men's World Marathon Majors title and will take home the $500,000 bonus. 
The wheelchair race started the day's festivities, and Marcel Hug of Switzerland finished first by two seconds in front of four other men with a pace of three minutes and fifty seconds per mile.
American Tatyana McFadden won the female's wheelchair race, earning her the distinct honor of a "Grand Slam", since she also won 2013's London, Boston and Chicago wheelchair marathons.
American Olympic silver medalist Meb Keflezighi also competed after declaring that he would retire after running the 2012 New York Marathon and 2013 races in Boston and New York. He told NBC New York that he should have preempted his announcement with "subject to change."
A record-breaking 50,740 runners participated, almost 3,000 more than the last time the New York Marathon was held in 2011.
In that group was one person who had the honor of being the 1 millionth person to start the race since its inception in 1970. "Thought this was my first and last marathon," said the history-maker, Julissa Sarabia, 30 — but Marathon officials awarded her automatic entry into next year's race.
Last year, Mayor Michael Bloomberg and race officials reluctantly cancelled the marathon only a day and a half before the five-borough run was to take place after many New Yorkers argued that using resources for a run would be in poor taste when Superstorm Sandy's effects were still raw.
Many marathoners who had already traveled to New York to participate in the race used their extra time, energy and extensive training to run to hard-hit areas to help in any way they could and drop off food and clothing.
Five months later, on April 15, the Boston Marathon suffered from man-made devastation when the Tsarnaev brothers planted bombs at the finish line, killing three and wounding over 260 people.
Kelly said that while security planning for the event typically takes several months, the New York Police Department began preparing for this year's marathon the day after the Boston Marathon bombing in April, which killed three people and wounded more than 260 others.
"Planning for the marathon is always a major undertaking and I can assure you this year was no exception," Kelly said Friday at a security briefing on the marathon, which is expected to draw more than 45,000 runners.
Kelly said he had met with 20 Boston and Massachusetts police officials to discuss what they had learned after the bombing there, saying that officials would make sure any concerns were addressed.
Helicopters, scuba divers, police boats, K-9 dogs with explosive-detection capabilities and hundreds of cameras are among the precautionary measures that will be deployed along the marathon route and throughout the city's five boroughs. The department has also located more than 1, 400 privately owned cameras along the 26.2-mile route that can be tapped for additional security footage if necessary.
NYPD scuba divers began sweeping the shoreline and surrounding infrastructure on Thursday "to safeguard all five bridges that the runners will cross on their way ultimately to Manhattan," Kelly said.
Event participants and spectators were told to expect a "large uniformed presence," strict bag checks at the race's start and finish and extra screening for those with credentials to access secure areas. Kelly said all bags and items are subject to search and runners were encouraged not to bring backpacks. Marathon organizers New York Road Runners are providing clear bags for use.
"I think this will be the best protected race that they can enter, there's no guarantees in our post 911 world, but we're doing everything we reasonably can to protect the runners, protect the spectators and to have this be a safe and enjoyable event," he said.
New York Road Runners, the race's sponsor, also implemented new guidelines for runners, prohibiting items such as backpacks, masks, props, bulky costumes and backpack-style drink systems. The race will have numerous water stations throughout the course and runners can still carry water on their belts, according to Chris Weiller, a spokesman for group.
"The safety and security of our runners and spectators has always been of highest priority and following the tragedy in Boston we've taken a deeper look at what can be done to enhance those plans,"  Weiller told NBC News on Saturday. "We spent an additional half a million dollars on security planning and operations for the 2013 marathon, that brings our total expense for safety and security to just over a million dollars."
He did add that as a result of the bombing in Boston, this year's event would have heightened camera capability at the finish line, with about 100 new, portable cameras positioned along the route of the race, filling in any gaps in video surveillance.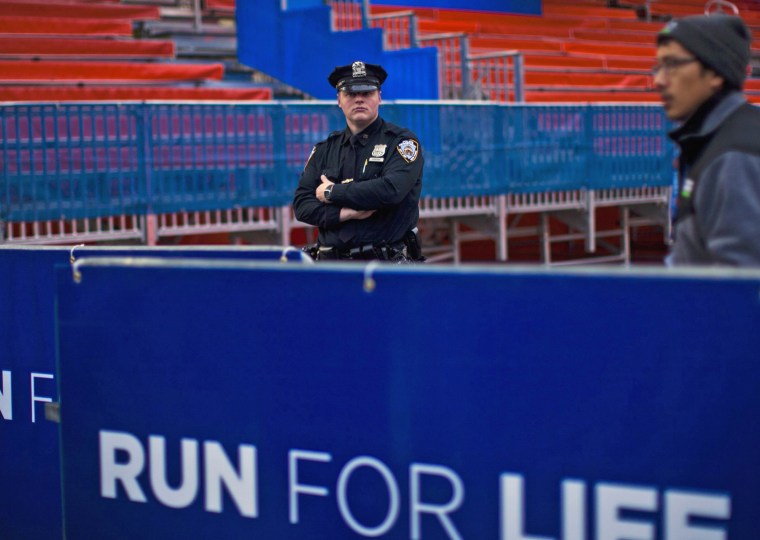 While no threats have been identified, Kelly said the NYPD was well equipped and well deployed to deter any event.
"We are well positioned to stop it and certainly apprehend someone who's engaged in it," he said.
Kelly demonstrated the potential of one of the city's 43 police dogs securing the route at the briefing on Friday, introducing Ray, a black Labrador retriever trained in explosive detection. Inside the satchel of someone in the audience was a black powder lure. Once off-leash, Ray was immediately able to locate the packet.
Aside from the increased event security, the NYPD and the Department of Homeland Security on Saturday announced a partnership between the "If You See Something, Say Something" campaign with this year's marathon.
The partnership extends the public-awareness campaign via digital screens for those at the event to identify and report any indicators of crime, terrorism, or suspicious activity or packages to law enforcement. The campaign was originally implemented by the New York City Metropolitan Transportation Authority.
Related: Mutai, Jeptoo of Kenya win titles at NYC Marathon
The Associated Press contributed to this report.