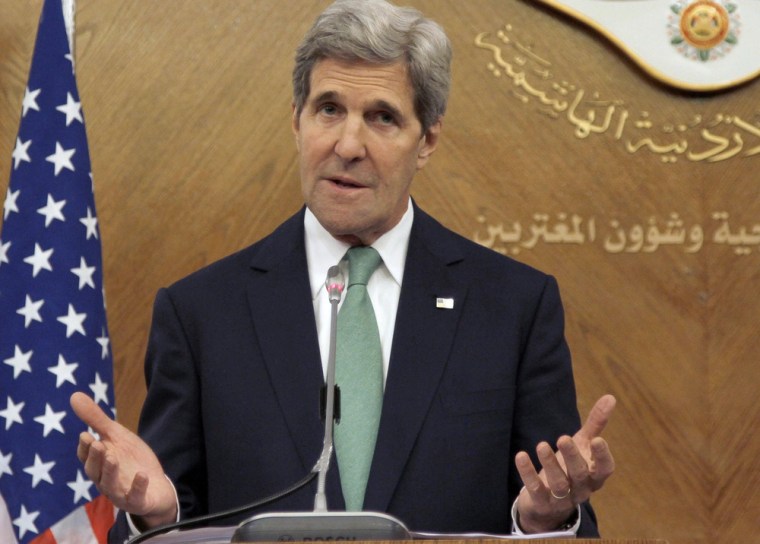 GENEVA — Secretary of State John Kerry will make an unplanned trip to Geneva Friday afternoon — where intense nuclear negotiations are underway — to meet with Iran's Foreign Minister Javad Zarif, multiple sources including U.S. officials tell NBC News.
Nuclear talks between Iran and the so-called P5+1 nations — U.S., Britain, China, France, Russia and Germany — resumed in Geneva Thursday morning.
Word of Kerry's impending arrival is the strongest sign so far of an agreement on a first step toward a comprehensive final deal.
Such a deal would be a historic move — a first in 35 years of strained relations between the United States and Iran.
Earlier, a senior American official and Zarif both said a deal could be reached Friday.
Zarif told NBC News Thursday that "a piece of paper" could be signed Friday to seal a "first step" in a deal.
He expressed that optimism amid increasing pressure on Iran to halt advancements in its nuclear program in return for what a senior U.S. official calls "very limited, temporary and reversible" relief from economic sanctions, as a "first step" agreement, ahead of a comprehensive final deal.
Asked about that pressure, Zarif said negotiators are trying to strike a "balance" between how much sanction relief would be granted and what kind of limits would be imposed on Iran's nuclear program.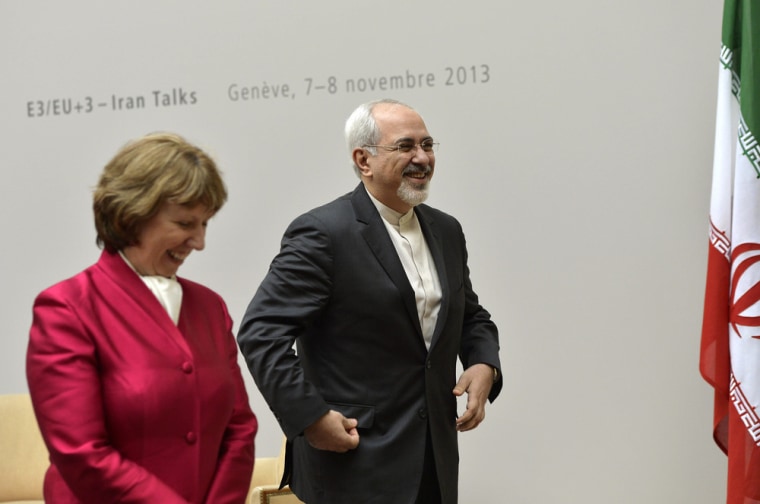 The United States has long wanted Iran to stop enriching uranium to 20 percent purity, halt the introduction of more advanced centrifuges, allow United Nations inspectors wider and more spontaneous access, and stop the construction of the Arak heavy water reactor, which could be another way of building a bomb.
Zarif reiterated to NBC News that Iran would never agree to completely suspend its nuclear program, which Tehran says is peaceful. But he indicated there were areas of compromise possible, including Iran allowing greater transparency in inspections to prove that it is not seeking to build a nuclear weapon.
Despite the struggle over the details, Zarif agreed with the United States on at least one point: that the outline of a deal was within reach. 
"I think the outline of a deal can be written down easily. The details of the first step can also be written down," Zarif said. "It has been within reach for many days now. But the details of the first step may be a bit more difficult, but I think serious negotiations over several hours can do the job."
He predicted political fallout from hardliners in both Iran and the United States if any first step agreement is reached, and he appealed to President Barack Obama for "the courage and leadership that is required to resolve this issue."
"What we want to see from President Obama is the courage and leadership that is required to resolve this issue," Zarif said. "I can tell him that the resolution is at hand -it's reachable. We can have an agreement."
Meanwhile, U.S. ally Israel expressed concerns over the ongoing Geneva talks. Israeli Prime Minister Benjamin Netanyahu said the deal that is taking shape would be "a mistake of historic proportions," as it would allow Iran to maintain the capability to build nuclear weapons.
But Zarif insisted his country was not interested in procuring nuclear weapons.
"It's a mistake of historical proportions to try to trade in fear to create an atmosphere of tension, and I believe it would be an even bigger historical mistake to listen to him (Netanyahu)" he said.
"It takes audacity for someone who possesses 200 warheads, with a history of aggression against its neighbors, with the worst history of violation of the human rights of the Palestinians, to talk about a peaceful nuclear program that has been proven peaceful time and again and is under international monitoring, is under international supervision," Zarif added, referring to Israel.
"The IAEA [International Atomic Energy Agency] has no access to various Israeli nuclear facilities, so I think if they want to address the problem of non-proliferation, the problem of nuclear weapons, they got to start at home."
At the end of the day's official meetings in Geneva Thursday, talks extended deep into the evening, NBC News has learned, in an effort to work out details in preparations for Kerry's arrival Friday.
It would appear a first-step deal will hinge on a meeting between Kerry and Zarif.
It the two can reach an agreement, it would be a historic breakthrough in the decades-long stalemate over Iran's nuclear program, and in the relationship between the United States and Iran — 35 years after the hostage crisis.
Related: