Former FBI Director James Comey's prepared testimony to the Senate Intelligence Committee makes assertions directly at odds with President Donald Trump's accounts of their conversations — but Comey says he has contemporaneous memos to back up his version of events.
The committee on Wednesday released the opening statement Comey has prepared for his appearance, which is scheduled for Thursday morning. In the statement, Comey — whom Trump fired last month — sets up a "he said-he said" narrative, making the memos, which he cites throughout his prepared remarks, a critical component of his testimony.
Here are some of the important takeaways from Comey's statement:
Comey doesn't directly accuse Trump of obstruction
Nowhere in the prepared statement does Comey say directly that he believes Trump broke the law. But several times, he says he found the president's communications with him "concerning," "inappropriate" and "very awkward."
Full Text: Read James Comey's Opening Statement Ahead of His Testimony
Comey became so uncomfortable with Trump's remarks, he writes, that "creating written records immediately after one-on-one conversations with Mr. Trump was my practice" following his first meeting with the president-elect, a Jan. 6 intelligence briefing at Trump Tower in New York.
After a meeting in the Oval Office on Feb. 14, the then-FBI director even "took the opportunity to implore the Attorney General [Jeff Sessions] to prevent any future direct communication between the President and me," Comey writes.
Comey told Trump he wasn't under investigation
Comey asserts that, first as president-elect and then as president, Trump pressured Comey to tell him whether he was personally under investigation in connection with the FBI's probe of alleged ties between Russia and Trump's presidential campaign.
"I offered that assurance" during the Jan. 6 briefing and again during a phone call on March 30, he writes.
FBI kept option of Trump investigation on the table
Still, Trump pressed Comey more than once to "get that fact out publicly," according to Comey. But Comey wrote after the March 30 phone call that he declined to make such a promise, "most importantly because it would create a duty to correct, should that change" — suggesting that the FBI could yet open a direct investigation of the president later.
Trump tried to steer the FBI to suit his wishes
Comey's statement confirms reports by NBC News and other news organizations that he told associates that Trump tried to get him to drop the FBI's investigation of Michael Flynn. Flynn resigned as Trump's national security adviser on Feb. 13 following reports that he misled Vice President Mike Pence about his conversations with Russia's ambassador to the United States.
"I hope you can see your way clear to letting this go, to letting Flynn go," Comey quotes Trump in the prepared testimony as having said at the Feb. 14 White House meeting. "He is a good guy. I hope you can let this go."
Related: How to Watch James Comey's Senate Testimony Live
Comey writes that he didn't interpret Trump's remarks to be about the larger Russia investigation, only about "what had just happened with Flynn's departure."
"Regardless, it was very concerning, given the FBI's role as an independent investigative agency," he wrote.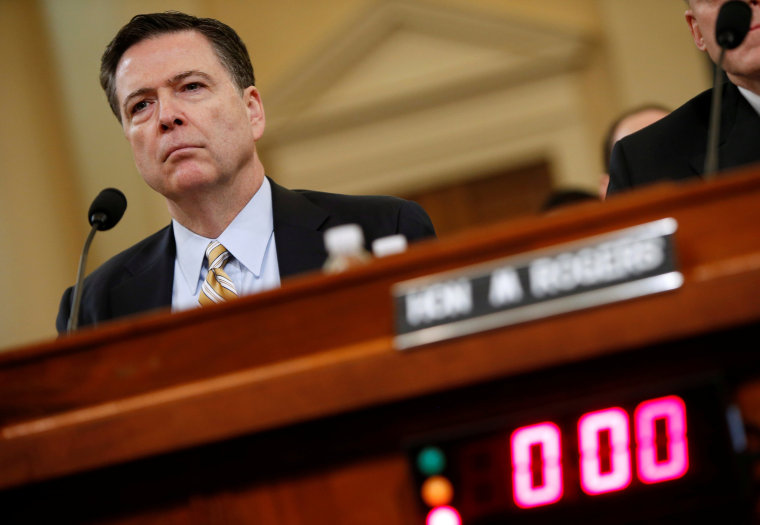 Trump went further during a one-on-one dinner at the White House on Jan. 27, Comey writes, asking him about unverified reports that a "salacious dossier" compiled by a former British intelligence official alleged that Russian intelligence had compromising material on Trump, and particular about one allegation that Trump called "disgusting."
Trump said he was "considering ordering me to investigate the alleged incident to prove it didn't happen," Comey writes. Comey writes that he declined "because it was very difficult to prove a negative."
Later, during the March 30 phone call, Trump got even more specific, telling Comey that he would like to know whether "'satellite' associates of his" were under suspicion, according to Comey.
Trump appeared to threaten Comey's job
Comey writes that the president indicated that his job could be in jeopardy if he didn't do as Trump wished, most directly at the Jan. 27 dinner at the White House.
"He said that lots of people wanted my job and, given the abuse I had taken during the previous year, he would understand if I wanted to walk away," Comey writes.
"The President said, 'I need loyalty, I expect loyalty,'" Comey writes. "I didn't move, speak, or change my facial expression in any way during the awkward silence that followed. We simply looked at each other in silence."
Comey adds: "My instincts told me that the one-on-one setting, and the pretense that this was our first discussion about my position, meant the dinner was, at least in part, an effort to have me ask for my job and create some sort of patronage relationship."
Trump was unusually hands-on
Comey writes that he had nine one-on-one conversations with Trump in just four months — three in person and six by telephone.
In stark contrast, he writes that in more than three years as the FBI's director under former President Barack Obama, "I spoke alone with President Obama twice in person (and never on the phone)" — and one of those discussions was a brief meeting to say goodbye late last year as Obama's second term was winding to a close.