A man — beaten, kidnapped and stuffed into the trunk of his own car — escaped after the vehicle crashed and caught fire in Seattle last week, police said.
The vehicle slammed into a home in the 7200 block of 27th Avenue NE in the city's Ravenna neighborhood shortly after 5 a.m. Thursday, authorities said.
"Witnesses saw a man climb out of the trunk of the crashed vehicle," and fire crews doused flames from the car fire, Seattle Police Detective Judinna Gulpan said in a statement.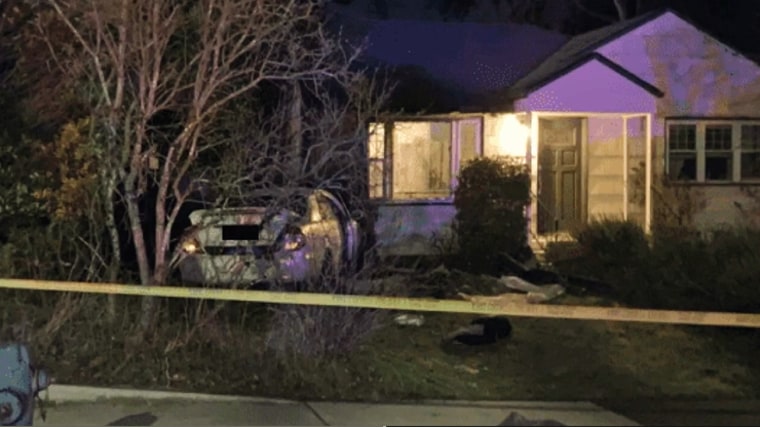 The 63-year-old man "reported he had been assaulted by several suspects, then bound and placed in the trunk of his own vehicle," Gulpan added.
Neighbors said they could hear the victim pleading for help in the moments immediately after the crash.
"And then there was a screaming of 'ahh, ahh!' I think he was trying to scream for help," neighbor Cheng Yu told NBC affiliate KING of Seattle. "You can't make this stuff up, it's so absurd."
Another neighbor, Raegan McKibbon, said she saw two people jump out of the car and flee before she helped the victim.
"He was all tied up with rope, and he was screaming, 'Help me, help me, I've just been kidnapped, call 911!'" McKibbon said. "He'd been beaten up pretty bad. They cut his face with a knife and punched him and beat him up pretty badly."
The car had crashed into the home of Brooks Mierow, who was thankful that the man in the trunk survived and that damage to his house wasn't worse.
"Nobody got hurt. The house didn't burn down — you know, that can be repaired," Mierow said.
An 18-year-old man who was alleged to match the description of a possible suspect was briefly detained before he was released, police said.
No suspects were identified, and there were no immediate arrests.