The eruption of Hawaii's Kilauea volcano that has destroyed dozens of homes on the Big Island and forced thousands to flee is also resulting in the loss of an estimated millions of dollars in tourism revenue.
"We're seeing that [hotel] booking pace for June, July and August has slowed down almost 50 percent" from normal, says Ross Birch, executive director of the Island of Hawaii Visitors Bureau. Booking cancellations are now legion, "from the highest luxury hotel, down to the smallest bed and breakfast," he said.
And as mainlanders who planned to take cruises, guided tours and earth science workshops bail, Birch said, some businesses that cater to them are closing or laying off workers. Hawaii's tourism industry on the Big Island had visitor spending of around $2.4 billion in 2017, according to the state tourism authority.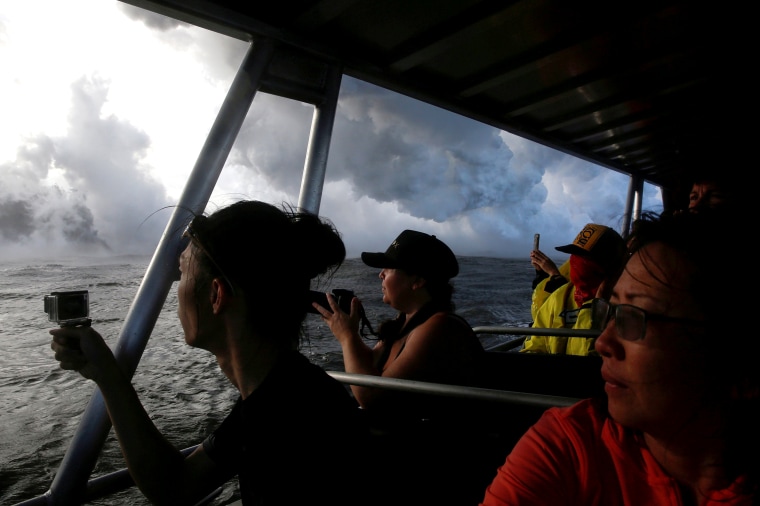 Particularly hard hit are tour guides that operate solely in Hawaii Volcanoes National Park. The park and surrounding gateway areas in 2017 drew $166 million in visitor spending that supports more than 2,000 jobs, according to the National Park Service. As Kilauea erupted and the ground shook, the park closed May 11.
"We're at a grinding halt until the national park reopens," says Erik Storm, owner of Kilauea EcoGuides.
Eighty-two structures have been destroyed in the Kilauea eruptions, which began on May 3, a spokesman with Federal Emergency Management Agency said on Friday. Many of those structures are believed to have been destroyed by lava, spokesperson David Mace said.
Even attractions that are beyond a safe distance from the eruption affecting the southeastern side of the Big Island are feeling the effects.
"Naturally, there have been cancellations that have come through," says Simon Amos, a hotel manager based in the popular destination of Waikoloa Village, on the opposite side of the Big Island. "Obviously a lot of people around the world are concerned about what's going on."
Kilauea has been erupting since 1983, according to the U.S. Geological Survey. Kilauea's summit has seen explosive eruptions since the current eruptive period began, and ash emissions from the summit continued Saturday, with plumes reaching around 12,000 feet, according to the USGS.
The first outbreak of lava, which occurred on May 3, followed days of earthquake activity, the agency said. The region was hit with a 6.9-magnitude temblor on May 4, the USGS said.
Tourism officials say Hawaii's Big Island has lost about $3 million for May, June and July, the Associated Press reported.
Birch told the AP that Norwegian Cruise Lines will resume visits to Kona on the west side of the island May 30 but skip Hilo on the east side, roughly 30 miles from the active Kilauea volcano.
Birch told NBC News that "the good news is those individuals that had planned on coming are still coming — they're going to be our best advocates at promoting what you can do and how you can enjoy the island."