The fatal shootings of two Iowa police officers who were gunned down in their patrol cars were a "cowardly act of calculated murder," Des Moines' top cop said in an emotional news conference Thursday.
"What happened yesterday was calculated murder of two law enforcement officers. Plain and simple, that's the reality. If someone wants to argue that reality with me, my office is two doors down," said a visibly frustrated Police Chief Dana Wingert.
Related: Suspect Caught in 'Ambush-Style' Shootings of 2 Des Moines-Area Officers
The suspect — 46-year-old Scott Michael Greene — was arrested and charged with two counts of murder in the first degree on Thursday afternoon, the Des Moines Police Department said in a statement. He will be transported to Polk County Jail later Thursday, police said.
Greene was hospitalized following his capture for an existing medical condition. He faces two first-degree murder charges in the deaths of Urbandale police Officer Justin Martin, 24, and Des Moines police Sgt. Anthony Beminio, 38. The pair was killed in separate "ambush-style attacks" early Wednesday as they sat in their patrol cars.
Greene was secured with handcuffs belonging to Sgt. Beminio and Officer Martin during his arrest, police said in their statement.
Martin's vehicle was hit with 15 to 30 rounds, police said.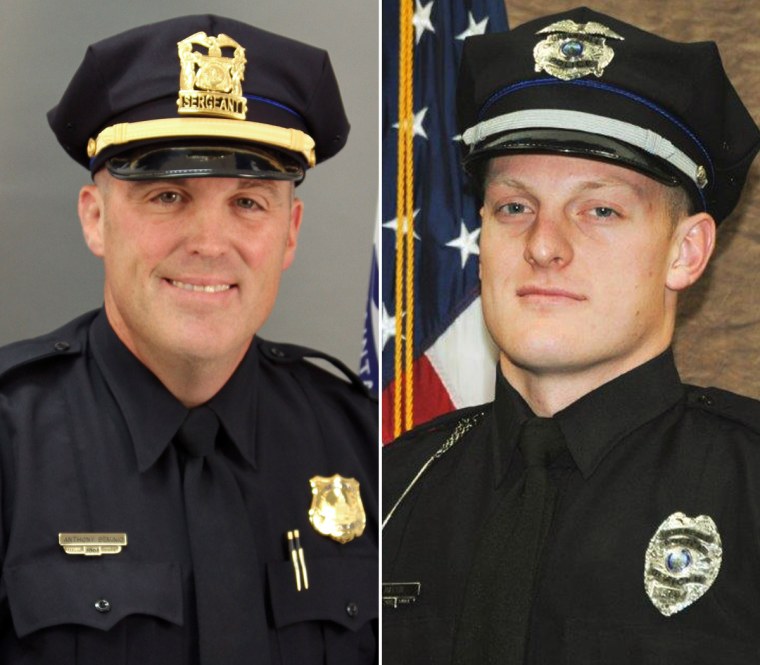 "It was cowardly in every sense of the word, from the way it was carried out to the way it ended," Wingert said of the killings, which have rattled the quiet Des Moines community.
No motive has yet been uncovered. Greene was captured several hours after the shootings when he turned himself in while on the run in neighboring Dallas County, said Sgt. Paul Parizek, a Des Moines police spokesman.
He said Thursday that investigators found Greene's car off road and a .223 caliber rifle believed to have been used in the shootings hidden "very well in a brushy rural area."
Greene is already known to police in his hometown of Urbandale after a string of domestic incidents with family members and run-ins with officers over the years.
A YouTube video uploaded last month was purportedly taken by Greene after he was thrown out of a high school football game. Police confirmed he was ousted from the Oct. 14 event after waving a Confederate flag in front of black spectators, prompting others to complain.
Police said Thursday that they don't necessarily believe that incident and the police attacks are linked.
"It will all depend on what he tells us," Parizek said, "if he tells us anything."